TV beds aren't just for movie nights! They can be an amazing bedroom feature that helps to save space, organise your room, and can elevate design or be hidden away depending on your preferences.
With the addition of a modern media bed, lazy Sundays will seem even more enjoyable! Kick back and relax with a great Netflix series or binge-watch a gripping documentary from the comfort of your own bed. TV beds are about experience, ease of use, as well as beauty!
So, whether you're looking to create a hotel-worthy space or you want to sneak off and pop on your favourite show, a double TV bed or stylish king-size TV bed could be just what you need! Technology is here to stay in the bedroom, and our article on smart bed technology can help to provide you with more information.
Let's uncover how best to style your bedroom with an attractive TV bed in mind. So, depending on your style there are so many options to choose from. Maybe you're after a luxurious TV bed in king-size, a handy on-trend ottoman TV bed, or a tech bed with built-in side-drawer storage?
Here's how to style your bedroom with the help of a TV bed.
Easy steps to style your new TV bed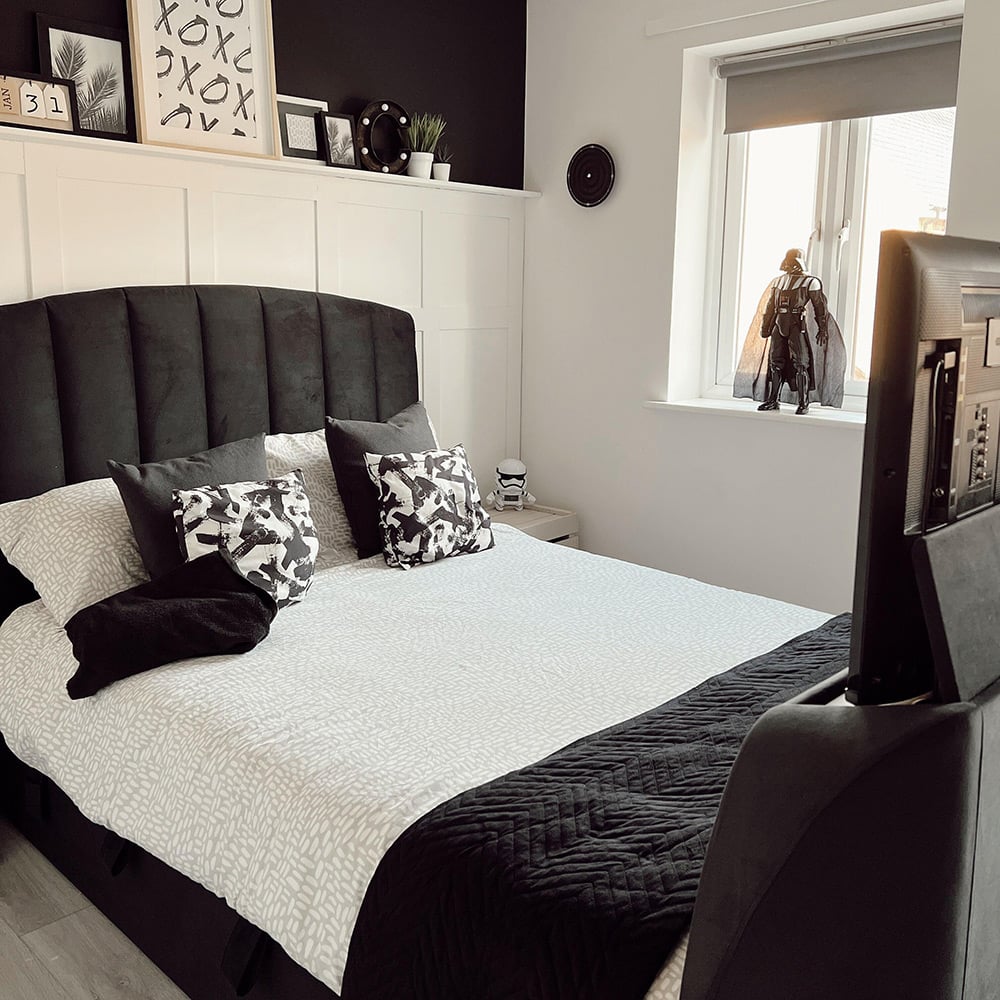 Image credit: @elocinhome
1. Decide on your bedroom style
Styling a TV bed is easy once you've defined your overall theme for your bedroom. So, whether that's boho-chic, minimal and subdued, or maximalist; a TV bed in king size, in neutral grey or something a little more vibrant, can become the focal point of your space.
Alternatively, if you're looking to keep your bedroom spik and span, why not consider an ottoman TV bed? An ottoman TV bed combines the high-tech features of a tech bed with the space of a storage bed, giving you fantastic value for money.
Once you've decided on "the look", there is certain to be a tech bed that combines function, space, design, and comfort in a plush master bedroom.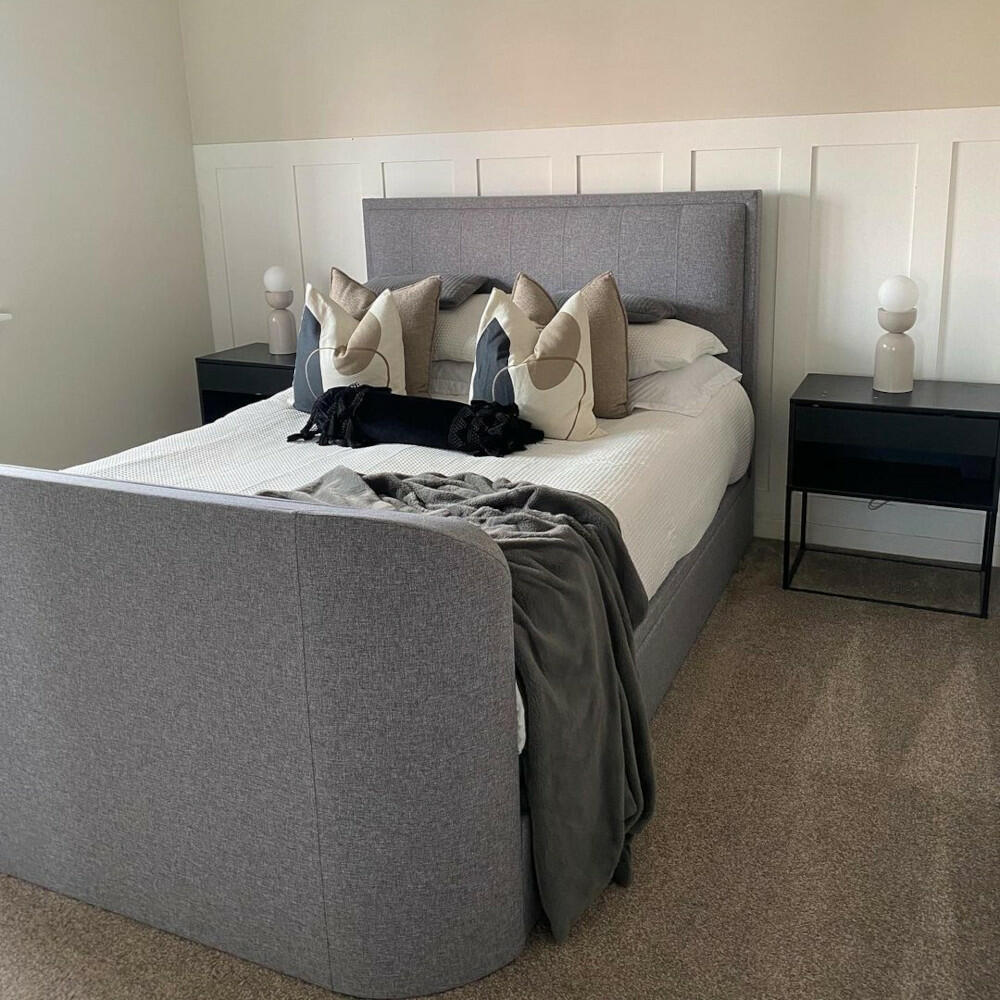 Image credit: @hollys_lifeandinteriors
2. Choose bedroom furniture wisely
A TV bed is just one piece of the puzzle, though. Choosing the perfect bedroom furniture size, colour, and design to complement your space is key. So, think about what type of room you want to create. Whether that's cosy and warm with rich, dark colours or airy and light with contemporary style furniture.
It's also important for you to decide how the room will work for your lifestyle. For instance, when choosing a contemporary tech bed such as above, this would suit a new home or a design-led space filled with modern furnishings.
3. Select cheerful colours
Working with a small or rented space? Using colour either through the use of paint or pops of colour from soft furnishings can revitalise your bedroom. Why not style your bedroom with a colourful statement headboard or pop some pretty scatter cushions on your TV bed frame for a subtle lift?
Your colour choice can make a huge difference to how your space feels and can add some much needed personality! A wide range of our TV bed frames all come in neutral colours, giving you a blank canvas to create your perfect colour scheme.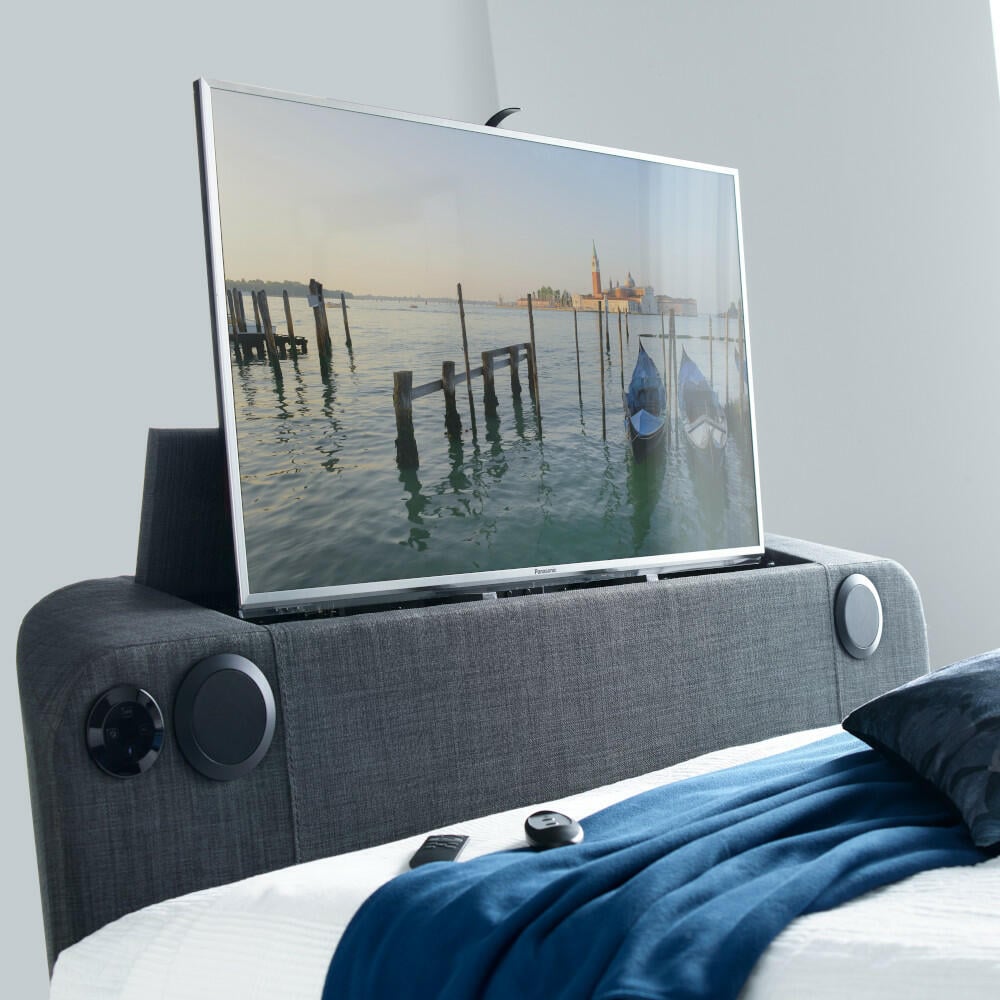 4. Embrace advanced technology and gaming!
Bring the cinema to you with a beautiful TV bed with speakers, perfect for getting that true cinema experience in your bedroom. Most of these beds are capable of accommodating a TV up to 43" so you can immerse yourself fully! Check out our article to find out 5 of the impressive features of our TV beds for more information.
Not only a luxurious design, there are nifty features so that you can stay in bed, whether you want to chill with your music or charge up your phone with the useful in-built USB ports, all without having to move from under the duvet!
Are you ready to experience your own TV bed?
We couldn't recommend investing in a TV bed frame, especially an ottoman TV bed, more for those all important movie nights or simply to enjoy all the wonderful technology packed into them. So why not choose your own from our wide range of TV beds? For more information about our fantastic TV beds, check out our TV bed buying guide for everything you need to know.
Why not show us your room styles and how you've styled your tech bed? Send us a DM or tag us on our social pages. Head to our Twitter, Facebook, and Instagram!
Find your perfect
TV bed
now