Decorating and furnishing a smaller bedroom can be exhausting, as we may have thousands of ideas but just not enough space to make them happen! Particularly for children's shared bedrooms, making the most out of your available floor space can be frustrating. But, don't plan your home extension just yet, here are seven easy tricks to make the most out of shared and smaller bedrooms.
Keep it Neutral
We all share a bedroom at least once in our lives, as many children begin their lives sharing a room with their siblings. However, depending on the personal circumstances of the family, bedroom sharing can continue for some time.
If that is the case, it is a good idea to keep the décor of shared bedrooms neutral, to keep everyone happy. Sticking to gender-neutral colours, and interior styles which appeal to both children will keep harmony and avoid arguments.
This also works in relation to age and growth, designing a shared bedroom in a particular theme that children will not 'grow out of' will mean you don't need to redecorate in the future. Neutrals have longevity and will always be on-trend, plus lighter shades will help brighten up smaller spaces.
Get Furniture-Smart
What you furnish a smaller, shared bedroom with is essential. When you are limited on space, being smart with your furniture choices can work to expand room whilst accommodating to more than one person.
There are various guest bed designs on the modern market which cleverly hides an extra sleeping space, which can be tucked away to reveal extra floor room when not in use. These beds are ideal for shared bedrooms, or even to offer a convenient extra bed for guests or sleepovers – many guest beds are single sized, so don't use extra floor room.
Divide the Room
As children grow older, they tend to develop a need for privacy and may begin to demand their own bedroom. A quick and/or temporary solution to this is creating a divide within the bedroom, through either a curtain or a wall as a more permanent solution.
Dividing the shared bedroom can essentially create two separate bedrooms in one and may put a stop to any shared bedroom arguments.
Convenient Bunk Beds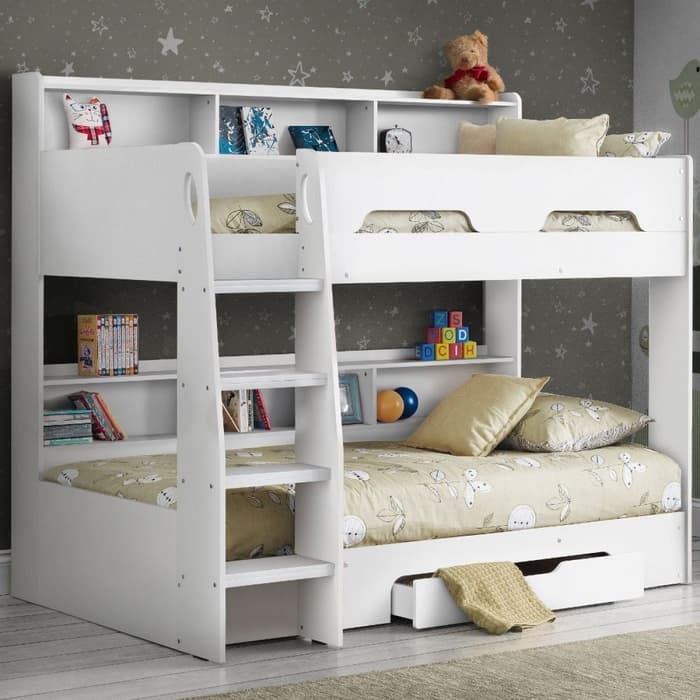 Think about which piece of furniture takes up the most room in your bedrooms – chances are it's probably the bed. For shared bedrooms, two single beds in one room can take up lots of room and make the area feel crowded and cramped.
Bunk beds are the ideal solution to this shared bedroom problem, by combining two beds together whilst using the floor space of one single bed to leave plenty of excess room to move. There is a range of stylish bunk beds which can keep your shared bedroom on-trend and spacious too.
Futuristic Triple Sleepers
So, we all know that bunk beds save room are the ideal solution for shared bedrooms, but let me introduce you to the future of children's bedrooms – the Snowdon Triple Sleeper Bunk Bed.
Bunk beds are great for bedrooms of two children, but what about the bedrooms with three children? Happy Beds heard your problems and have delivered a solution. With three secure sleeping spaces in a futuristic design without using excess floor space, you won't know what to do with all of your extra floor space.
Storage is Key
When a bedroom is cluttered, it tends to look a lot smaller in size. The key to a spacious bedroom is organisation and tidiness – if only it was that easy, right?
It can be a serious task to attempt to keep your children's bedrooms clean, especially if it is a shared bedroom for two little ones. You may feel like you are picking up toys and tidying your home every second of the day, but you can make this a little easier through clever storage features.
Many children's beds come with built-in storage, which eliminates the need for bulky storage furniture and can encourage your kids to tidy away their belongings – perhaps make a game out of it and add it into their bed time routine?
Go Minimalistic!
I'm sure you've heard of the all-the-rage trend of minimalistic living, which essentially means only including things that you need within your home.
When space is limited, every little bit of room counts and not a single centimetre should be wasted. Take a look around your home, is there anything you could lose and not particularly miss?
As long as you have a bed and storage solution within the bedroom, that's all you really need! With clever bed designs that combine the two, it has never been easier to go minimalistic and expand your space.
Are You Tackling a Small Bedroom Space?
I hope you're inspired to free up some floor space, put an end to shared bedroom arguments and make your home look pretty stylish whilst doing so. We think our triple bunk beds are a winner!
Show us your ipictures of your beautiful homes via Instagram or Facebook, or Tweet us your best-kept shared bedroom tips.