We've all found ourselves in a predicament before, where our child keeps asking for a new bedroom, and, of course, you want to give it to them. However, you don't have a few thousand pounds spare. So, you find yourself trawling through the web into the wee hours of the night looking for kids' bedroom ideas on a budget.
Well, at Happy Beds, we believe everyone deserves a good night's sleep. To help make the makeover process pain-free, I've compiled four wish lists, each highlighting how you can refurnish your child's bedroom for under £500. Check them out below!
Furnishing a Toddler's Bedroom for Under £500
They may still be your 'baby', but these essentials will leave your little one feeling like a 'big kid'. Available in numerous shades, we've chosen these stylish and neutral grey and white pieces, adorned with playful stars, for a set that'll look great amongst any décor.
Not only are these cute and comfortable, but they come in at a shade under £500, at £494.95!
Furnishing a Child's Bedroom for Under £500
Keeping with the colour scheme, here is my bundle for slightly older children.
This handy low sleeper provides plenty of opportunity for neat under bed storage, and the bedside table is the ideal place for a night light and a drink. Team with our Pluto chest of drawers and wooden bookcase for the ultimate quartet.
Who knew you could get so much kids' furniture for around £450?
Furnishing a Pre-Teen's Bedroom for Under £500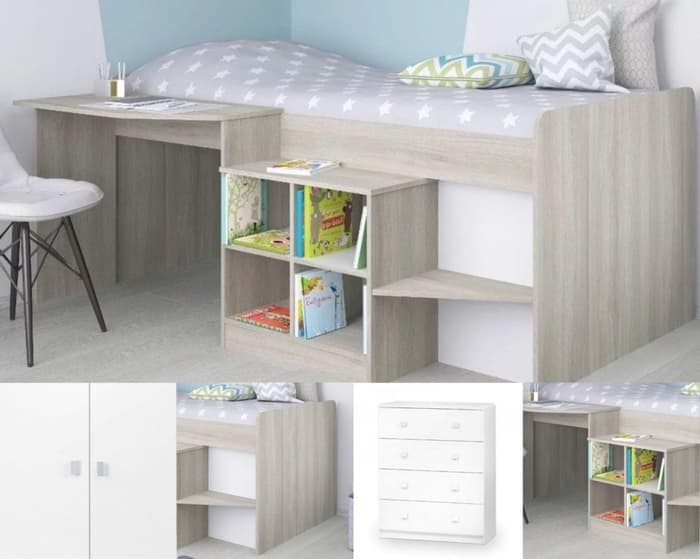 The pre-teen years come with more demanding tastes (and a lot more homework), but I'd be shocked if yours doesn't love this mid sleeper bed. With under bed shelving and a built-in desk, it really makes the most of the available footprint, providing plenty of space for them to proudly display their favourite items.
Team with our white Apollo wardrobe and four drawer chest for a classic look that will stand the test of time.
Furnishing a Teenager's Bedroom for Under £500
Last, but not least, the big kids!
For your mature, young adult, I'd recommend this high sleeper in chic black and walnut. It's still a single bed, but the colours are much more 'grown up' and the height provides a sense of greater privacy. As with the other beds on this list, this maximises storage and even comes with handy desk space.
In this wish list, I've paired it with a similar coloured chest of drawers and a comfortable and colourful beanbag chair which is perfect for chilling out and playing video games.
You can't go wrong when you purchase all three for just under £425.
Want More Children's Bedroom Ideas on a Budget?
If grey and black isn't your taste, or you'd simply like a little more inspiration, we've plenty! Scan our post '
1 Amazing Themed Kids Bedroom Ideas That Will Inspire You' or see how real-life customers have styled their Happy Beds purchases in 'Your Happy Beds This Month: Kids Beds (Part 2)'. Then head on over and browse our kids' beds range. You won't be disappointed!
Check out our
Toddler Beds
Here!