Here at Happy Beds, our interest in you doesn't end once you've completed a purchase; we love having a little nosey at how you choose to decorate your rooms, especially when they include our beds! During our sneak peeks, we discovered that many of you loved a jungle themed bedroom.
We love this idea too, and thought we'd come up with some interior tips of our own to help inspire any parents out there who might be desperate to design a jungle themed kids bedroom! Let's create a bedroom packed with fun and excitement whilst being practical and, most importantly, neat and tidy!
Jazz Up Your Little One's Jungle
A great way to introduce jungle themed accessories without clutter is by making use of textiles. Change your child's bedding to include loud animal prints or some green leaf scenery as a simple first step towards creating that jungle paradise. Then add layers with extra cushions and blankets in earthy shades such as greens, browns and deep blues to really bring nature indoors.
You could opt for a fancy feature wall that includes your kids favourite jungle animals by buying mural wallpaper or, if you're feeling really arty, why not pick up a paintbrush and try designing your own jungle paradise by painting some leaves and flowers on the walls? Be as creative and colourful as you want, there really is no limit to what you can do!
Give Their Room a Botanical Boost
Even the best of us adults can struggle to keep plants alive, so we would advise choosing a plant for your child's bedroom that can handle its fair share of neglect. Here are some hard to kill plants that your little one can nurture - when they remember to, of course.
A personal favourite is the Venus flytrap. This is a plant with a little extra bite that is sure to provoke plenty of intrigue from your child, especially when it 'eats' another insect. It certainly has the right exotic vibes and isn't too hungry for attention; the carnivorous plant can survive at normal indoor room temperature, and watering can be reduced to once a week by placing it in a shallow saucer.
The Codiaeum Variegatum, or easier known as the Croton Petra plant, comes in a wide range of shapes and patterns, and with its red and orange leaf variations, it will radiate with brilliant and bright jungle colours!
For best results, keep in a sunny corner or windowsill and water frequently. But rest assured, this pretty plant is a lot tougher than it looks, and will bounce back with ease if your little angel abandons it for a couple of weeks.
These can be easily found and picked up from your local supermarket, or if you want to cheat a little, you can always opt for some artificial plant life.
Be Crafty and Reuse That Packaging
Using crafts to decorate a bedroom is a great way to create a fun activity for you and the kids. Plus, it's cheap and benefits the planet by integrating recycling!
Cut up those cereal and Amazon boxes that you never seem to have a shortage of and use them to create brilliant bedroom decorations. Leaf shapes can be coloured in by your children and used to decorate their new jungle themed bedroom. Take some inspiration from our Treehouse Beds activity pack, which can be found here.
Encourage your children to collect toilet and kitchen roll tubes and use them to build trees! Jazz them up by wrapping the rolls in hessian, which adds a natural feel as well as being an environmentally friendly material.
Provide an exciting activity to take them outdoors or that can even be done on the walk home from school. It's as simple as picking up fallen leaves to be painted and used as decorative stamps.
If it's too cold outside, you and your little one could learn to make easy origami leaves (above) together. These could be created using recycled sugar paper, or even better, reuse magazine pages that feature green hues. Let your little one's imagination run wild as they create their own little personal touches that reflect their big personalities!
A Fun Bed For A Fun Theme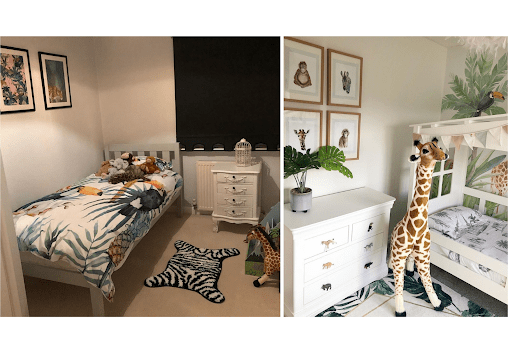 When you're looking to create a jungle themed bedroom for children, the bed is probably the best place to start; it's where your little one will be getting their all-essential sleep after all! One thing that I think is important is to begin with a blank canvas, so choose a bed that you can build upon with all these jungle decoration tips.
A treehouse bed would be perfect for a jungle themed bedroom. Your little one can feel as though they're snoozing from the treetops!
Becky, (@homesweethome_at_23) has featured our wonderful Mento Treehouse Bed (image, right) with its canopy-like design, and it's not difficult to see the jungle possibilities! We love everything about this bedroom, from the animal drawer details, to the fun feature wall!
Alternatively, our Luna Grey Wooden bed provides a brilliant base that you can go wild on! We love how @glamnan07 has used its neutral design (image, left) to create a jungle paradise for their little animal lover.
Welcome To Your Jungle
Hopefully these tips have provided plenty of ideas to let your little one have their own jungle experience. If jungles aren't their style, how are you decorating your little one's bedroom?
Now you've created your little one their very own jungle bedroom, why not create them a full jungle bedtime experience by adding some nature themed ASMR to their bedtime routine? Check out our blog, Jungle ASMR: How Nature Sleep Sounds Can Help You Snooze Better, to find out more! And finally, don't forget to share all of your top decorating tips with us over on Instagram, Twitter and Facebook!
Help us save the
leopards