You've finally done it, you've made the big step and purchased your first home! All that saving and stress with chasing the solicitors was worth it. Now comes the fun part; you get to decide on how to furnish your new home!
But just how expensive is it to fully furnish your first home? Well, we looked into it for you, and as it turns out, it can be quite costly. In fact, furnishing your first home can cost nearly as much as your deposit. Ouch! So, to help you out, we've provided some top tips on how to furnish your first home stylishly, without breaking the bank!
How much does it really cost to furnish your first home?
Image: Rohe Grey Fabric 3 Seater Sofa
Buying your first home is very exciting. How should you decorate the living room? Are bold or neutral colours best in your bedroom? All of these questions you'll soon come to answer. But one question remains: how much can you expect furnishing a new house to cost?
Completely furnishing a house will cost you a pretty penny. Based on data from some of the UK's biggest furniture retailers, it costs a minimum of £2000 to furnish a one-bedroom property with only simple furniture items. And that's not even including a mattress!
At Happy Beds, we're nothing if not passionate about getting a good night's sleep. In fact, we conducted our own research (see below) on this and found that on average, people spent a whopping £5000 furnishing their first home! That's expensive enough to keep anyone awake at night.
What are the big expenses when furnishing your first home?
The biggest expenses in your renovation are, unsurprisingly, the larger items such as sofas, beds, fridges and so on. Whilst these items are more expensive than smaller bits of more affordable furniture, you can at least rest assured that they will last for many years. After all, you tend to pay a higher price for these items as you know they are a long-term investment.
Of course, the most ideal solution is to buy cheap furniture… without it actually being "cheap" furniture. But where can you find high quality affordable furniture? You might have seen this coming, but at Happy Beds we pride ourselves on being able to offer stylish and affordable modern furniture.
We also understand how difficult it can be to furnish a new home on a budget, so now we're even providing a 10% Happy First Home discount! The discount is valid across our entire website for First-time-buyers when you purchase your home with one of our Happy First Home Discount Partners.
Our 5 top tips to a stylish first home on a budget
Image: Woodbury Warm Stone Velvet Fabric 4 Drawer Bed, @_othersideofpennines
1. Plan your vision
Start by envisioning how you want each room to look: will there be a running theme throughout your new home, or do you want each room to have it's own individual style? It might be worth making a quick collage on your phone and see how colours and styles work together. Explore Pinterest and Instagram interior accounts for ideas: we're always getting inspired by our fantastic customer images!
You can then make a note of the furniture styles you like. Having some kind of plan will be very helpful when you start shopping for stylish affordable furniture as it'll keep you organised during a very chaotic transition.
Image: Wilson Grey Fabric Ottoman Storage Bed, @homein_theleicester
2. Prioritise items
In the excitement of buying your first home, you may feel under pressure to get your house showroom-ready as soon as possible, but there's no need to rush! Prioritise the essential furniture items that you really need: such as a bed, dining table or a sofa. It's perfectly fine to furnish your new home piece by piece, rather than a full room at a time.
It may be a good idea to create a list of the less essential furniture items you want and keep it close to hand, so you can pick up the little extras whenever you have some spare cash. The more organised you are with your budget furnishing, the easier it will be when you come to treat yourself on the slightly more expensive furniture that you've had your eye on.
Image: Maine Dove Grey Wooden Bed, @gosford24
3. Pay attention to seasonal sales and promotions
Image source: heart.co.uk
Be strategic about when you purchase certain high price items. It's never a bad idea to do your research beforehand - make a note of what you need and look around to find the best price. This can make a huge difference when you're furnishing a new home on a budget. It might take more time, but it's worth it in the end; especially when you find that style of modern, affordable furniture you've always wanted.
So, when is the best time to buy new furniture? A little bit of research shows that furniture sales and discounts are highest during the January sales. In fact, an article by Heart claims that you could even save up to 54% on the price on your bed as well as 30% off your sofa! Although, you shouldn't worry that you've missed out on all the furniture discounts, there are still plenty running throughout the year.
4. Focus on quality over quantity
Furnishing a new home on a budget is hard. We've already discussed prioritising the essential items, but you shouldn't forget that the high price items need to be considered as an investment which will save you money in the long run.
So you might need to think about spending a little more money on furniture such as your bed frame and mattress, which will likely follow you to your next home. Focus your budget furnishing on items such as bedside tables and floor lamps which are much easier to replace if they break in a couple of years time.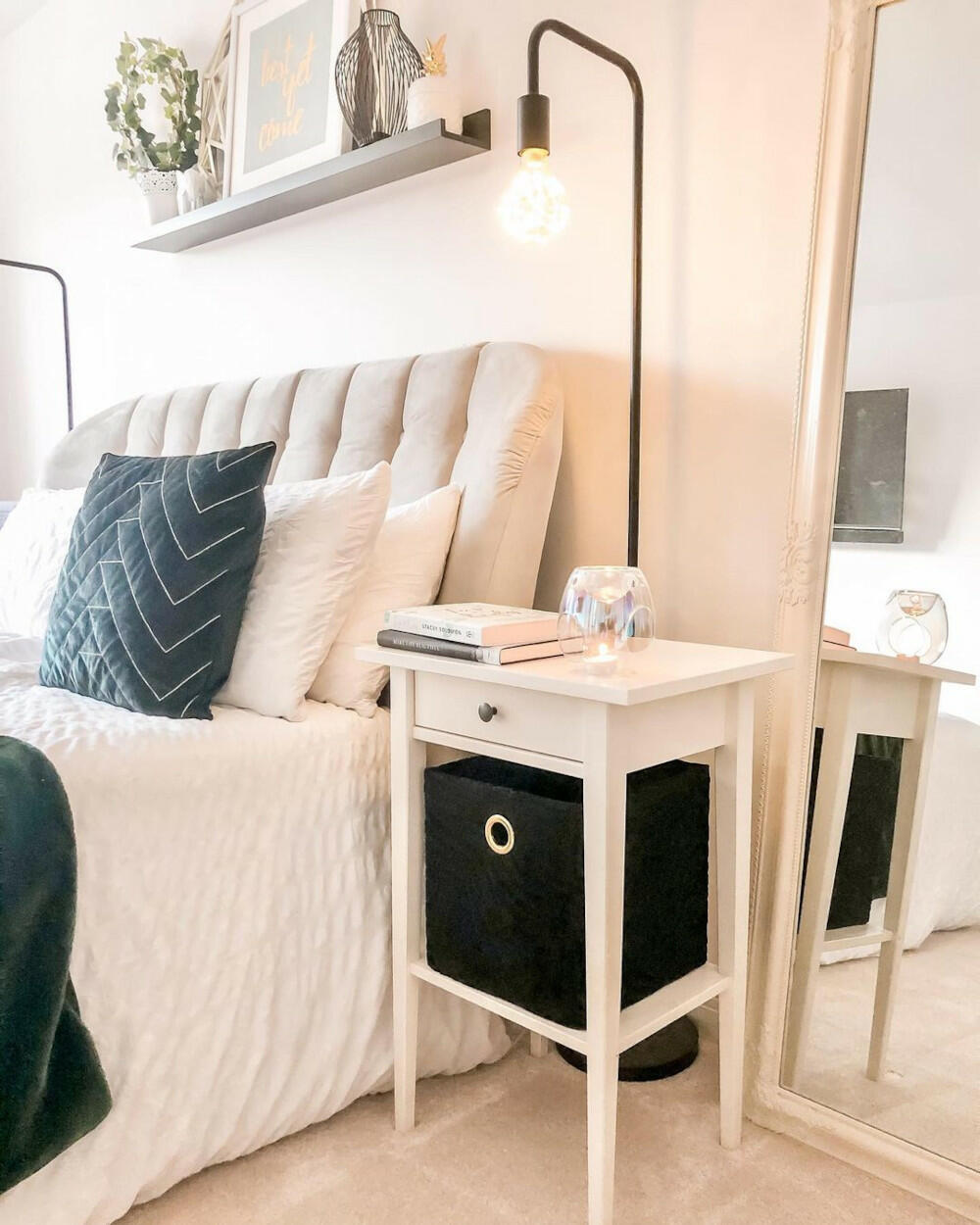 Image: Elm Warm Stone Velvet Fabric Bed, @ourmaplehouse
5. Take your time and enjoy furnishing your first home
Once you've purchased your essential furniture items, there's no shame in waiting a little longer before buying everything else, such as your decorative furniture pieces, for example. Keep in mind that it's not worth compromising your first home that you've worked so hard to get, just to rush to fill the whole house in the first month. It's an unrealistic goal, and you'll most likely end up with a load of cheap furniture that you're not entirely satisfied with.
Go at your own pace and enjoy the process! If you use these steps and be smart about buying more affordable modern furniture, there's no doubt your first home will feel finished in no time.
Image: Highgate Navy Blue and Oak Wooden 2 Drawer Bedside Table
Happy Bed's Happy First Home Discount
Are you currently looking to buy your first home? We now offer a 10% discount for first-time buyers when you purchase your first home through one of our Happy First Home Discount Partners.
If you're already in the process of purchasing your first home and it isn't with one of our discount partners, we'd love for you to mention our discount so we can make furnishing your first home on a budget even easier! Learn more about our Happy First Home Discount on our website.
Check out the
Happy First Home Discount
now
*Main image credit: Accent Oatmeal Fabric Ottoman Storage Bed, @our_home_interior_3