Do you look at images of beds on Instagram or in magazines and dream of a similar set-up?
Well, styling a bed is easier than you may think. It doesn't have to be a chore each morning!
Read on to discover our top tips on everything from how to layer a bed like a hotel, to how to dress a bed like a designer.
How to Style a Bed
Think of your bed like a lasagne, with its many layers: sheets, duvet, throws, pillows and cushions are used together to create a masterpiece. Used alone they're simply not as satisfying.
If you would love all things home, but don't quite have the eye of an interior designer, here's how you can get the perfect polished look:
The first step is to put down a valance sheet. This is optional, depending on your bed frame or divan, but can be handy for creating a clean aesthetic.
Next, place a mattress topper and protector on for added comfort and protection. My favourite is the heat sensitive Soft Feel 2500 Memory Foam Orthopaedic Mattress Topper from our range with its 25mm of memory foam and removable cover.
Put on the bottom sheet, and then layer on a top sheet. Don't usually use a top sheet? Then you may like to read our blog: What is a Top Sheet and Should You Have One?
Drape the duvet (in its cover) on top and fold back the top sheet to create a fold or cuff.
Then, place two pillows at the head of the bed so that they overlap the top of the bedsheets.
Drape a throw or runner over the end of the bed, and layer scatter cushions.
How to Dress a Bed with Pillows and Cushions
The first step is to decide how many pillows you want to sleep on. To help with this, read our blog: How Many Pillows Should You Sleep With? Make sure to give them a good shake before placing to fluff them up. I like to rest mine against the headboard to give them more height.
When it comes to decorative cushions, this is your chance to experiment with texture and colour. Depending on the size of your bed, you can opt for between three and six pillows in varying shades and materials. However, be aware of the types of material – you don't want anything picky or itchy on your bed.
I like to use different shapes too. A mixture of square, rectangle, round and bolster cushions add depth and interest. I had a velvet, star-shaped cushion on my bed as a child, which I loved, and these simpler shapes remind me of a grown-up version of this.
For inspiration, take a look at how some of our previous Happy Beds customers have styled their beds…
(Images: @54renovation, @yanniqueinteriors, @inside_number84, @homelifewithella, @thelittlevictorianterrace, and abilucyhome)
…or, how the major names in interiors style their projects.
Bed Styling Tips from the Experts
Who better to learn from than the pros? Here are some top tips from some of our nation's favourite interior design experts. Will you take their advice in your home?
"My new favourite thing in a bedroom is linen bedding. It feels soft on your skin, it continues to get better with age and it hangs beautifully. Ironing is optional depending on the look you're going for... bonus!"
Natasha Birley, Head Interior Designer at Homewings in Cosmopolitan
"Cushions are controversial. Some like lots, some hate having to move them every night before they get in. The Mad Husband being one of those. One workaround is to have four different pillowcases in toning colours – or one patterned one. That way they look like cushions, add interest to the bed and don't have to be removed when you get in. Layer over a contrasting, or tonal bedspread, which, again, need only be moved according to the season and you have the look without the bother."
Kate Watson-Smyth, Interiors Journalist and Blogger, Mad About the House
"Always choose a decent mattress topper to create a super soft bed that will be a joy to crawl into at night and a challenge to get out off in the morning! They come with either feather or polyester fillings or you could try wool ones (which are hypoallergenic and vegan too). They are the perfect base to dress a bed.
Remember a topper will never compensate for a poor quality mattress or one that is saggy and old! It's always worth spending money on a mattress when you consider how much time you sleep in it. "
Maxine Brady, Interior Stylist and Blogger, We Love Home
"We put a lot of focus and energy into the design of our beds, not only because it is always the focal point of every bedroom, but also because we all spend so much time in them."
She likes to buy shams instead of pillowcases.
"They have the pattern or embroidery all the way around instead of on just one edge, so we find it gives a bit more pop."
Claire Ratliff of Cullman & Kravis, in Architectural Digest
"An easy way to add warmth to a bedroom scheme is with a cosy throw at the end of the duvet. Look for faux fur or an oversized cable knit to add softness and texture."
Jeni Madden, Interior Designer, also in Cosmopolitan
How to Dress a Bed Like a Hotel
Want to get the feeling of a 5* hotel at home? Then first read our blog post 'How to Make Your Bedroom Look Like a Hotel Suite', then check out the below insider's tips:
Always use white bed sheets.
Invest in cotton sheets with a good thread-count. 300 thread count is standard for 5* hotels.
Skip fitted sheets for two flat sheets folded with 'hospital corners' instead.
Choose a cover that is an inch or two smaller than your duvet, so it looks full and sumptuous.
Place a colourful throw over the foot of the bed.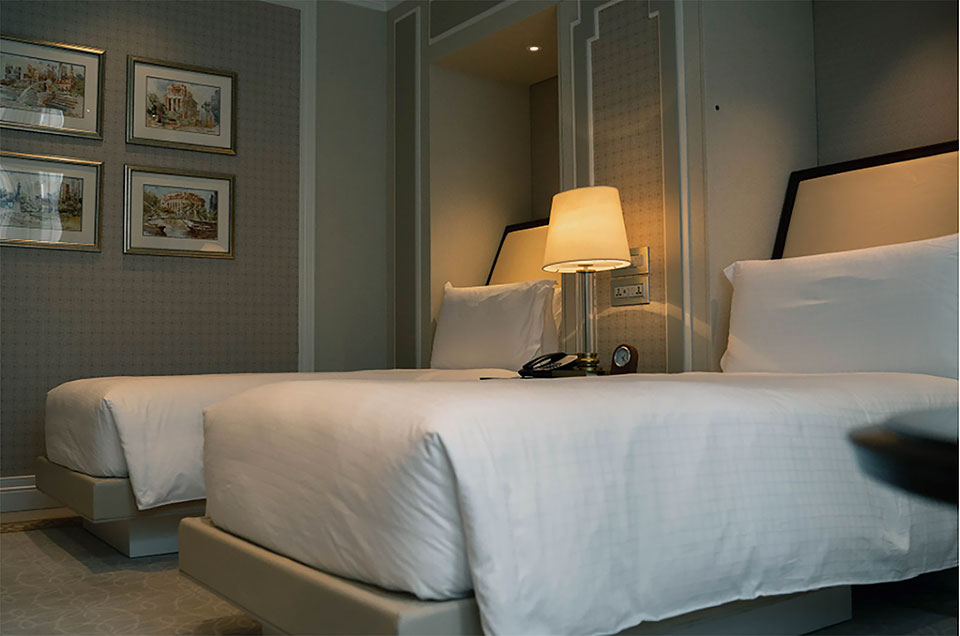 Want to Learn More?
Miscellaneous Tips
When it comes to how to layer a bed for summer, think about light and breathable fabrics. Cotton is great for this! You may also choose to replace your regular duvet with a lower tog alternative or switch it out entirely for a coverlet or throw instead.
For winter, layer a bed with thicker fabrics such as wool or fleece for the same pleasing aesthetic, but with added warmth.
Use a reversible duvet cover set for an added pop of contrasting colour.
Don't forget your bedside tables! Your bed may look amazing, but a cluttered bedside will bring down the overall look.
Further Styling Tips
How to Use Texture in Interior Design: Makeover Your Bedroom
Your Perfect Divan Bed: Five Happy Beds Styling Tips for a Divan
From Throws to Ottomans, How to Style the Foot of the Bed
Become a Style King (Or Queen)
There is nothing quite like a king size bed as a blank canvas for learning how to style and we've got some stunning designs here at Happy Beds. Browse the range to see how their statement headboards and spacious sizes could complement your interior.
Shop Our
King Size
Beds Today!