'Hygge is not a thing or something you buy...hygge is a state of mind' - Morten Georgsen
The Danish word "hygge" (pronounced 'hoo-gah') is hard to pronounce and even harder to explain. The closest that we can get is "cosiness", but this is just the tip of the iceberg. Hygge is so much more. In essence, it means creating a warm atmosphere and enjoying the good things in life, with good company.
Hygge is a relatively new concept, yet many of us have probably been practising hygge all winter without even realising.
If you've been cuddling up in front of a fire, having friends over for dinner, wrapping up warm for a bracing walk with the dog, stopping off for a luxurious hot chocolate, or even just taking the time to enjoy a long lie-in on a Sunday morning, then you've already been experiencing hygge.
When it comes to hygge at home, most people tend to focus more on the living room. The bedroom is often a neglected area, but we spend so much time here, it's important not to forget it. So we've put together eight top tips for bringing the hygge home design into the bedroom.
8 Hygge Home Décor Ideas
1. Decorate Your Bedroom
The bedroom is often not a priority when it comes to decorating, as it's the one room in the house that is totally private and not used or seen by guests. However, it has a huge impact on your wellbeing so it should be given the attention it deserves. Think about how you want to feel in your bedroom and decorate it accordingly.
Scandinavian interior design and hygge often go hand-in-hand. If you don't know where to start, take a look at Scandinavian interior designs to get some hygge home inspiration for creating your own perfectly cosy space. Think calming colours, soft white lights and LOTS of blankets.
2. Keep it Tidy
A messy space will leave you feeling stressed and anxious, which we know is anything but relaxing. Try to keep 'clutter' at bay and only have things that you actually need or love in your bedroom. At the risk of sounding like Marie Kondo, all accessories should evoke soothing and happy thoughts and 'spark joy'.
3. Stick to a Neutral Colour Scheme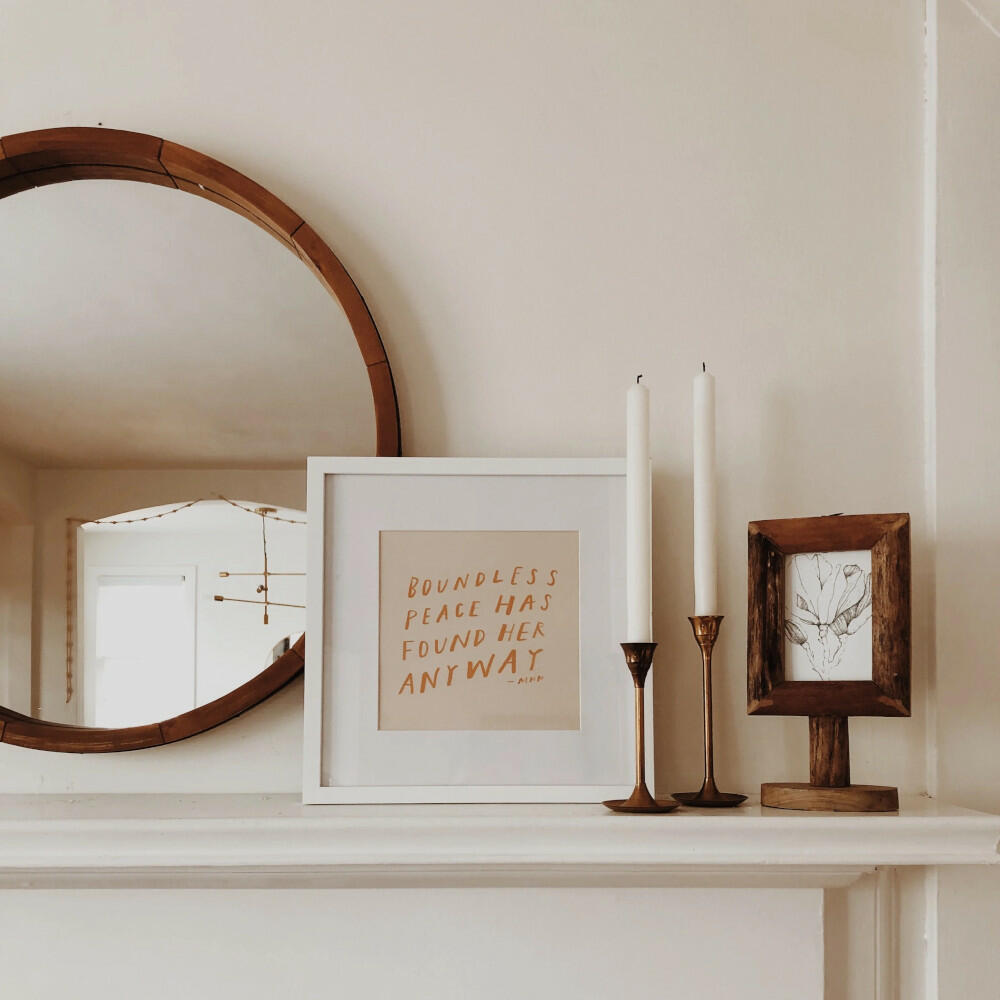 When it comes to hygge home decor, it's always best to opt for a neutral colour palette that isn't too overwhelming. The colours you choose should create an atmosphere that is harmonious and peaceful. Bright colours can prevent you from relaxing, so choose wisely.
Read more: What Colour Should I Paint My Bedroom Walls?
4. Add Texture
When you think of a cosy atmosphere at home your mind probably defaults to thoughts of gloriously soft, snuggly textures. Our idea of a hygge home decor consists of lots and lots of blankets.
Chunky knit blankets and cushions, faux fur throws and deep pile fluffy rugs all add texture and help to soften a room. Mixing textures and layering fabrics in the bedroom will create a feeling of comfort, warmth, and relaxation.
5. Think of Comfort
To achieve the perfect hygge home design, it's important to relax. And, in order to relax, it's important to be comfortable. Add plenty of pillows to the bed so that they can support you while you enjoy time out with a good book or snuggle with your partner. Also, make sure the temperature is just right. This should be about 18°c for sleeping, but you may want to have it a tad warmer during the day.
For added comfort, take a look at our Panda Bamboo Memory Foam Pillow. It'll be like sleeping on a cloud, and you'll find yourself drifting off in no time…
6. Light it up
Lightning is very important in Scandinavian interior design. Think minimalistic, warm lights that create a calming glow.
Lighting is extremely important in the bedroom and should be used wisely to create a cosy atmosphere. Twinkly lights or fairy lights are ideal when it comes to hygge home decor. They add another layer to your lighting scheme and give off a very soft light which is perfect for bedrooms.
Read more: Seven Sensational Bedroom Lighting Ideas for Your Home
7. Invest in Candles
Denmark is consistently ranked as one of the happiest countries in the world and also one of the largest consumers of candles per capita. Can we deduce from this that candles make you happy? Perhaps not, but candlelight is a sure-fire way to create a sense of cosiness and serenity.
You'll find that candles play a large role in hygge home design and it's easy to see why. There is just something about that flickering flame and the crackling sound that puts us at ease.
8. Enjoy the Space Around You
One of the fundamental aspects of hygge is to enjoy the space you're in, particularly when that space is at home. Your bedroom should be a sanctuary that allows you to take refuge from the stresses and worries of everyday life.
So, fill your bedroom with hygge home decor that allows you to do this. Whether that be books, magazines, plants, artwork, music, or pets, simply choose the things that enable you to unwind and enjoy the small everyday pleasures that soothe your soul.
Make Your Home More Hygge
We hope these hygge home ideas have given you the inspiration to get cosy. If you're looking to upgrade your bedroom, then shop our range of beds and mattresses online today. We're sure you'll find the perfect piece. Just don't forget the blankets!