You're probably wondering how scents can help you sleep; there is both logic and research behind this question, and something we'll explore in this blog.
Scent has a certain power over the human brain and body, scents grab your attention, and it's clear from the offset whether you like a smell or not.
When you whiff the scent of your favourite food, it intrigues you, it makes you want to eat. When your partner is wearing perfume or aftershave that you really like, it draws you in closer to them. But what smells lull you into a deep slumber?
Scents Mentioned in this Blog:
If you're looking for something specific, we won't keep you scrolling forever! Here's a list of all the scents to help you sleep mentioned in this blog so you can skip to the one you're looking for:
Does the Smell of Lavender Help You Sleep?
Lavender has long been considered a scent which has calming and relaxing properties; it is often used to treat symptoms of irritation or anxiety, as it slows down the nervous system. It has resulted in a 20% 'better than average' increase on quality of sleep during some studies.
Koulivand, P. et al. researched lavender and the nervous system, and with the increasing evidence to suggest that lavender oil could be used in the treatment of several neurological disorders, as a sedative and a mood stabiliser, they confirmed 'lavender may have a significant clinical potential'.
Their research into Sleep and Lavender also concluded:
'Single-blind randomized studies investigated the effectiveness of lavender odour on quality of sleep showed that lavender improved the mean scores of sleep quality in fifteen healthy students [74], in sixty-four ischemic heart disease patients [75], and in thirty-four midlife women with insomnia [76].'
Whereas, the University of Southampton's Lewith, GT. et al. conducted a study with 10 volunteers (5 female and 5 male) over the course of 4 weeks which showed that lavender created an improvement of -2.5 points in PSQI (Pittsburgh Sleep Quality Index, p = 0.07, 95% CI - 4.95 to - 0.4) when treating insomnia.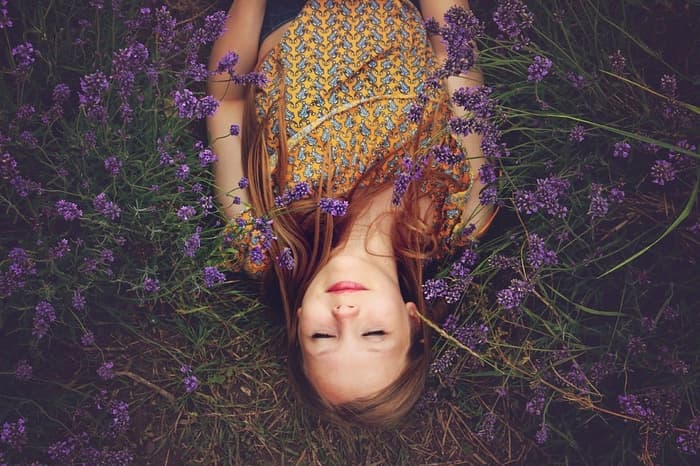 So, how does this purple plant do it?
Sprinkling a few drops of lavender oil underneath your pillow, or on a piece of tissue, has shown to increase slow-wave sleep. Slow-wave sleep is your 'deep sleep' where your heartrate slows down and your muscles relax, resulting in you feeling far more refreshed and energetic the following morning.
Can you recall a time where you've smelled something that brings back good memories, like a homemade pie? Or memories of anticipation, such as, sunscreen on a holiday?
Well, there is such a thing as the olfactory system which is part of our sensory system which is used for smelling, and is closely linked to the emotional centre of our brains. When your olfactory system detects these memorable and recognisable scents, your body releases chemicals called endorphins which reduce your perception of pain, and increase positive triggers and feelings.
Hence why natural oils, such as lavender, can help to promote a happy, relaxing, and peaceful sleep.
Does the Smell of Peppermint Help You Sleep?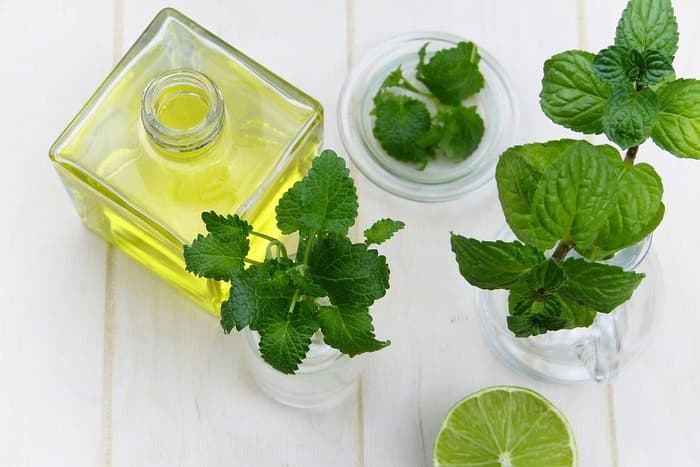 As we've discovered, research shows that certain plants and herbs do indicate to have calming and relaxing properties. Realistically, any scent that promotes positive and calming feelings around you before you sleep may naturally aid in a peaceful night's sleep due to the receptors in your brain.
For example, research has shown that peppermint (in it's essential oil form) increases alertness and cognitive performance.
140 people participated in a study where they were randomly assigned the aroma of ylang-ylang, peppermint aroma, and no aroma as a control group. Mark, M. et al. concluded:
"Peppermint was found to enhance memory whereas ylang-ylang impaired it, and lengthened processing speed. In terms of subjective mood peppermint increased alertness and ylang-ylang decreased it, but significantly increased calmness".
However, peppermint tea has shown to promote weight loss, reduce heartburn, and induce sleep. How? Well, caffeine-free peppermint tea acts as a muscle relaxant, which can aid in a more peaceful night's sleep. The menthol component of peppermint causes your muscles to relax, relieving stress and anxiety, which both add up to allowing you to gain more restful sleep.
Plus, if you've found yourself bloated before going to bed, or have digestive issues, peppermint tea has shown to be an ideal natural remedy for those with stomach ailments. The carminative elements in peppermint tea allow the gases in your body to move more freely, rather than collating in one place, relieving discomfort.
Other Smells That Aid Sleep
These are other fragrances that have been proven to have a positive impact on mental and physical health. But what are the best essential oils for sleep and relaxation? Take a look below!
Something to remember: every person is different and so some fragrances will be more effective in alleviating sleep problems than others.
Vanilla
Unsurprisingly, a scent commonly known for aiding sleep is the humble vanilla. Used primarily in baking and aromatherapy, the scent is delicious, sweet, and mouth-watering. Commonly found in candle and yogurt form, this is a potent scent that has sedative properties - so powerful in fact, it is capable of reducing blood pressure. This in turn creates drowsiness that will send you off into a deep, relaxing sleep.
Vanilla has many beneficial qualities - it's rich in antioxidants, alleviates feelings of depression, has anti-inflammatory properties, and maybe the most surprising of all, it's great for your hair!
No wonder vanilla is such a popular addition to people's lives - we've never had a bad experience when tucking into a vanilla cone! Have you?
Chamomile
Cited in ancient medical texts of Ancient Egypt, Greece, and Rome, chamomile has been around for centuries. Used for its healing properties, chamomile is largely known to be a relaxant and used to alleviate stress, anxiety and depression.
Sweet and vaguely apple-like, the scent of chamomile was thought to encourage relaxation, relieve depression and promote sleep.
In 2017 a study was conducted with two groups of elderly people to test the effects of chamomile on the quality of sleep. In the study, one group was given chamomile extract capsules twice daily whilst the other group was given a placebo capsule to take. The results showed that those who took the chamomile capsule had significantly increased sleep quality compared to those who took the placebo.
With its mental and physical benefits, chamomile seems the perfect choice for those in need of some relaxation.
Jasmine
Another sweet-smelling scent, jasmine is a seemingly less popular scent that is just as effective as (if not more effective than) the scent of lavender in sleep satisfaction. In 2010 German researchers conducted a study regarding the effectiveness of fragrances in sleep promotion compared to the effects of sleep medication. They found that the scent of jasmine was the most effective in promoting sleep compared to other fragrances and was also as equally effective in aiding sleep as pharmaceutical medication.
Alongside helping with a good night's sleep, jasmine has been found to alleviate feelings of anxiety and depression. The jasmine plant is very versatile indeed - It's a natural sleep remedy that has healing properties and has many beneficial uses. Tea, essential oils, incense...there are many different forms of jasmine available to buy. Give it a chance!
Cedarwood
Known for being a more masculine scent with its wood undertones, cedarwood is a scent that has sedative qualities when used as an aromatherapy treatment. Using cedarwood essential oil for sleep problems seems a popular choice for those who don't like a sweet scent, as it has soothing qualities that would help with getting a good night's sleep.
Research has shown that cedarwood has a soothing effect on mood and is effective in reducing stress. With the focus on mental health becoming much more prominent over the past year, cedarwood (alongside any other fragrance) may be a good way to help you relax and unwind during these trying times.
Sandalwood
Sandalwood is another masculine scent with earthy undertones, its scent is rustic and natural and is effective in promoting sleep. Common in fragrance diffusers, candles and incense, sandalwood is a fragrance used in many homes.
Its scent is effective in relieving anxiety and also has sedative properties, reducing sleeplessness and increasing amounts of non-REM sleep (or deep sleep). This makes it an ideal scent for anyone struggling with their sleep. Essentially, sandalwood is a relaxant, and an effective one. Adding a few drops of sandalwood essential oil into a bath before bed will do wonders for your sleep.
Lemon
Thought more widely as a refreshing odour, it seems unlikely that such a scent could promote relaxation and rest. Right?
So do lemons help you sleep? Let's have a look.
Whilst there isn't much research on the link between lemons and quality of sleep, we know that lemons have plenty of benefits. Ranging from aiding digestive issues to being a natural deodoriser, lemons are indeed versatile.
It's no surprise then that lemons are also believed to promote sleep. Leaving a slice of lemon by your bed is thought to reduce feelings of anxiety and in turn, help you sleep better. This is because the lemon activates an adenosine A(2A) receptor on cell membranes (very technical, we know). When left inactivated, this membrane is associated with insomnia and feelings of anxiety.
So there you have it, keeping lemons in the bedroom has its benefits. Best nip to the supermarkets then!
Are You Struggling to Get Your 8 Hours a Night?
Drinking a cup of peppermint tea and dabbing some lavender oil underneath your pillow before bed could result in a dream concoction for a peaceful night's sleep. But sometimes scents are just simply not enough. If you think it's time you invest in your comfort, check out our orthopaedic mattresses.
An Orthopaedic Mattress To Suit
You
References:
Adib-Hajbaghery M, Mousavi SN. The effects of chamomile extract on sleep quality among elderly people: A clinical trial. Complement Ther Med. 2017 Dec;35:109-114. doi: 10.1016/j.ctim.2017.09.010. Epub 2017 Oct 13. PMID: 29154054
Koulivand, P. H., Khaleghi Ghadiri, M., & Gorji, A. (2013). Lavender and the Nervous System. Evidence-Based Complementary and Alternative Medicine : eCAM, 2013, 681304.
Kagawa D, Jokura H, Ochiai R, Tokimitsu I, Tsubone H. The sedative effects and mechanism of action of cedrol inhalation with behavioral pharmacological evaluation. Planta Med. 2003 Jul;69(7):637-41. doi: 10.1055/s-2003-41114. PMID: 12898420.
Ruhr-Universitaet-Bochum. (2010, July 9). Intoxicating fragrance: Jasmine as valium substitute. ScienceDaily. Retrieved December 19, 2020 from www.sciencedaily.com/releases/2010/07/100708104320.htm
Lis-Balchin, Maria. Lavender the Genus Lavandula. Taylor and Francis, 2002.
Lewith, G., Godfrey, A. and Prescott, P. (2005). A Single-Blinded, Randomized Pilot Study Evaluating the Aroma ofLavandula augustifoliaas a Treatment for Mild Insomnia. The Journal of Alternative and Complementary Medicine, 11(4), pp.631-637.
MOSS, M., HEWITT, S., MOSS, L. and WESNES, K. (2008). MODULATION OF COGNITIVE PERFORMANCE AND MOOD BY AROMAS OF PEPPERMINT AND YLANG-YLANG. International Journal of Neuroscience, 118(1), pp.59-77.