Seven Sensational Bedroom Lighting Ideas for Your Home
When it comes to decorating the bedroom, lighting is often something that isn't really given much thought. Most people will simply stick with the overhead light provided and chuck in a couple of bedside lamps. However, the way we light our bedrooms can often be the secret to creating the perfect ambiance for whatever function this room needs to fulfil.
Luke Thomas, Design Director at John Cullen Lighting, an award-winning lighting design company based in London and Dubai, says:
"Most people like bedrooms to be bright in the morning and atmospheric in the evening. Lighting is key to creating a calming environment just before one needs to sleep. It is crucial that we are able to relax in order to get the best night's sleep, and a well-designed lighting design is a simple way to do this."
Layer Your Lighting
As lighting experts will tell you, the key to a well-designed scheme is layering. This means combining different types of lighting to create different moods and to create flexibility within the space. The three main types of lighting are ambient, accent and task lighting, and it is important to create the right balance. So, we asked Luke to give us his top tips for creating the perfect bedroom lighting design.
Downlights
Luke's first suggestion is to avoid using downlights unless they are angled to highlight key features, as these will only result in harsher shadowing and glare. He says "instead, use downlights such as the low glare Polesprings to provide reflected light into the room". He recommends having them angled towards wardrobes and curtains as "the room will instantly feel softer".
Lamps
Next, he recommends using lamps for a soft local lighting by the bedside and on a dressing table.
"For the added practicality in bedroom lighting, use a specific reading light either built into the wall or headboard.

"This would mean you could discreetly read whilst letting your partner sleep."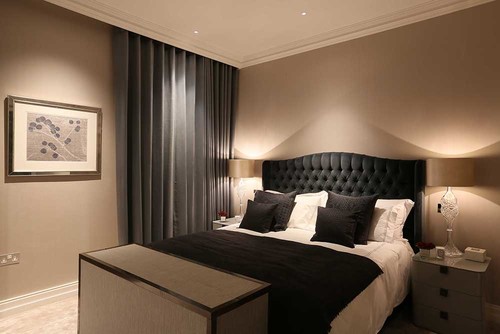 Uplights
The kind of lighting that you choose also depends on the size and style of the room. Luke says:
"For a contemporary room, a concealed uplight behind or around a bedhead can add a dramatic effect, or add a coloured uplight, such as the Contour RGB strip, to a curtain. If you are working with a limited space, consider wall lights on either side of the bed or hanging pendants – this will keep the bedside table clear."
For a small bedroom, it is also possible to use lighting to make the room feel larger.
"If there is a free standing wardrobe and the ceiling is high, conceal an uplight above to give a spacious feel along with lamps either side of the bed,"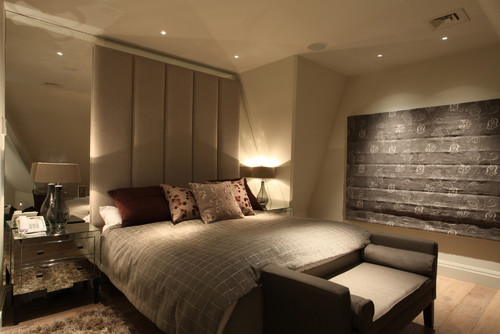 Low-Level Lighting
When designing bedrooms, it is a good idea to take inspiration from hotels and there are plenty of tips and tricks that can be used in our own homes. For instance, a trick that Luke says you can steal from a 5 star hotel is to use a low-level light for during the night.
"Consider using a PIR for automatic activation for low level lighting in areas such as the dressing room or ensuite.

"Downlights in niches, such as the 1W Lucca, or wall recessed floor washers, such as the Cazalla, produce a lower level of light that won't be too bright or overwhelming for the user when operated automatically, especially throughout the smaller hours of the night."
Flexibility
Some of these tips are easy enough to implement ourselves, whilst others may require the services of a qualified electrician to install, especially as some modification of circuitry may be required. Luke says:
"Each effect should be considered separately to add to the mood and flexibility from fresh and energising in the morning to soft and atmospheric at night. One circuit of lights that is switched on and off cannot provide enough flexibility. Dimmers and ideally separate circuits are essential."
Make A Design Statement
Lighting is both practical and mood inducing, but have you ever considered using a light as a design statement? Whether it's a metallic anglepoise on your bedside table or a curved floor lamp in the corner of your room, these small additions to your bedroom can be both functional and beautiful.
Of course, if you're looking to make a real focal point in your bedroom, there is nothing better than our stylish bespoke beds. Why not give our 'build your own bed' tool a go and custom design your perfect night's sleep?
Tailor your Experience Now
With Our
Bespoke Beds
Today