When product innovating at Happy Beds HQ, we've found that bedroom furniture trends are cyclical - what used to be fashionable doesn't stay out of favour forever, with retro styles often coming back in a big way!
We're sure you've seen something similar with clothes lately - baggy jeans, athleisure and flares are all now on the high street again and are hotter than ever.
So, what home trends from yesteryear do we think should be brought back? Well, our latest debate in the office has been all about overbed units and the reasons why we'd love to see overhead bed storage make a comeback!
What Are Overbed Fitted Wardrobes?
A style staple of the 80s and 90s, overbed wardrobes were made up of multiple fitted sections with cupboards arching over the bed. These furniture suites often filled an entire wall or two in the bedroom to maximise the available space for storage.
Some even came with a shelf headboard or side tables for added surface space for essentials like an alarm clock or lamp. Overbed storage was always fitted, enabling them to help optimise the storage space in a room. The overhead cupboards, while spacious, did have some weight limits for safety purposes while sleeping.
Why Did They Fall Out of Fashion?
After the eclectic '90s, there was a trend for modern and sleek décor in the early '00s. Oversized furniture naturally didn't fit with this pared-back aesthetic, so many people pulled out their overbed cupboards in exchange for the classic bedside tables and standard freestanding wardrobes that we see today.
nother factor might have been that overbed units tended to be quite expensive thanks to their size and fitted nature compared to their cheaper, freestanding counterparts.
Why We Think Overbed Storage Should Make a Comeback
So, why do we think overbed storage will trend again soon? Well, despite their large size, slightly higher cost, and the fact they can't be moved around, these units have a lot of advantages. First, they do maximise available floor space and, as the saying goes, you get what you pay for!
Stretching from floor to ceiling and utilising the wasted space above the headboard, overhead bed storage is perfect for tighter bedrooms where you may struggle to fit in enough freestanding units. And let's be honest, the more storage you can get, the better!
Overbed fitted wardrobes are also now much more stylish than they were two decades ago. Gone are the piping detailing and the clunky, round doorknobs and in their place are sleek, smooth doors. Today, overhead bed storage is just as stylish and streamlined as your standard wardrobe, and there's no compromise on quality. You could increase your storage capacity in your bedroom even further by adding a storage bed, giving you both overbed and underbed options.
Not Convinced? Try Beds with Shelves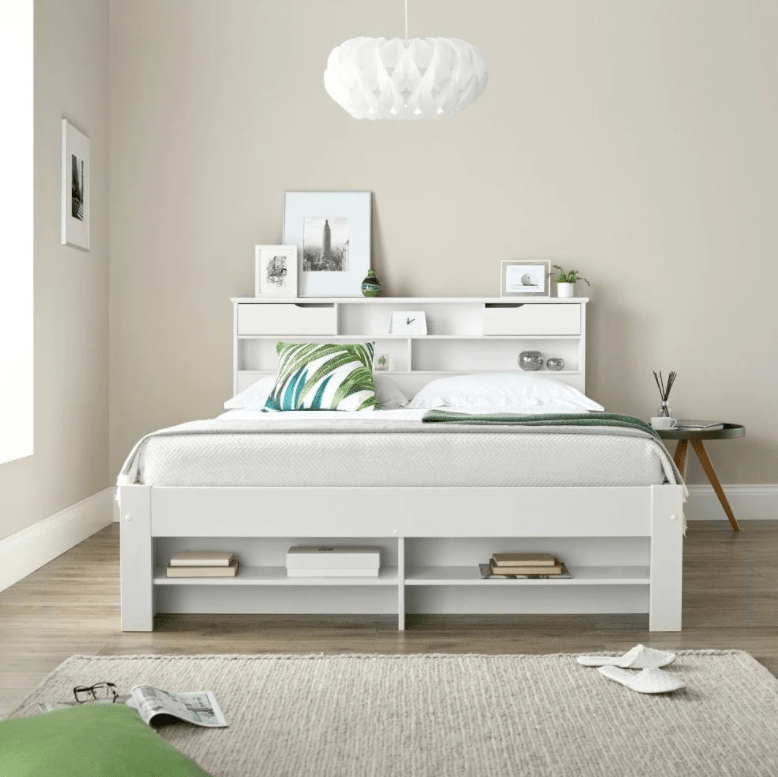 If you're not quite ready to commit to an overbed unit but would still like to maximise the space you have in your room, why not try a bed with shelves?
Beds such as the Fabio and the Tam Tam are the perfect middle ground. These bookcase beds have additional storage space in the headboard and footboard, working incredibly well paired with white wardrobes and other bedroom furniture.
They're a perfect stepping stone to overhead bed storage without making the full financial and design commitment, so why not give them a try today?
Do You Support the Resurgence?
Are you in love with these overbed storage ideas like us, or do you think they should stay in the last millennium? Let us know your thoughts over on Instagram, Twitter and Facebook.
*Main image credit: FOTOGRAGIA INC/iStock