How to use the Build Your Own Bed Tool

Summary
Seeking that perfect bed, but just can't find it in our range? No worries. Here at Happy Beds, we've developed the Build Your Own Bed Tool, making it quick and easy to design your own dream divan bed with over three million combinations!.
Customise your size, fabric, colour, headboard, depth and storage features with ease, and create the perfect bed for your best night's sleep ever. Here in our complete guide, we'll give you tips, tricks and answer your questions to help you make the most of our revolutionary custom bed designer!
How to Build Your Own Bed
Pick your perfect size - measure your bedroom and choose from small single to super king! Measure your bedroom to determine the correct size.

Choose your favourite fabric, from linen or suede, then choose from the wide range of colours to match your bedroom design.

Select a headboard style from our bestselling shapes and styles - or select no headboard at all.

Pick a base depth between 6, 10 and 14 inch, ensuring the perfect height for your perfect sleep

Customise your bed with optional storage features, whether it's an ottoman base or our generous storage drawers.

We'll get building at our UK factory.

Wait for our handy delivery team to bring it to your doorstep, then get building your brand new divan bed!

Enjoy your new custom divan bed by Happy Beds!
Choosing a Fabric
Our Build Your Own Bed range gives you an incredible choice of fabrics to upholster your custom divan bed with. Offering a full variety of colours to ensure there is a style that is perfect for you - from neutral cream or greys to exotic limes and bright reds. If you aren't quick sure, we offer a free fabric swatch delivery service, so you can match it to your paintwork and decorations.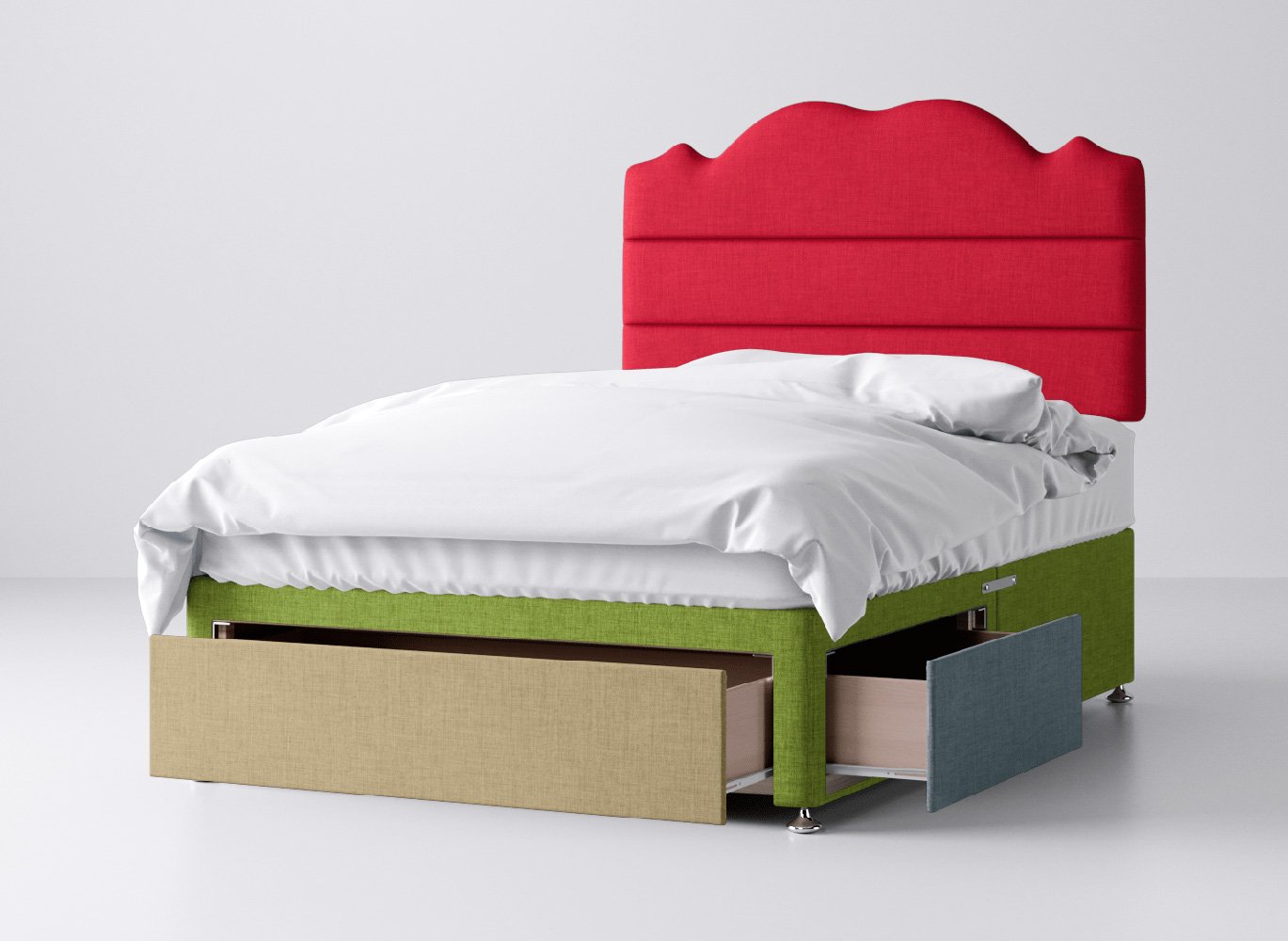 The Perfect Size
Our custom divan beds boast a huge range of sizes, to suit every space and age group. However, we'd recommend checking our dimension guide to make sure you get the perfect fit and measure the space your custom divan will be slotted into. Each size has differing lengths and widths, with the depth being your choice of either 6, 10 or 14 inches.
Need help? Measure up before you make your own bed with our handy measuring guide!
Headboard Designs
When designing your dream divan bed in our Build Your Own Bed tool, you have 2 different areas to decide on; shape and style. Our seven headboard shapes include Ankara, Swanhill, Cornell, Dudley, Everest, Florence and Victor - each offering a unique style to appeal to every bedroom design. You also have the option to customise your headboard to be either plain, lined or buttoned.
Storage Features
Make the most of your floor space and custom design your bed with a range of storage features. Our custom divan beds include a choice of multiple drawer options and a foot end ottoman lift - or you can choose a simple no storage base only.
Available options include:
Ottoman - A gas powered lifting platform base that provides a large, hollow area ideal for storing items such as bedding, clothes or towels. Check out our guide to ottoman storage! This is a great way to save space and reorganise your bedroom with long term storage that is subtle and tidy.
Large End Drawer - Providing a generous space for storing clothes, underwear or other items, at the foot of the bed. This drawer at the foot of the bed provides plenty of space that's easy to access.
Side Drawers - Available in two sizes, with a medium or mini sized space for storing your essential items. These side drawers are versatile and simple - and can be very convenient when you don't want to get out of bed before grabbing your fluffy socks. Mini drawers are perfect for those with bedside tables and nightstands.
Please note: Not all of our Build Your Own Bed sizes can be customised with all the storage options. End drawers are not available on small single or standard single beds. Ottoman storage is only available on 14" bases and no storage is available on our 6" platform bases.
Tips for the Best Building Experience
Make sure you give yourself plenty of room to assemble your bespoke bed. The bases will need to be flipped during assembly and you'll need enough room to walk around them too. You can download assembly instructions for our divan beds and Build Your Own Beds here.
Best Foot Forward
Our custom beds feature standard Happy Beds gliders, which provide superb support and stability for the everyday use of your Bespoke Bed. These feet won't roll like caster wheels, and won't cause damage to your hardwood or laminate flooring.
The holes for the gliders are pre-drilled - they may need some gentle persuasion with a blunt rubber object for secure fit
Connecting the Bases
To provide optimal strength, our double, king size, and super king size custom beds are built from two smaller bases. This makes it much easier to deliver and most importantly easier to move from your doorstep to your bedroom.
Connecting these two bases is a simple but necessary task to avoid them moving apart during the night. There are pre-drilled holes for the link bars, check the instructions manual for further information.
Positioning your headboard
Our Build Your Own Beds feature headboard fitting locations marked on the base with stickers. These are featured on both ends of the base, giving you the option to attached the headboard to either end, helpful when you have selected the 2 drawers same side option. Be careful though, fitting the headboard bolts is an irreversible actions, double check you are attaching it to the right end for your rooms requirements.
You will be able to adjust the height of your headboard to the correct position by undoing the screws slightly and lifting the headboard up. It is important that you consider the depth of the mattress, when setting the height. You don't want your pillows falling into the gap.
Frequently Asked Questions
How do I order a fabric swatch?
Answer:
Here at Happy Beds, we understand that finding the perfect fabric match can be difficult through a computer screen. This is why we offer a free fabric swatch service, simply order your samples
here
and await your fabric samples to arrive the next working day. You can choose up to 5 samples from the Build Your Own Bed fabrics.
How do I customise my divan bed?
Answer:
Our
Build Your Own Bed
tool makes it fun and easy to create your perfect bed. Simply take it step by step, choosing your preferred options and create the bed of your dreams. When your custom bed is complete, simply add to basket and complete your purchase.
Do divan beds come with gliders?
Answer:
All our divan beds feature standard Happy Beds gliders. Unlike casters, the bed frame will not move and you can sleep soundly knowing that your bed isn't going to move every time you or your partner moves during the night.
Where is my custom divan bed made?
Answer:
After you have chose your bespoke design, it will be crafted especially for you in our UK factory. Prior to shipping, your custom divan bed will undergo strict safety checks against British Standards and Fire Regulation Standards.
Why can't I add certain storage features to my divan bed?
Answer:
At Happy Beds, we try our best to ensure our Build Your Own Bed service can be as customisable as possible. Unfortunately, some of the storage features cannot be added to small-single or single sized divan beds, as there is not enough room on the bed frame to do so. All 14" divan beds can be customised with ottoman functionality or 2 storage drawers on the same side. Other base depths and sizes allow for more storage options.
What are divan beds made out of?
Answer:
All of our custom divan beds are manufactured from durable medium-density fibreboard (MDF), which is sturdy in structure designed to prevent breaks. To add an elegant touch, divan beds are upholstered with either suede or cotton fabric.