Bunk Bed Safety Guide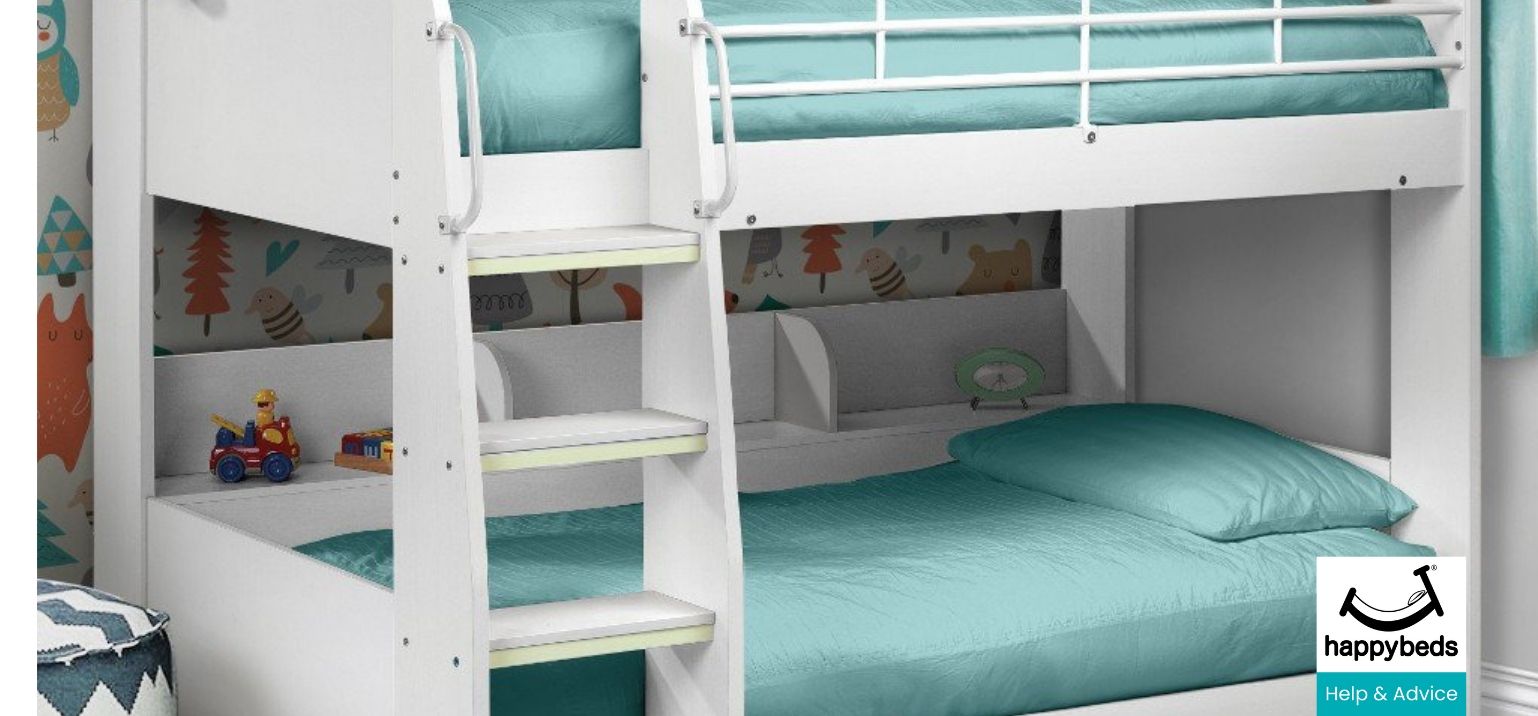 Summary
When it comes to children, safety should always be a priority and this is just as vital in regards to sleep. In this guide, we will cover everything regarding bunk bed safety - from our extensive safety check procedures, to tips to ensure maximum safety when the bunk bed is assembled in your home.
---
Bunk Bed Safety Guide
The safety and stability of a bunk bed is essential to the security and wellbeing of your child. During the manufacturing of Happy Beds' bunk beds, safety is priority and we take caution to ensure our bunk beds are comfortable, supportive and secure. Prior to shipping our bunk beds out to customers, each bed is checked in regards to the British Standards of safety to ensure there are no defects or faults that could put your child in danger.
Happy Beds Usage Guidelines:
Bunk beds cannot be used by children under 6 years old.
The distance between the top safety barrier and the adjoining structure should not exceed 75mm.
Ensure a well-ventilated bedroom to prevent development of mould.
Avoiding using the bunk bed as a climbing frame, taking care when accessing the top bunk area.
Prevent more than one child using the top bunk at one time once the bunk bed is safely assembled.
Mattresses should be no thicker than 16cm to fit within the bunk bed frame.
Cushioned or carpeted flooring is ideal in rooms with bunk beds, to prevent serious injury from falls.
Do not hang belts, bags or other items off the bunk bed to prevent risk of strangulation.
---
Our Safety Check
Each of our bunk beds undergo a strict safety check before they reach the Happy Beds website, which assesses every aspect of the bed structure to ensure consistent safety in regards to British Standards. These safety checks are vital in ensuring that all bunk beds are sold in a safe condition with no defects which could lead to injury.
These safety checks are very thorough and evaluate the construction, accessibility, bed base, safety barriers, ladders, strength, stability, fastenings, instructions of use and a detailed inspection of every feature of the bunk bed to ensure complete safety and stability. The bunk bed safety checks assess every area, fastening, slat and structural feature of each bed to identify any defects or faults, following a set checklist to cover all areas of the bed.
---
British Standards of Safety
Bunk beds that are sold in the UK must conform to the current safety regulations (British Safety Standard number BS EN 747:2012 + A1 2015). They should be solid in construction and have no sharp edges or corners that may cause harm.
It's important that the mattress fits the bed securely, and that the slats underneath are no less than 7.5 cm apart. The upper bunk should have guard rails on both sides, with a gap of 300 mm to allow access. Although some do come with a bunk bed rail extension, these guidelines are what are generally accepted for optimum safety.
The regulations on bunk bed rail height are strict about gaps in the construction, to ensure that a child can't get stuck or slip between the rail and the mattress. The access ladder should be firmly fixed to the bed and the treads should be at least 3 cm wide and 20 cm apart.
---
Safety Guidelines
We conduct all of the necessary measures to ensure that the bunk bed is safe to use, however it is down to you to encourage safety when the bunk bed is assembled. We have compiled a series of rules which are recommended to follow to ensure maximum safety when your bunk bed is fully assembled and in use of children.
Happy Beds Assembly Guidelines:
Do not use the bunk bed if any part is damaged or missing
Take care when assembling the bunk bed and follow every instruction thoroughly
Perform a stability check on all safety guards, rails and ladders to check they are installed correctly
Address the relevant instruction manual for age restrictions prior to use
Assess the structure and size of your room prior to purchase to ensure a safe access
Conduct regular checks of the fittings and safety barriers when in use
Plan to place your bunk bed away from doors, light fixtures and fittings
---
Frequently Asked Questions
Is there any way of improving bunk bed safety?
Answer:
Installing any and all guard rails is the best way to prevent any falls. Children's bedrooms should also be carpeted or, ideally, have rugs beneath them. It is advised to take care when assembling the bunk bed to ensure you follow every instruction carefully, conducting regular stability checks to test the security of the bunk bed. For more guidelines on safe bunk bed use, see our Happy Beds Usage Guidelines above.
Do bunk beds need special mattresses? Are bunk bed mattresses different?
Answer:
Bunk beds don't require special mattresses, although it is advised that the top bunk doesn't feature a mattress thicker than 16cm to ensure there is enough height given for the safety rails to do their job. There will usually be a line along the inside of the top bunk's frame to indicate where the mattress should go up to. You can shop for a
bunk bed mattress
now, at Happy Beds.
Can my child sleep on a bunk bed?
Answer:
Bunk beds are designed for children, although there are age restrictions in place to ensure safe usage. Children under the age of six shouldn't be on the top bunk, and children under the age of three shouldn't be on bunk beds at all.
Are bunk beds safe for adults?
Answer:
Bunk beds are conventionally designed to support a child's weight, though some of the more secure bunk beds can support an adult's weight. It is advised to check the assembly instructions for further details on bunk bed usage.
Are there bunk beds bigger than singles?
Answer:
Yes there are bunk beds bigger than single size, they are known as
triple sleeper bunk beds
and
quadruple sleeper bunk beds
which can be ideal for larger bedrooms and older children. These specific types of bunk beds are designed to accommodate more than two sleepers and are larger than your average bunk bed.