Voted number one in 'best bunk beds' by The Independent, the American Solid Honey Pine Bunk Bed presents a traditional structural design with characterful and stylish touches. Perfect for any home interior, the American Bunk Bed showcases gorgeously authentic honey pine wood detailing and modern finishing touches. Neutral and natural in aesthetics, the overall elegant design is perfect for both children and guest bedrooms.
---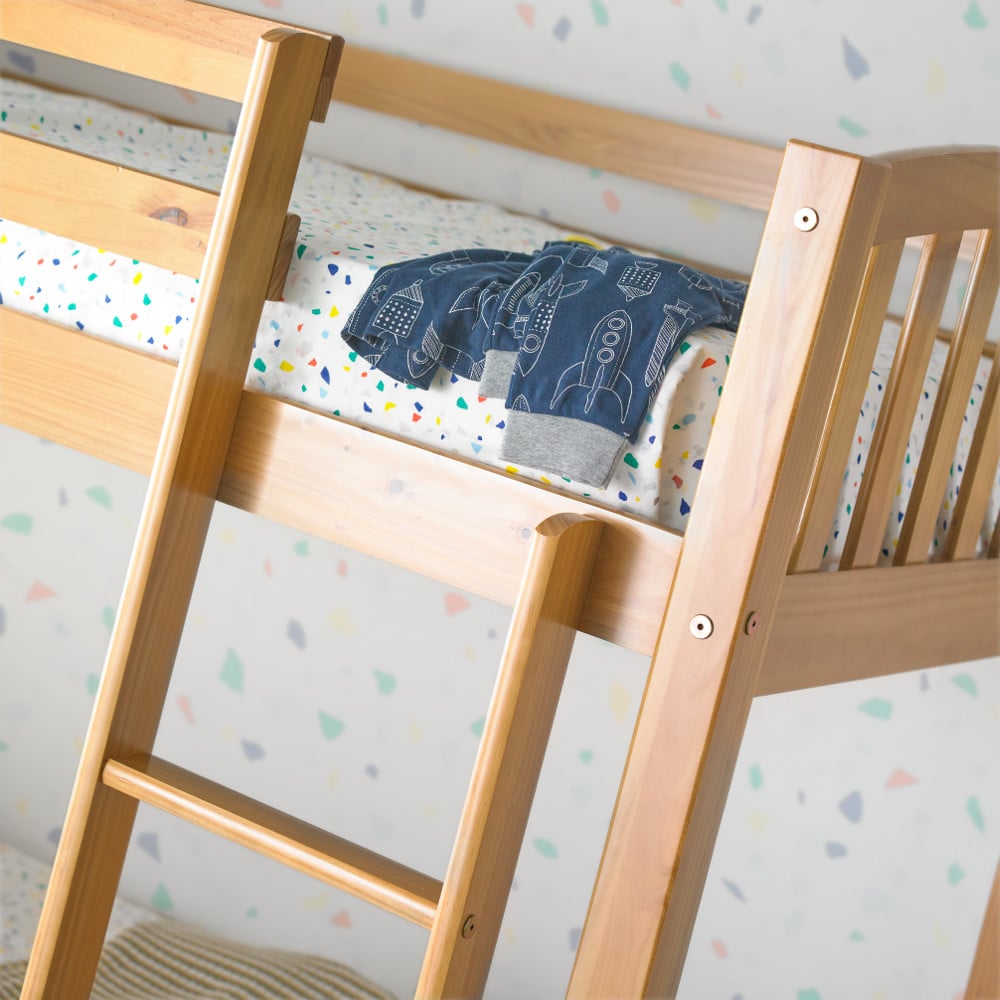 Classic and Unique
Completely conforming to an endless array of bedroom colour schemes, the beautiful honey pine remains highly traditional and elegant in exterior. Naturally occurring wooden detailing makes every American Bunk Bed unique and bursting with character, the perfect undertones for a country-inspired classic. The slatted features to the subtly curved headboard and footboard bring a touch of contemporary to a natural piece, with clean lines to the adjustable ladder for a stylish touch. Whatever your bedroom décor and sleeping needs, the American Solid Honey Pine Wooden Bunk Bed is certain to be perfect for you.
---
A Versatile Design
Bunk bed structures are perfect for accommodating multiple sleepers and the American Honey Pine Wooden Bed is suitable for all ages. The space-saving design of a bunk bed maximises floor space whilst offering comfortable sleeping spaces. Using the floor space of a single bed, the raised structure makes cleaning easy and under-bed storage possible. The American Bunk Bed is crafted from durable solid pine and boasts two solid slatted bases for full comfort and support to both sleepers, whilst encouraging your mattress to live an extended life through air circulation and protection.
---
Maximise Floor Space
The American Solid Honey Pine Wooden Bunk Bed is perfect for both guest rooms and bedrooms of multiple children, with integrated safety features to guarantee a safe night's sleep. Safety and security are key when designing a bunk bed and the American Honey Pine Wooden Bunk Bed gives you the confidence you need to sleep happily knowing your guests and children are safe and sound. The American Wooden Bunk Bed is highly customisable, with the potential to split the structure into two separate beds and a flat-packed delivery for easy self-assembly at your own leisure.