Simple yet beautiful in design, the Berlin Black Crushed Velvet Bed oozes luxury and elegance in a highly modern bed frame with endless benefits. Crushed velvet upholstery defines the Berlin Fabric Bed as an extremely modern frame with pleasing aesthetics that remain flexible to all bedroom interiors. Designed for more than just a glamorous statement, the Berlin Black Velvet Fabric Bed boasts high-quality construction with characteristics which contribute to achieving the best night's sleep. Getting a good night's rest never looked so luxurious!
---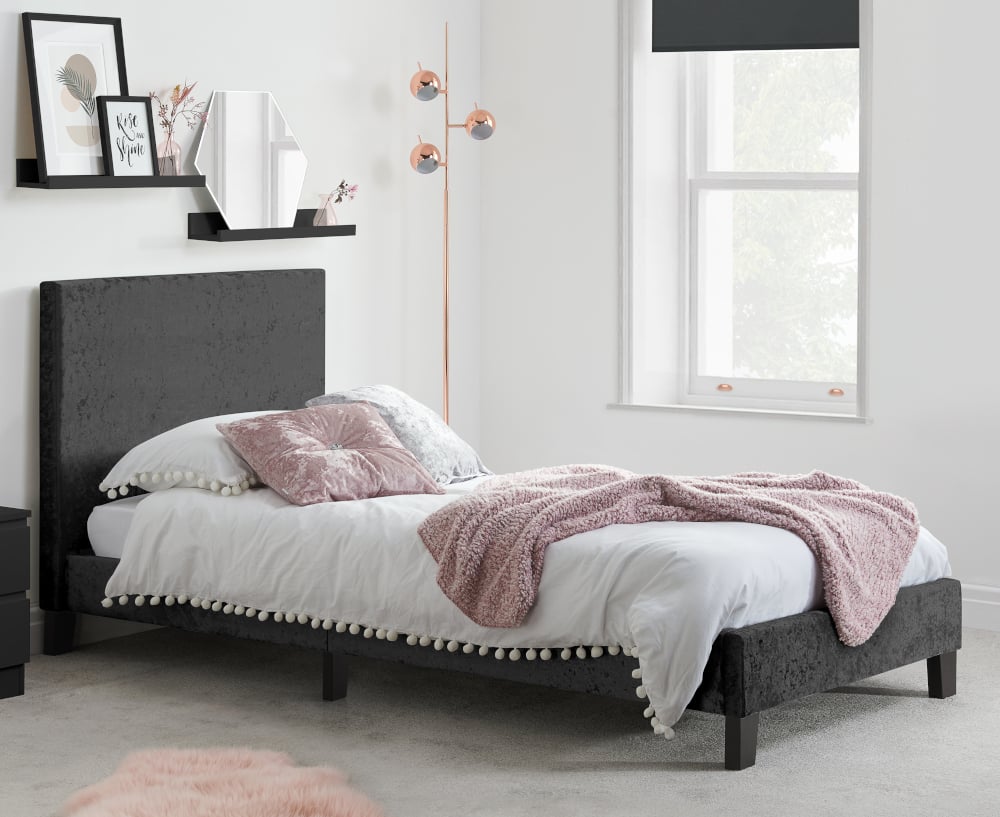 Contemporary Crushed Velvet
Crushed velvet always achieves a stunning aesthetic but combine it with a modern black colour and you have the Berlin Velvet Fabric Bed – a highly modern, glamorous and luxurious bed frame which is sure to attract endless compliments and envy in your guests! A high headboard structural design combined with beautiful black crushed velvet fabric provides a bold statement of glamour and expense, allowing you to achieve the highest of luxury without breaking the bank. The Berlin Crushed Velvet Bed boasts coordinating dark wooden feet for a seamlessly stylish finish to the overall beautiful construction, ensuring that every spec of the Berlin Black Fabric Bed is completed to a sublime standard of aesthetics. Incredibly simple in structure, there is no bed quite so understated and luxurious as the Berlin Black Crushed Velvet Bed, perfect for all home interiors and bedroom styles.
---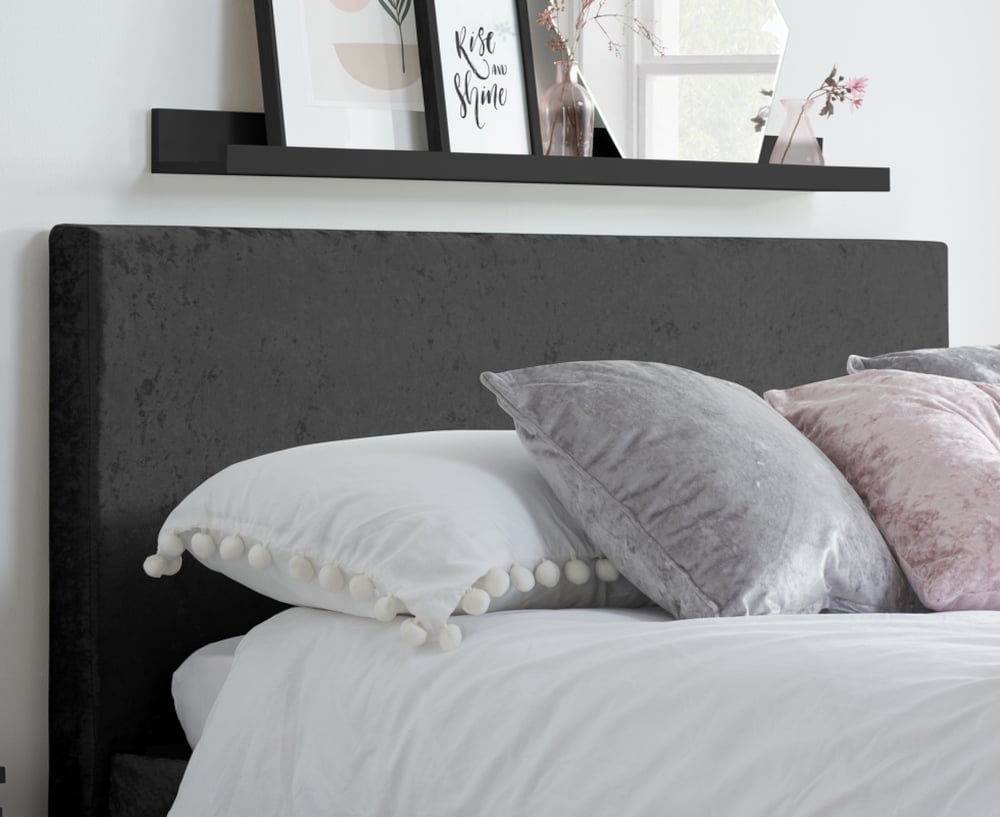 Supportive and Built to Last
The Berlin Velvet Fabric Bed isn't just a pretty face, offering endless support and comfort for all sleepers lucky enough to use it. With durable materials to construct and a resistance velvet upholstery, the Berlin Crushed Velvet Fabric Bed is protected enough to stand the test of time and maintain its beautiful exterior. Strong wooden feet allow a sturdy foundation to the Berlin Fabric Bed, ensuring permanence where it is placed for extended support as you get comfy! The sprung slatted base integrates a natural bounce into the bed frame, allowing any mattress to give full support for all sleeping styles. Designed for flexibility to all body types, the Berlin Black Crushed Velvet Bed features adjusting base qualities which provide a tailored sleeping experience by conforming to your own body position.
---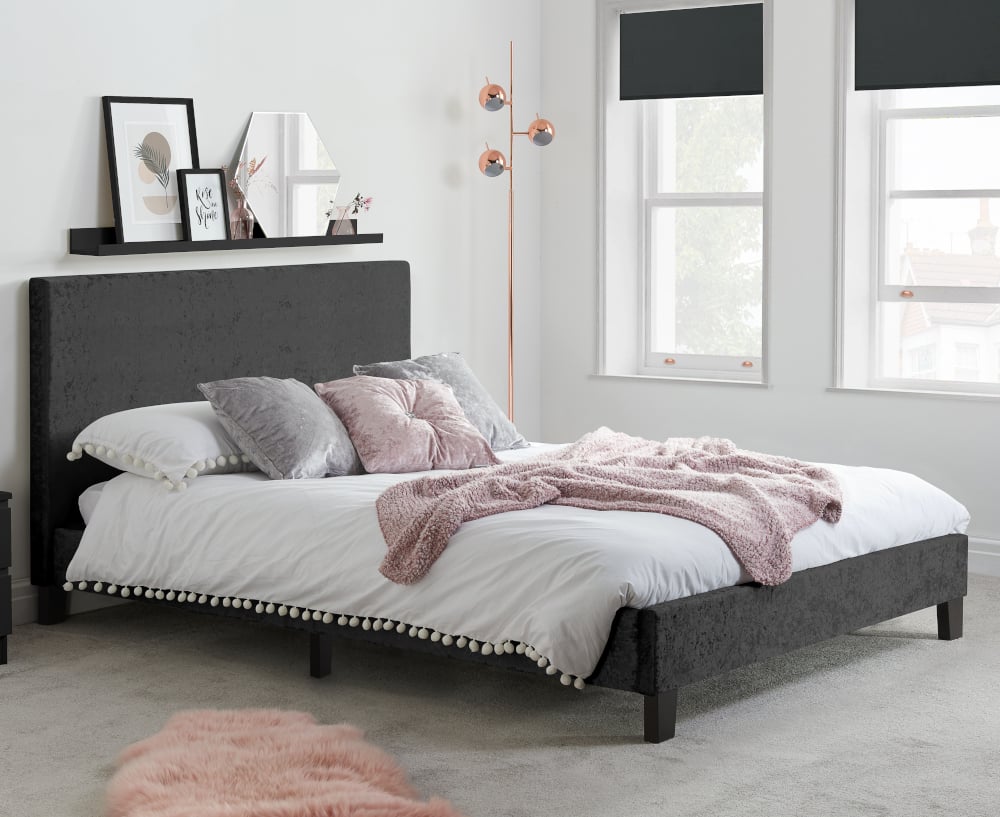 Multiple Colour and Storage Options
Slightly raised about the ground, the Berlin Black Crushed Velvet Fabric Bed is easy to clean and highly maintainable for lasting luxury. Available in an array of colour variations including faux leather options, the Berlin Crushed Velvet Bed can be tailored to suit all style preferences and interior designs. Why not integrate discrete storage into the Berlin Crushed Velvet Bed with our Ottoman designs that are also available? Every Berlin Velvet Fabric Bed is delivered flat-packed and prepared for an easy self-assembly thanks to our detailed instructions for a supported process – your bedroom will be looking amazing in no time!