Urban Rustic Wooden and Metal Bed
RRP From
£524.99
Now From
£289.99
7 Reviews
RRP From
£524.99
Now From
£289.99
Styled in real homes!
Take a look at how our customers have styled this fabulous bed in their homes! Tag @HappyBeds on social media to be featured on our feed.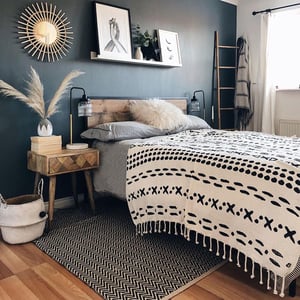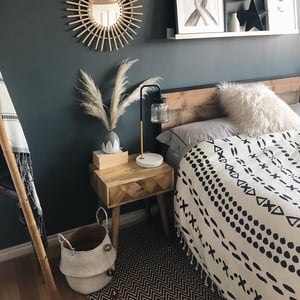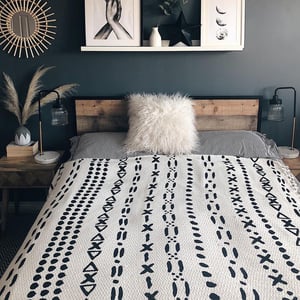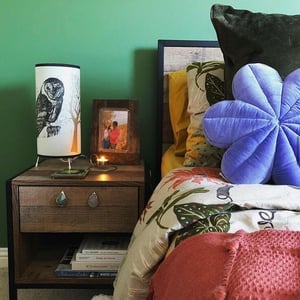 Reasons to Buy
Rustic, industrial-chic design

Part of the Urban Rustic furniture collection

Stylish panelled wood-effect finish

Sturdy black metal feet

Bold black headboard and foot end edges

Solid slatted base allows for support and air circulation

Capacity for underbed storage

Easy to clean with a soft, dry cloth

10% off any mattress you buy alongside a bed
Description
Who would have thought industrial style could be so chic? The edgy Happy Beds Urban Rustic bed looks like it would be right at home in the converted New York apartment of your dreams. With a wood-effect finish, bold black lines and a supportive slatted base which allows air circulation, you'll be feeling both comfortable and stylish whilst you sleep at night.
Picture this: you're in your dream home. You can see exposed brick and hanging light bulbs - like in your favourite cafe. It's a combination of modern sophistication with just a hint of rustic charm. Of course, your bed has to match! And whilst you might be a little while off having your dream home, you can definitely get the bed of your dreams now. With a furniture collection to match, you'll be able to adorn your home in furniture with strong, edgy lines and a bold aesthetic.
The beauty of the Urban Rustic Bed is its simplicity; the whole bed features a distressed wood panelling effect, and both the headboard and foot end are outlined in a bold black metal edge which continues down to become the sturdy feet. This contemporary design means that this bed is perfect paired with a myriad of decor styles and colours - what doesn't go with wood?
Supporting the mattress is a solid slatted base to allow for the greatest support whilst you sleep. Solid slats are also perfect for allowing air to circulate around the mattress to keep it fresh and dry, prolonging mattress life.
The raised platform of the bed also allows for some storage space! So, if you're trying to go for that minimalist look you can pop some storage baskets or drawers underneath to help hide that clutter. The product is part of the
Urban Wooden Bedroom Furniture Collection
.

4ft Bed Frame:
C - Length: 195.5 cm
D - Width: 127 cm

Siderail Length: 190.5 cm

Weight: 56 kg
Mattress Size: 120 x 190 cm

4ft6 Bed Frame:
C - Length: 195.5 cm
D - Width: 145 cm

Siderail Length: 190.5 cm

Weight: 57 kg
Mattress Size: 135 x 190 cm

5ft Bed Frame:
C - Length: 205 cm
D - Width: 157.5 cm

Siderail Length: 202 cm

Weight: 58 kg
Mattress Size: 150 x 200 cm

Common dimensions for all sizes:
A - Headboard Height: 100 cm
B - Footboard Height: 40 cm

Headboard Depth: 1.5 cm

Footboard Depth: 1.5 cm



E - Floor Clearance: 29 cm

Siderail Height: 19.6 cm


All measurements are approximates.
Assembly Manuals
To make things that little bit easier, you can find comprehensive instructions for your chosen product within this section. In case you need any more help or assistance, please don't hesitate to get in touch.
More from this collection