Atlantis Solid Pine Wooden Bunk Bed
RRP From
£479.99
Now From
£264.99
112 Reviews
RRP From
£479.99
Now From
£264.99
Sharp Design
With a design featuring sharp, crisp lines, the Atlantis Bunk Bed will stand out
Sturdy Frame
Solid pine frame is thick and durable, and will provide years of support
Maximum Safety
The adjustable ladder and raised sides ensure your child is completely protected for any dangers
Grows With Your Child
The Atlantis bunks can be turned into 2 separate beds for when your children need their own space as they grow
Reasons to Buy
Combines two 3ft single beds which can be split to suit your needs
Antique lacquered pine finish adds character and traditional elegance
Contemporary design with vertical structure to maximise floor space
Easily self-assembled with full instructions included with purchase and available for online access
Description
Bunk Beds are the perfect solution for maximising floor space to ensure you are always making the most of your available room, perfect for the bedrooms of multiple children. The Atlantis Solid Pine Wooden Bunk Bed combines this solution with authentic pine wood to ensure a lasting quality which will look amazing in any home interior and bedroom style.
---
Authentic Elegance
Crafted from a superior pine wood, the Atlantis Solid Pine Wooden Bunk Bed features naturally-occurring pine detailing to add character and flair to every creation. The antique lacquered finish compliments any home décor with elegance and traditional class, whilst the vertical structure promotes a maximised floor space designed for creating the illusion of a bigger, more spacious bedroom.
---
Quality to Rely On
The Atlantis Solid Pine Wooden Bunk Bed is crafted from high-quality pine wood to guarantee a lasting performance and a comforting sleeping solution that will stand the test of time. The solid slatted base ensures the highest comfort whilst promoting a prolonged mattress life, to promise a good night's sleep every night. The Atlantis Solid Pine Wooden Bunk Bed boasts two single 3ft beds which can be split apart to form two separate constructions – ideal for a lasting addition to your children's bedroom(s).
---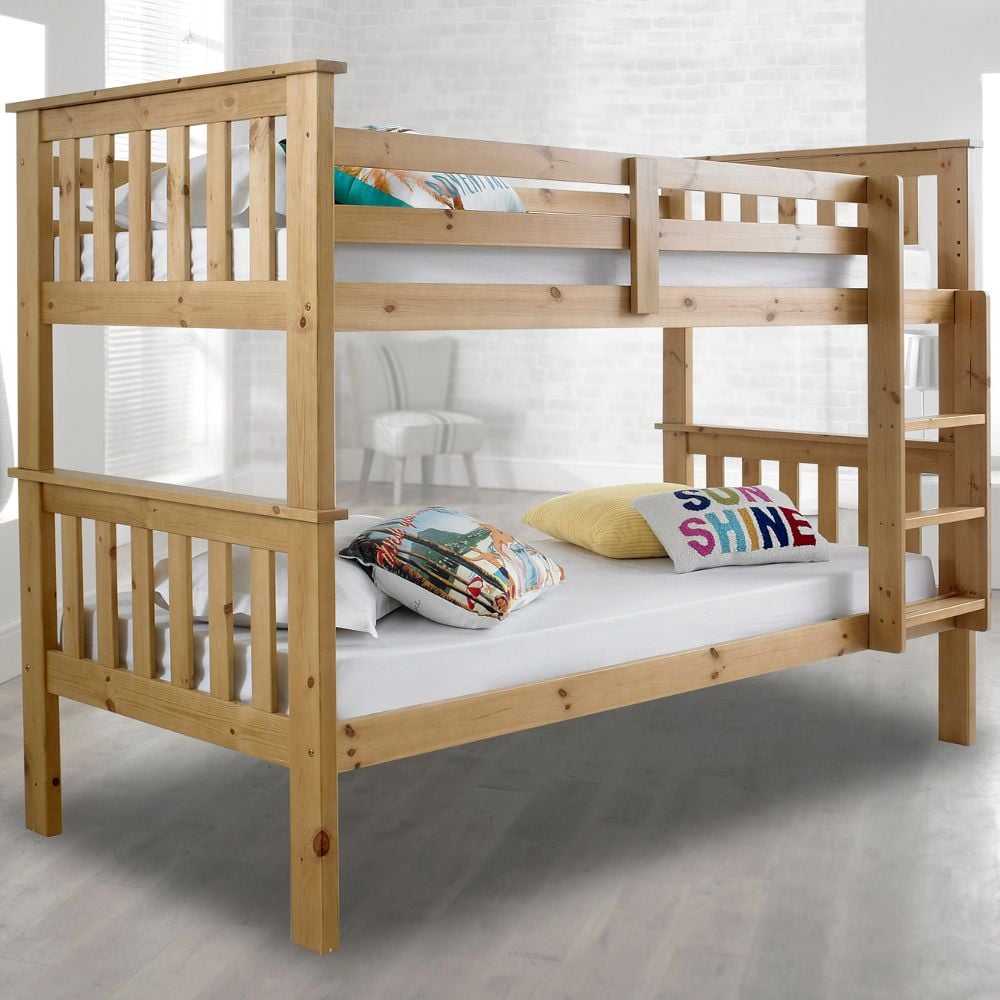 Safety First!
The Atlantis Solid Pine Wooden Bunk Bed is perfect for children, designed with bordered perimeter for maximum safety. The ladder is completely adjustable to either side to ensure a personalised fit to any bedroom, making the Atlantis Solid Pine Wooden Bunk Bed perfect for everyone. Every Atlantis Solid Pine Wooden Bunk Bed is delivered flat-packed and prepared for an easy self-assembly with full instructions included.
---
3ft Single Bunk Bed Frame:
A - Height: 157.5 cm
B - Length: 205.5 cm
C - Width Excluding Ladder: 103 cm
D - Width Including Ladder: 109 cm


E - Distance Between Bunks: 74 cm
F - Floor Clearance: 31 cm
G - Siderail Length: 195 cm
H - Slats to Top of Safety Rail: 32 cm
I - Distance Between Ladder Steps: 21 cm
J - Ladder Width: 39 cm




Weight: 54 kg
Mattress Size: 90 x 190 cm
Recommended Mattress Height: 15-16 cm


All measurements are approximates.
Assembly Manuals
To make things that little bit easier, you can find comprehensive instructions for your chosen product within this section. In case you need any more help or assistance, please don't hesitate to get in touch.
More from this collection