The Berlin Fabric Storage Bed combines a classic shape with modern storage features to create the ultimate characterful and luxurious sleeping and storage solution. A versatile, adaptable and incredibly contemporary design, the Berlin Grey Storage Bed is certain to attract endless compliments and bring a bold statement of style to your home. The warm grey tones are highly flexible and accommodating of endless colour schemes and bedroom designs. This allows the Berlin Grey Fabric Bed to look incredible in any home it is placed in. Beautiful upholstery, comfortable sleeping, and discrete storage are only a few of the many conveniences that the Berlin Grey Fabric Ottoman Storage Bed will bring to your life.
---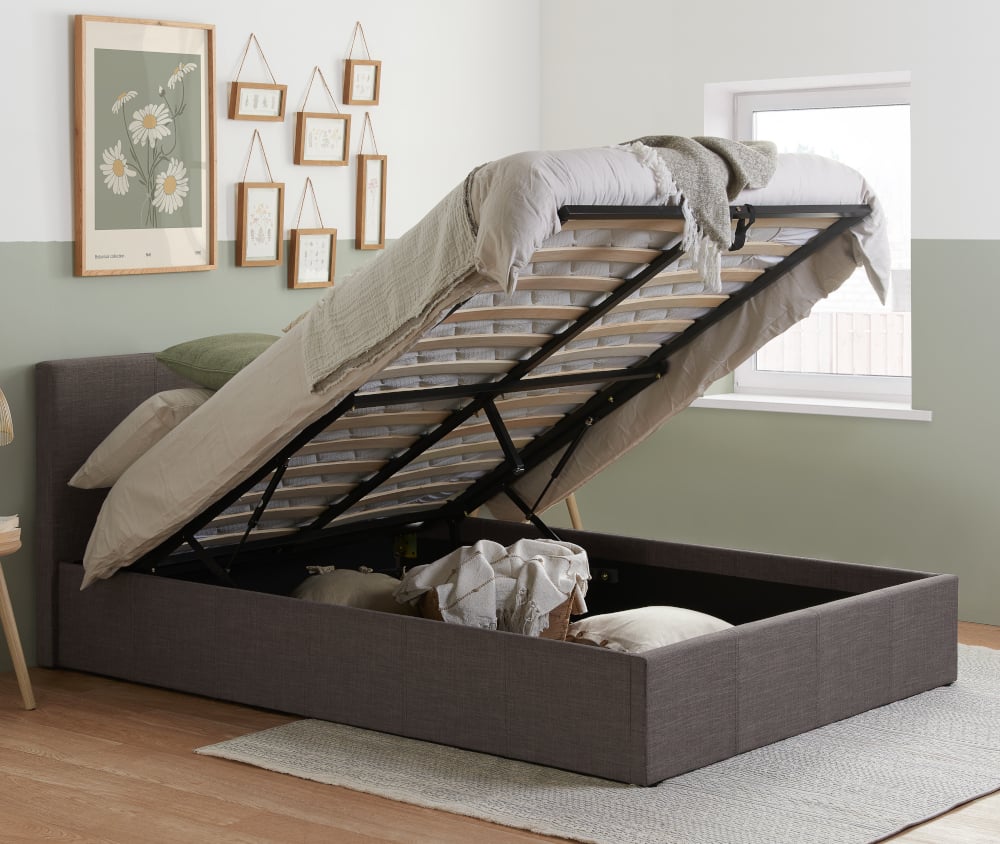 Neutral Modern Grey
A beautifully warm grey upholstery allows the Berlin Fabric Ottoman Bed to be both bold in style and flexible to all bedroom colour schemes, with promotion for the highly popular two-tone theme. The simple square structural design gives the Berlin Ottoman Storage Bed a highly contemporary feel, with subtle lined detailing to the bed frame for a splash of unique character. A high headboard with contrasting lack of footboard gives the Berlin Storage Bed an extended illusion of a large sleeping space, with a floor alignment to give a statement of luxury. The Berlin Grey Storage Bed is a highly modern aesthetic which is certain to conform to all bedroom styles and never fails to catch the eye of your envious guests – the perfect bed for any home!
---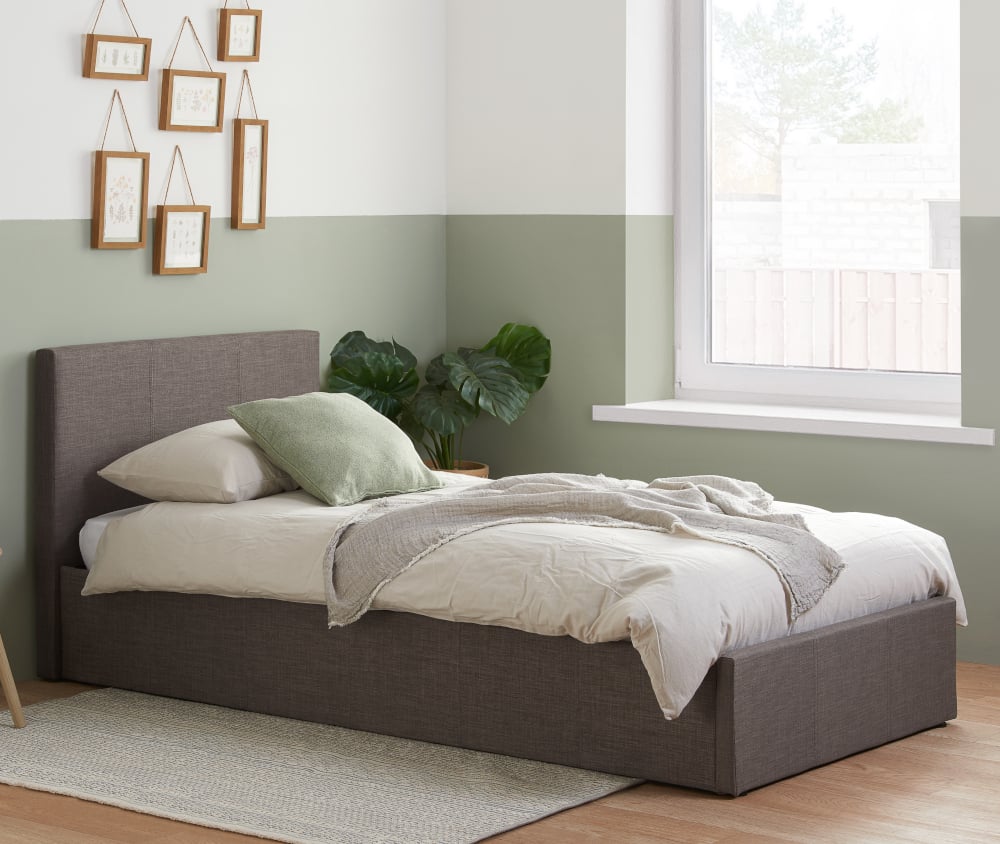 Comfortable and Supportive
The Berlin Fabric Storage Bed is manufactured using high-quality materials to provide a durable nature to the overall superior structure, with a simple yet sturdy design for maximum reliability. The sprung slatted base gives a natural bounce to accommodate all sleeping positions and body types with full support and comfort, you'll never want to leave your new Berlin Grey Fabric Ottoman Bed. Designed for longevity, the Berlin Storage Bed features a protective base sheet to add further resistance to maintain the superior quality. The beauty of the Berlin Fabric Storage Bed is entirely wrapped with resistance velvet upholstery to protect the bed and ensure the elegant aesthetics will last over a long period of time.
---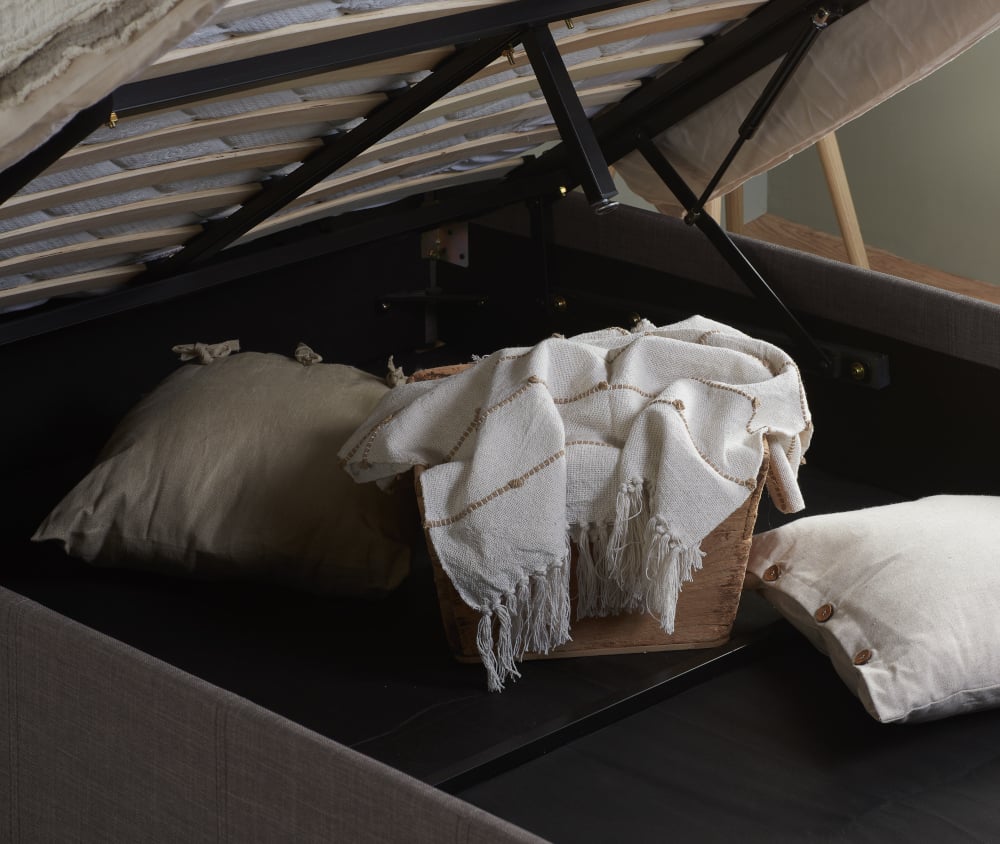 Stylish Storage Solutions
The Berlin Grey Fabric Ottoman Storage Bed features copious amounts of under-bed storage, complete with gas piston-powered functionality integrated into the bed frame. Ottoman storage opens new worlds of convenient storage, combining sleeping with organisation to maximise your floor space. Don't worry, your belongings are easily accessed with the simple flick of a hand – the bed does all the hard work! Every Berlin Fabric Bed is delivered flat-packed and ready for easy self-assembly accommodated by full instructions to support you. Why not take a look at the full Berlin Bed range to view our full variations of colour, material and storage options?