Cookie Grey and White Wooden Cabin Bed
RRP From
£759.99
Now From
£339.99
46 Reviews
RRP From
£759.99
Now From
£339.99
On-trend Aesthetic
The white and charcoal colour scheme is perfectly modern and will fit in any child's bedroom
Great for Smaller Bedrooms
The compact design of the Cookie is functional, bringing storage, sleep and study together in one space
Top-Quality Materials
Manufactured with superb quality materials, the Cookie Cabin Bed is strong and long-lasting
Stress-free assembly
The Cookie Cabin Bed is delivered flat-packed and comes with easy-to-follow instructions
Reasons to Buy
Modern and stylish design for children

Built in multi storage and study desk

White and grey contrasting colours

Features storage drawers and cabinets

Excellent space saving solution

Sturdy construction

Manufactured for easy self assembly
Description
Serving as the perfect blend of functionality and comfort, the Cookie White and Charcoal Grey Wooden Cabin Bed offers a unique way to enhance any child's compact room. The Cookie White and Charcoal Grey Wooden Cabin Bed doesn't only as a single bed, but as a desk, a bedside table, drawers and a storage area; all seamlessly combined into one solid and stylish frame.
---
Perfectly Practical
Kids can work at the desk by day and utilise the space for their own needs by night, whether it's to keep their phone close to hand or as a spot for their books. There's much more storage space to be found in the Cookie White and Charcoal Grey Wooden Cabin Bed, such as the two door cupboard section and the drawers situated at the foot of the bed. The former is brilliant for keeping toys tucked away, while the latter works wonders for clothes storage.
---
Aesthetically Appealing
A fantastic addition to any child's room, the Cookie White and Charcoal Grey Wooden Cabin Bed stands out in a way that enriches any sense of style thanks to its soothing colour scheme. It's also incredibly practical and space saving, since along with the cupboard and drawers there's a void underneath the bed itself, which can serve splendidly for additional storage space.
---
Simple to Assemble
Created to be easily assembled, the Cookie White and Charcoal Grey Wooden Cabin Bed main frame is sturdy and capable of supporting a child. This frame is designed to be both secure and comfortable, which means it is fairly heavy. Due to this, during assembly two people will be required to lift the bed into place. Additional enhancements, namely the many featured parts, should be simple enough for one person to secure. The desk and storage sections are simple to fix onto this frame, while the end drawers are already built-in to the bed itself.
---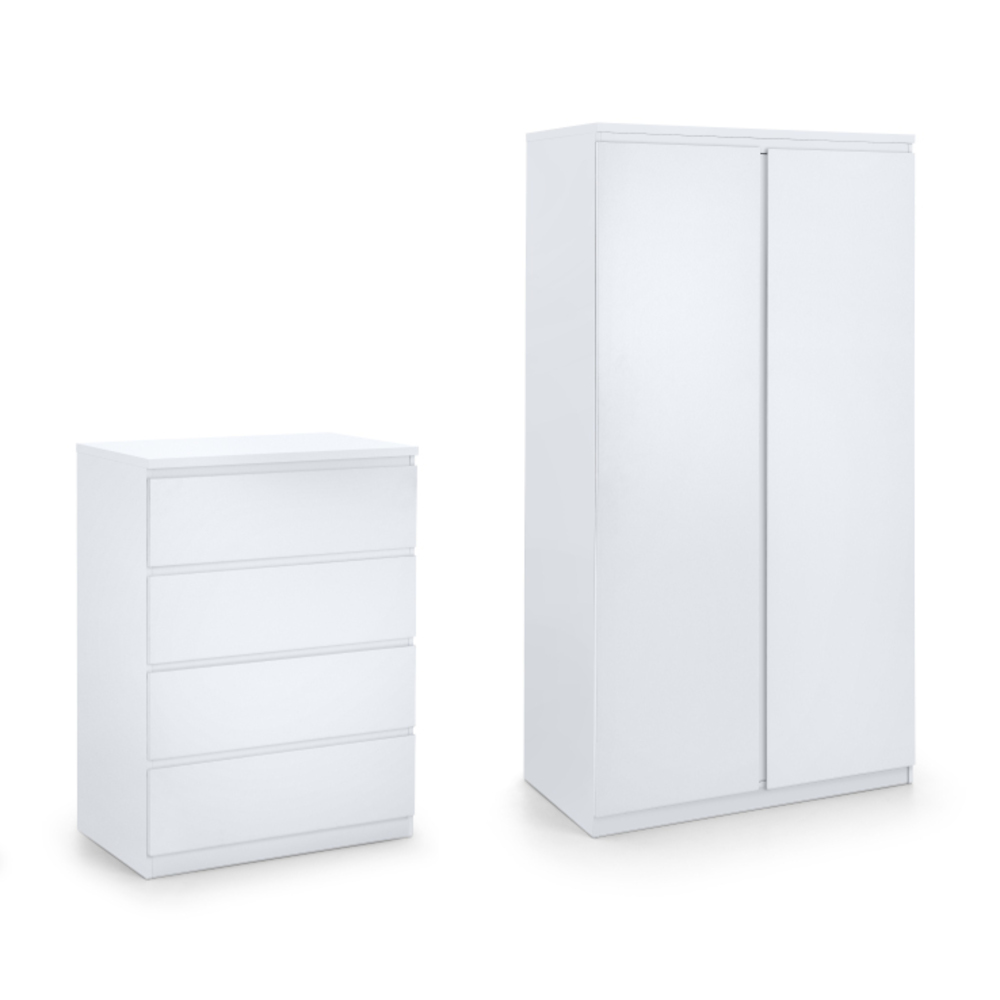 Matching Wooden Furniture Collection
As part of our eclectic kids collection, this particular bed can be perfectly partnered with one or more of the additional pieces of essential bedroom furniture, including the spacious Jupiter 4 Drawer Chest and the accommodating Jupiter 2 Door Wardrobe.

3ft Bed Frame:
A - Height: 103 cm
B - Width: 133.5 cm
C - Length: 196 cm


D - Desk Height: 72 cm
E - Desk Width: 109 cm
F - Desk Depth: 40 cm


G - Drawer Height: 70.5 cm
H - Drawer Width: 94 cm
I - Drawer Depth: 39.5 cm


J - Cupboard Height: 70.5 cm
K - Cupboard Width: 76 cm
L - Cupboard Depth: 40 cm



Weight: 95 kg
Mattress Size: 90 x 190 cm
Recommended Mattress Height: 23 cm


All measurements are approximates.
Assembly Manuals
To make things that little bit easier, you can find comprehensive instructions for your chosen product within this section. In case you need any more help or assistance, please don't hesitate to get in touch.
More from this collection