A clever combination of traditional Victorian class and modern chic, the Copenhagen Fabric Scroll Sleigh Bed oozes elegance and luxury in a gorgeous design with highly complementing finishing touches. Crafted using only materials of the highest quality, the Copenhagen Warm Stone Sleigh Bed boasts a superiority that you can both see and feel, with comfort and support guaranteed. Anybody can make their home effortlessly stylish with a bold centrepiece in their bedroom; the Copenhagen Sleigh Bed offers obvious themes of glamour and can transform any home into a high-class show home!
---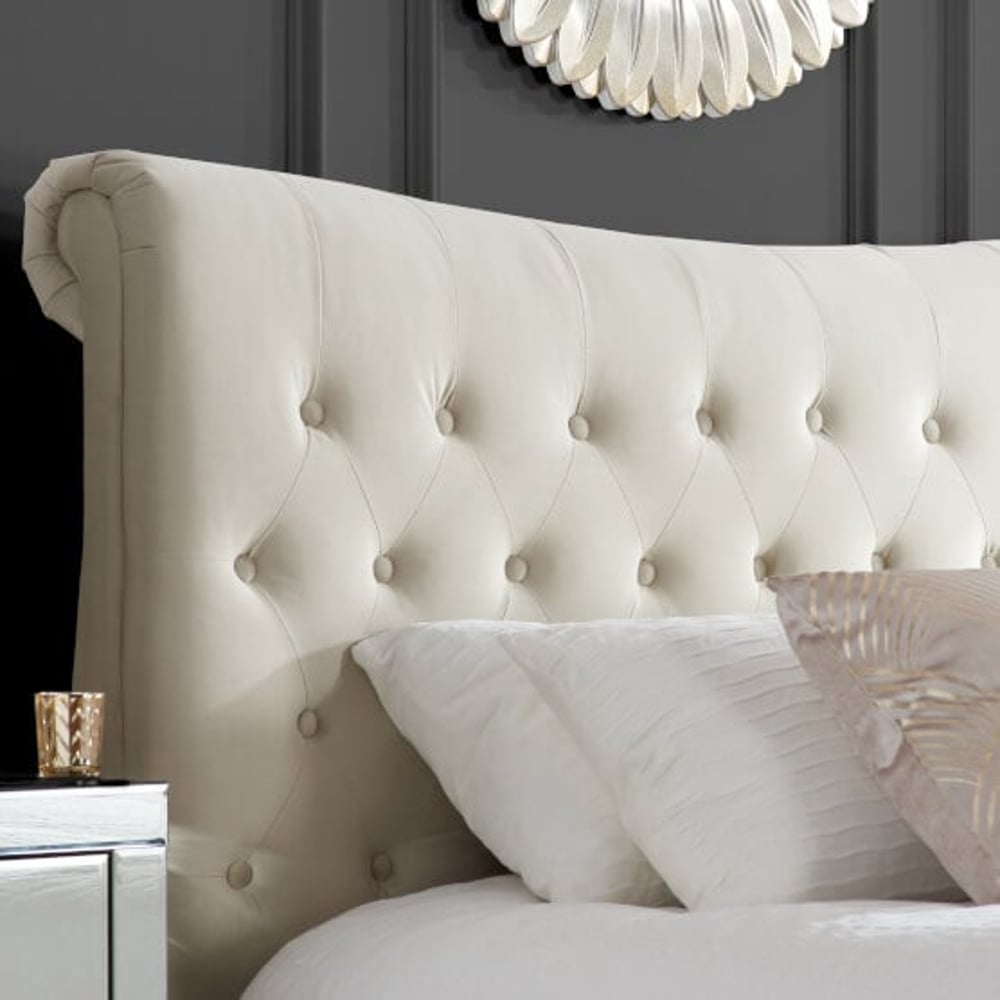 Fabric Finish
A lot of work has gone into making the Copenhagen Warm Stone Fabric Bed so beautiful and elegant; this kind of luxury isn't made overnight! The stunning scroll design is the perfect structure for such a glamorous bed, with rolled edges to the grand headboard and footboard for the ultimate stylish appeal. The characterful buttoned features only heighten the eye-catching grace whilst offering traditional themes of sheer class, integrating Victorian glamour with an incredibly modern aesthetic to create the ultimate stylish bed.
---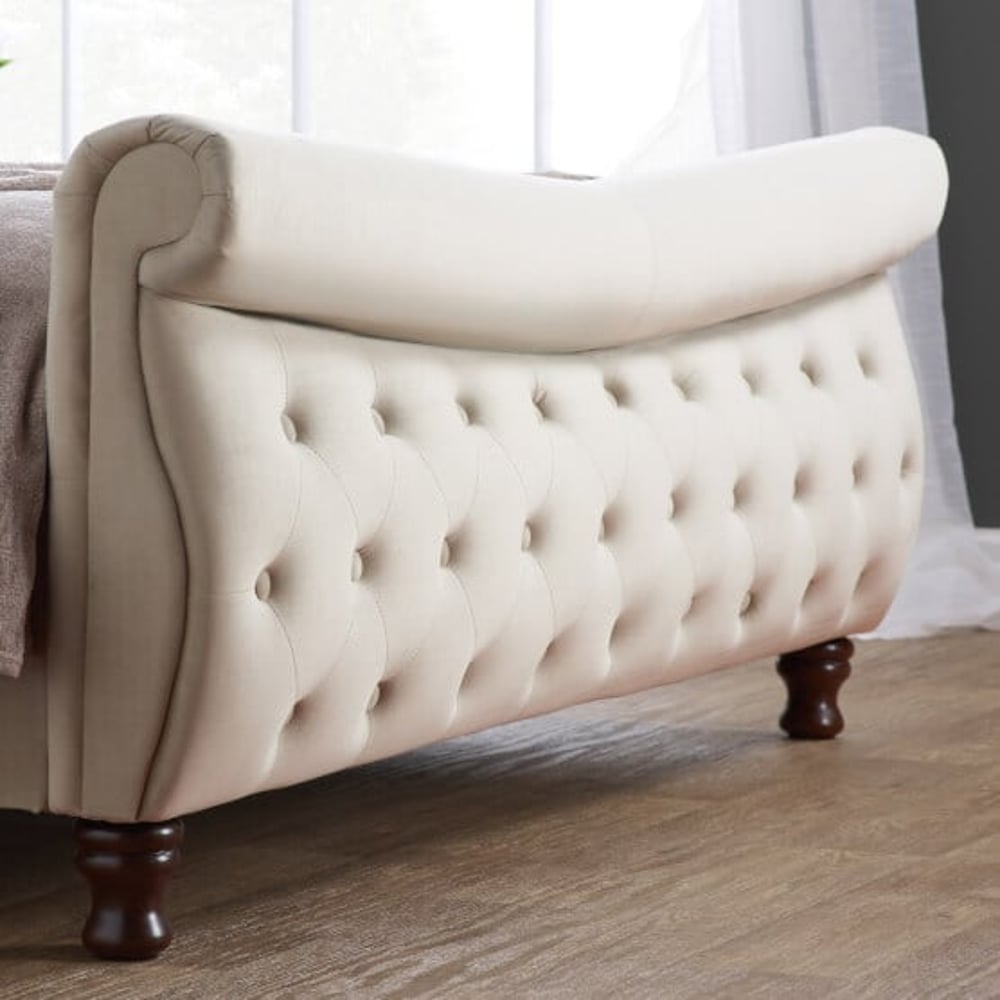 Strong and Comfortable
The Copenhagen Stone Fabric Scroll Sleigh Bed is truly fit for royalty, boasting materials of only the highest quality and a structure designed for maximum support. A sturdy design with reliable materials and a grand headboard and footboard adds a serious sense of security and style, whilst the entire construction stands with pride and resilience on four Rubberwood feet. The Copenhagen Scroll Sleigh Bed features a sprung slatted base which is specifically integrated to provide flexible comfort to all sleeping styles and body types, with adjusting technology to cater to your specific body position for the ultimate support. The internal structure of the Copenhagen Sleigh Bed promotes air circulation and temperature control for a comfortable sleeping space which prolongs mattress life for a healthier, more economical design. All of these fantastic qualities are entirely wrapped in resistant upholstery to further protect the superior manufacturing and add a lavish finish to the Copenhagen Warm Stone Fabric Bed.
---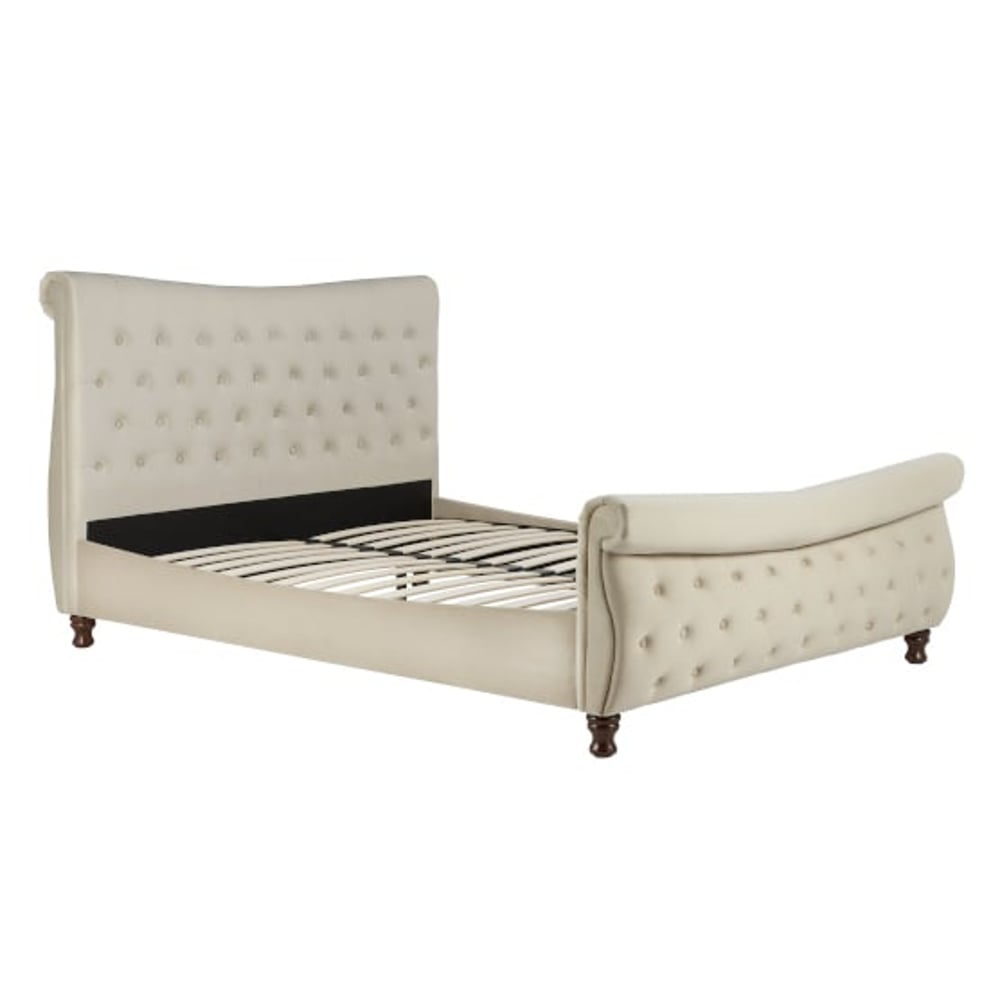 Easily Assembled
There truly is no fuss involved when purchasing the Copenhagen Warm Stone Fabric Scroll Sleigh Bed, with a flat-packed delivery and detailed instructions included with purchase to support the building process. Available in a range of sizes in one stylish colour flexible to all bedroom interiors, the Copenhagen Warm Stone Fabric Scroll Sleigh Bed could be brightening up any home and comforting any sleeper in no time at all.