With an additional pull-out drawer or extra single bed space, shelf storage, and a versatile modern white design - the Happy Beds Grace Guest Bed is the perfect addition to a home with a need for storage and extra sleeping space. The Grace is beautifully crafted, with style in mind, and also features a solid slatted base for the ultimate sleeping comfort and mattress breathability.
---
Contemporary and Versatile Design
The Happy Beds Grace Guest Bed is a beautifully crafted bed with modern aesthetics at the forefront of its design. The straight edges gives the bed a contemporary feel and, due to the white finish, the Grace has a versatility that helps it blend into any décor style or room colour choice. The simplicity of the bed's design also lets it feel at home anywhere - in a kids room, in your guest room, or your living room!
---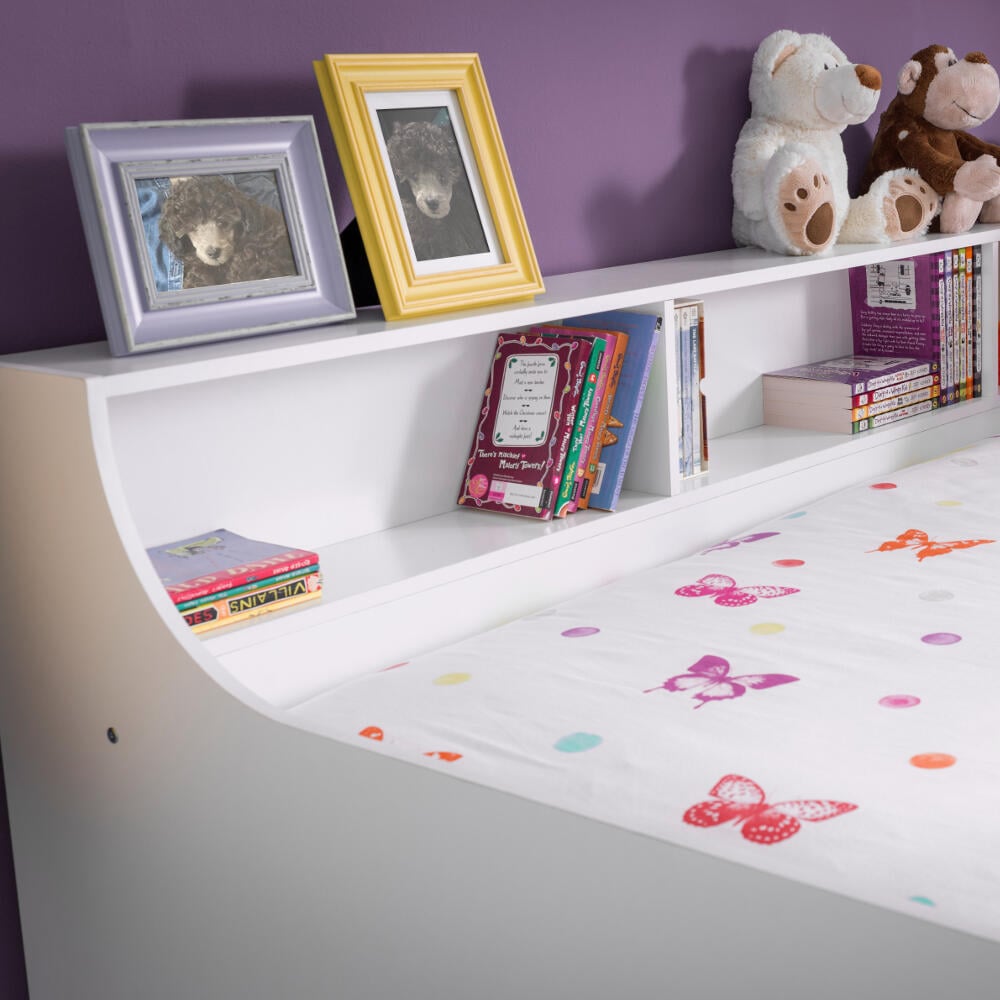 Space Saving Shelves
Is it a bed? Is it a sofa? Is it a storage shelf? It's everything! The Grace Guest Bed can easily be a sitting space with the addition of large cushions, as well as a daybed when it's needed for a snooze. The shelf space is large and varied, perfect for keeping belongings or decorative pieces close by. This addition of shelves helps the room stay mess and clutter-free!
---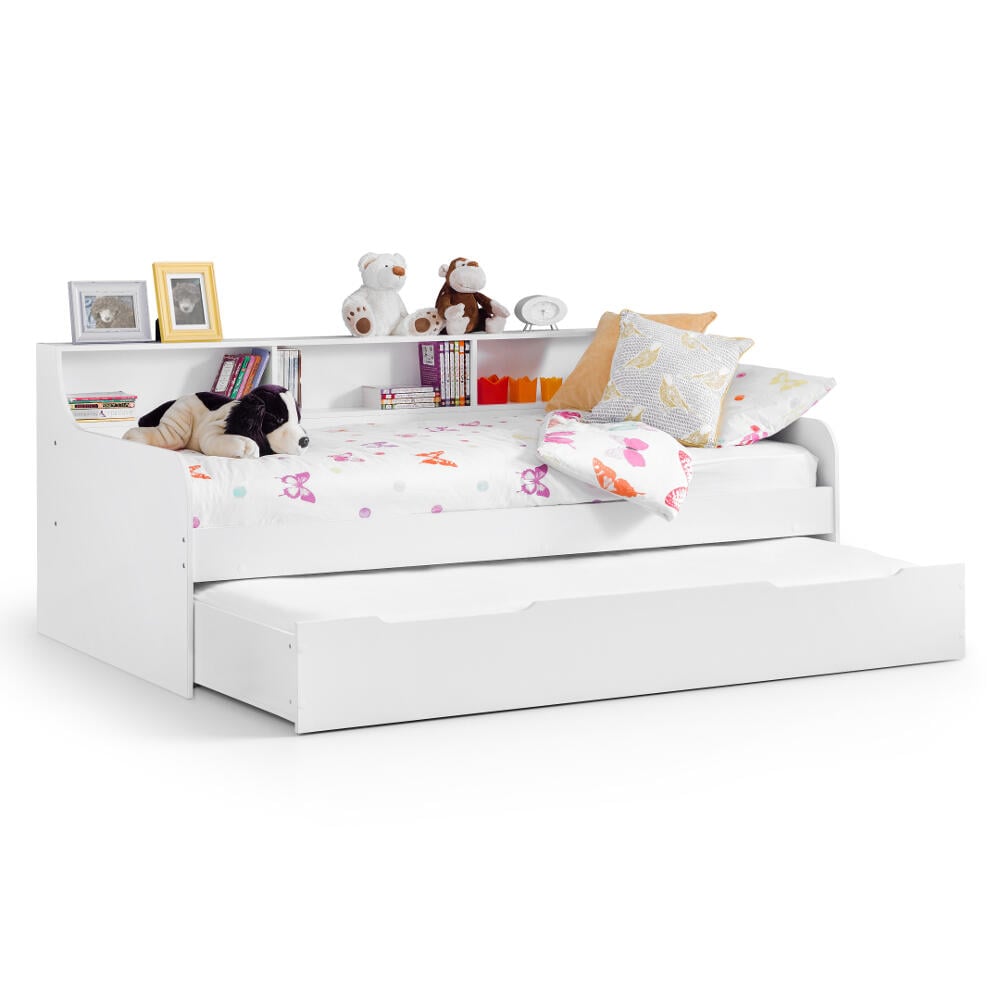 Innovative Underbed Drawer or Single Bed
The addition of a pull-out storage drawer means that the Grace daybed is the perfect bed for sleepovers. This drawer can either act as a large storage space for extra clutter or bedding, or it fits a single mattress and you can actually turn it into another bed - this extra sleeping space is hidden away under the main bed and can be easily pulled out when you need it! The Happy Beds Grace Guest Bed includes a storage drawer that doubles as a pull-out bed space. This drawer fits a single mattress to give the option of sleeping an extra occupant, meaning this bed can easily sleep two. This versatility is ideal as you can choose to use the pull-out trundle as a ventilated storage space or as a bed - ideal for smaller rooms or for those who have people visit often! The Grace Guest Bed is crafted with solid slats to have your comfort in mind. This supportive solid slatted base allows your mattress to breathe, helping it stay fresh and dry. This also has the added benefit of helping your mattress live longer!
---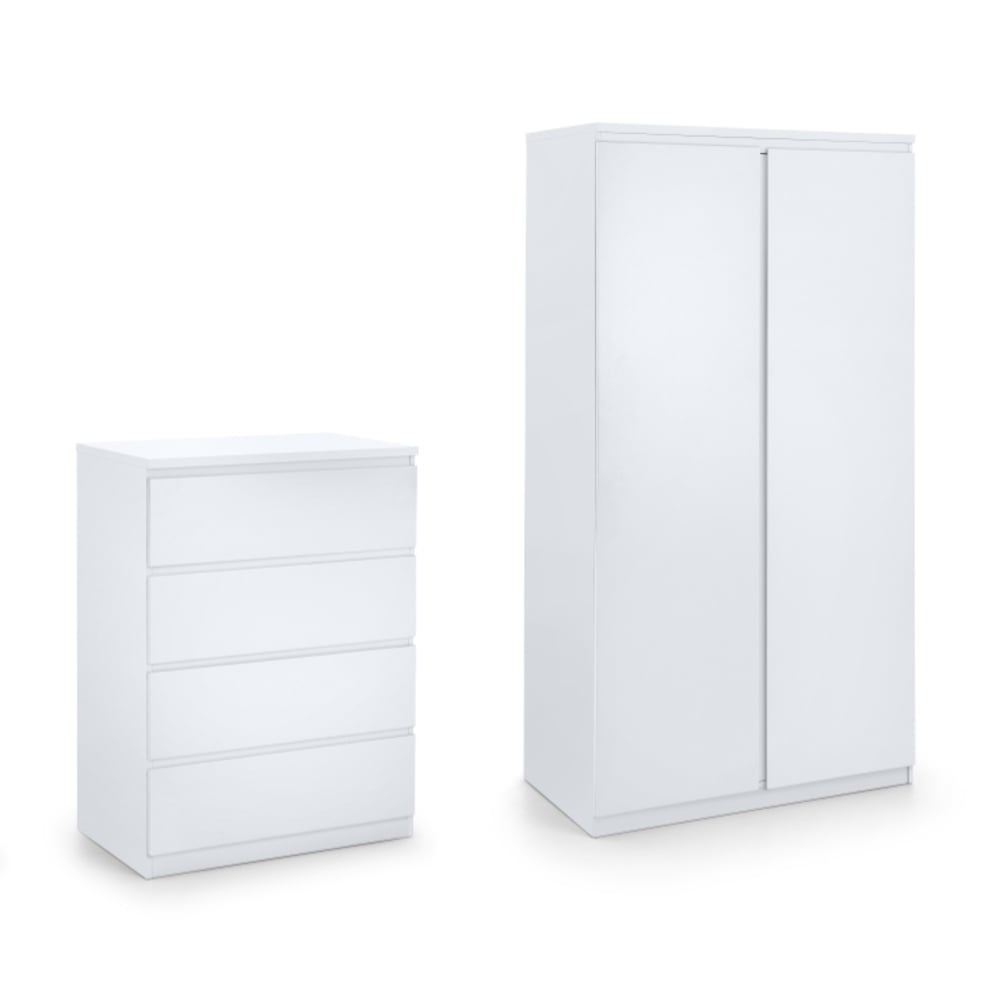 Matching Wooden Furniture Collection
As part of our eclectic kids collection, this particular bed can be perfectly partnered with one or more of the additional pieces of essential bedroom furniture, including the spacious Jupiter 4 Drawer Chest and the accommodating Jupiter 2 Door Wardrobe.