Mayfair Grey Fabric 4 Drawer Storage Bed
Days

Hours

Minutes

Seconds
Reasons to Buy
Fabric storage bed

Light grey upholstered fabric finish

4 practical storage drawers, 2 on either side

Deep buttoned luxurious headboard

Additional 50cm needed on either side for drawer clearance

Low foot end for increased bedroom space

Sprung slatted base for extra comfort

Supplied flat packed

Manufactured for easy self-assembly
Description
The Mayfair Grey 4 Drawer Bed is a practical and beautiful solution that makes an ideal statement piece for any bedroom. Upholstered in a gorgeous grey fabric, the Mayfair Storage Bed offers a wonderfully neutral and elegant aesthetic. The Mayfair Fabric Storage Bed offers four drawers in which are generously sized and incredibly discrete. If you are looking for a bed that offers ample storage space and looks beautiful doing so, the Mayfair Fabric 4 Drawer Bed is the perfect solution.
---
Elegant Grey Fabric Upholstery
The Mayfair Grey Fabric Storage Bed features exquisite attention to detail that is oozing with elegance and class. Featuring a tall, deep buttoned headboard that is incredibly luxurious and premium, the Mayfair Storage Bed makes for a stunning centerpiece for any bedroom. The low foot end allows you to maximise your bedroom space, whilst the four spacious drawers help to make de-cluttering your room effortless.
---
Spacious Discrete Storage
The Mayfair Grey Fabric Storage Bed features four spacious and practical drawers that are ideal for clothes, towels or anything else you can think of! With two on either side, you will only need an additional 50cm on both sides for drawer clearance. The generously sized drawers on each side of the Mayfair Grey Fabric Feb are incredibly discrete and help maximise your bedroom area.
Assemble in minutes. Built to last.
The Mayfair Drawer Storage Bed is crafted using high quality components that are exceptionally sturdy and durable. From the sprung slatted base that adds extra comfort whilst prolonging the life of your mattress, to the resistant fabric upholstery, the Mayfair Fabric Storage Bed is built to stand the test of time. The Mayfair Grey Fabric Bed is supplied flat packed for convenient delivery and easy storage. Assembling your new bed is easier than ever thanks to our helpful instructions in which are provided with your purchase and available for online access.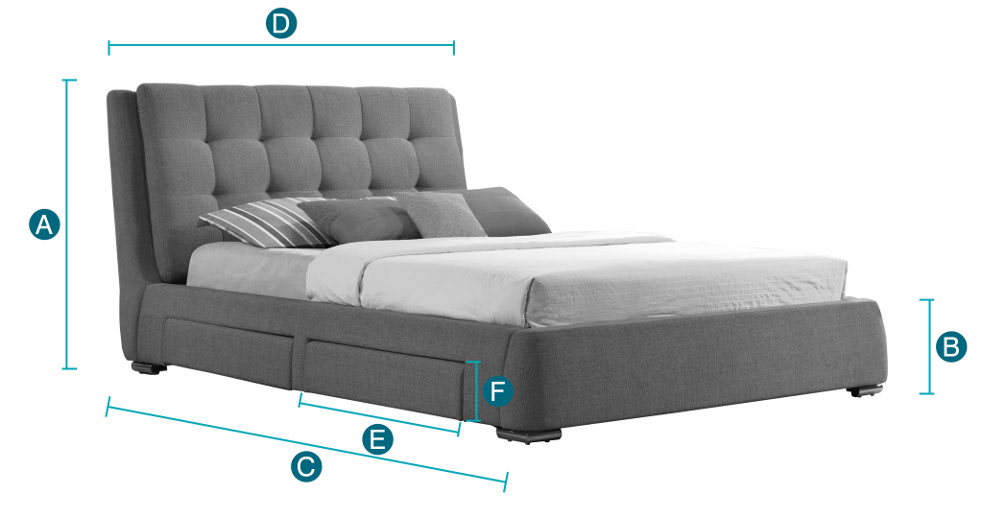 4ft6 Bed Frame:
C - Length: 229.5 cm
D - Width: 167 cm

Siderail Length: 193 cm

Weight: 106 kg

5ft Bed Frame:
C - Length: 240.5 cm
D - Width: 181 cm

Siderail Length: 204 cm

Weight: 116 kg
Mattress Size: 150 x 200 cm

6ft Bed Frame:
C - Length: 240.5 cm
D - Width: 210 cm

Siderail Length: 204 cm

Weight: 121 kg
Mattress Size: 180 x 200 cm

Common dimensions for all sizes:
A - Headboard Height: 119 cm
B - Footboard Height: 37 cm

Slats to Headboard Height: 90 cm

Slats to Footboard Height: 7.5 cm



F - Drawer Height: 17.5 cm
E - Drawer Width: 79.5 cm

Drawer Depth: 50 cm




Floor Clearance: 5.5 cm

Headboard Width: 24 cm

Footboard Width: 12.5 cm

Siderail Width: 12.5 cm


All measurements are approximates.
Assembly Manuals
To make things that little bit easier, you can find comprehensive instructions for your chosen product within this section. In case you need any more help or assistance, please don't hesitate to get in touch.
More from this collection