The Rio Solid Pine Wooden Bed is designed with rustic country-style inspiration combined with modern structural features for a highly comfortable and beautiful bed. Showcasing elegantly natural colours and a simple modern frame structure, the Rio Pine Wooden Bed is certain to add a statement of traditional class to any bedroom. A natural wooden bed with subtle stunning details is the key to not only a good night's sleep, but a beautiful bedroom with potential for endless colour schemes and designs.
---
Natural Pine Design
Creating a bed from natural pine wood has many benefits, from structural support to a characterful touch. The Rio Bed boasts naturally occurring authentic pine wood detailing to create a beautiful aesthetic with rustic tones, perfectly complimenting any colour scheme or bedroom design. The subtle detailing to the square headboard is a beautiful statement to present stunning materials, with no footboard for a maximised, spacious sleeping space. Rectangular posts to the bed add a statement of contemporary minimalism, making the Rio Pine Wooden Bed highly fashionable and relevant to modern furniture trends.
---
Comfort and Solid
Alongside the endless stylish perks that come with using a natural wood such as pine, the high-quality wooden materials allow the Rio Waxed Wooden Bed to have a durable and reliable structure which will stand the test of time. A solid slatted base not only ensures maximum comfort but also provides air circulation allowance for an extended mattress life, making the Rio Waxed Pine Bed both comfortable and economical. All of the superior qualities to the Rio Pine Wooden Bed are further protected by a waxed finish, which prevents signs of damage and wears to provide a lasting quality over a long period of time. Such a reliable and robust build, the Rio Waxed Wooden Bed is certain to provide countless nights of brilliant slumbers – you'll find yourself struggling to leave it in the morning!
---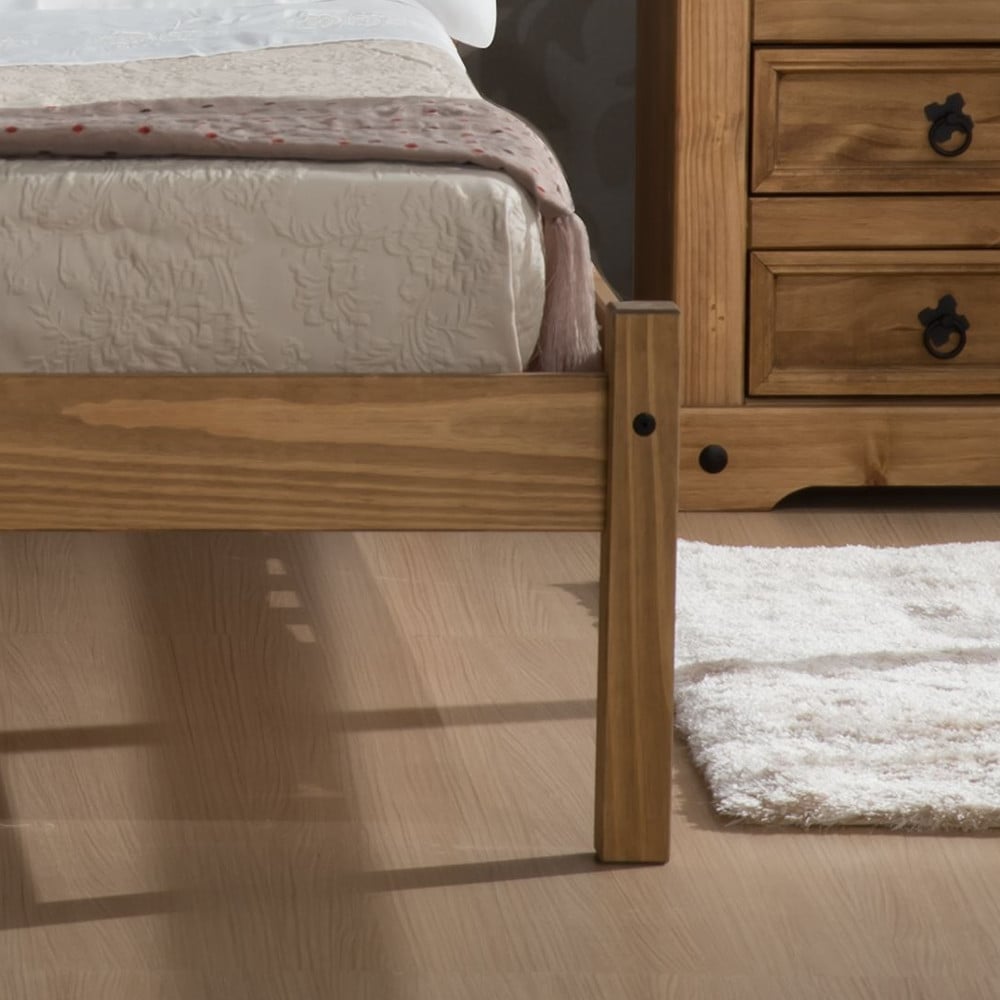 Discrete Storage
A beautiful and elegant construction, the Rio Solid Pine Wooden Bed boasts a large under-bed space which can be utilised at your own leisure for storage and organisation purposes. For an efficient delivery service, the Rio Solid Wooden Bed is delivered flat-packed and prepared for an easy self-assembly with full instructions to support the entire process. Not a fan of the waxed pine finish and want something more 'you'? Take a look at our Rio White Washed Pine Wooden Bed for an elegant fairy-tale-like theme. Available in a choice of colours and in single, small-double and double sizing, there is a Rio Solid Pine Wooden Bed for everyone!