Woodbury Black Velvet Fabric 4 Drawer Storage Bed
RRP From
£1,044.99
Was From
£

579.99
Now From
£569.99
144 Reviews
RRP From
£1,044.99
Was From
£

579.99
Now From
£569.99
Styled in real homes!
Take a look at how our customers have styled this fabulous bed in their homes! Tag @HappyBeds on social media to be featured on our feed.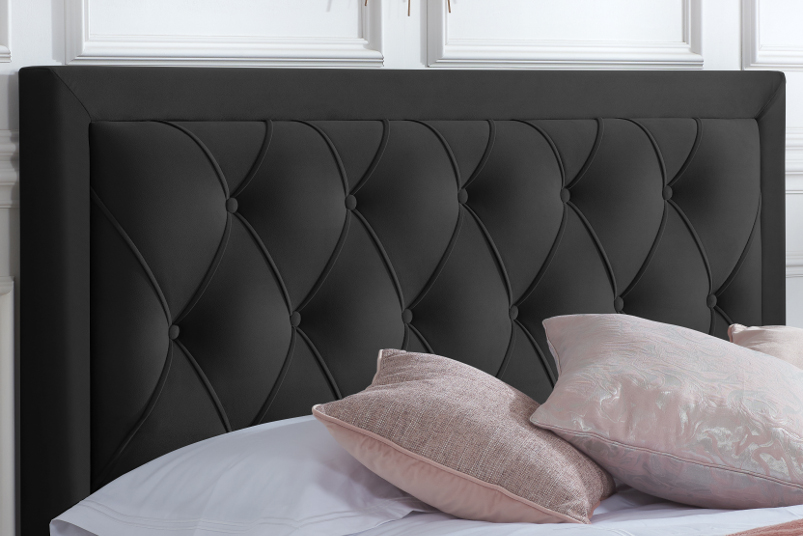 Delicate Button Detailing
The diamond tufted headboard adds a touch of elegance
Pull Out Drawers
The Woodbury Storage Bed has pull out drawers that won't catch on thick carpets, making the storage easy access
Lush Velvet Fabric
The velvet is luxurious and will make a grand addition to any bedroom
Solid Storage Solutions
Four spacious drawers will safety and securely store your personal belongings
Reasons to Buy
Diamond tufted headboard gives the bed and the room a touch of class and style

A luxurious, black upholstery fabric to compliment the colour scheme of most bedrooms

Four large storage drawers underneath the bed, offering vital storage space

Solid, slatted base to provide firm support

Air has the ability to circulate beneath the mattress

Different bed frame sizes available

Easy to follow, coherent instructions
Description
A culmination of sophistication, versatility and accommodating comfort, the Woodbury Black Fabric 4 Drawer Storage Bed is an exemplary statement piece for contemporary bedrooms. Crafted with a buttoned headboard, storage drawers, and black fabric upholstery, the Woodbury Black Fabric 4 Drawer Storage Bed is made to the highest levels of quality, both within the frame and on the surface.
---
Luxurious Black Velvet Fabric
As well as being soft to the touch, the luxurious black velvet fabric of the Woodbury Black Fabric 4 Drawer Storage Bed allows most, if not all, bedroom colour schemes to integrate with its design. Sporting a sublime, diamond pattern, the buttoned upholstery lends itself particularly well to modern rooms. Accenting this contemporary feel are the dark wooden legs, making the Woodbury Black Fabric 4 Drawer Storage Bed generally stunning.
---
Fantastically Functional
The Woodbury Black Fabric 4 Drawer Storage Bed doesn't just offer style, it is also functional to boot. Four large drawers are discretely integrated into the frame, providing ample storage space for the likes of bedding and clothing. With 2 situated to the foot of the bed and one on each side rail, you are able to segment your items with clutter free storage.
---
Solid Construction
Able to comfortably accommodate essentially any kind of mattress, the solid slatted base grants firm support whilst you sleep, all while ensuring that the mattress has lots of air circulation to keep it fresh. The whole frame is solidly made and constructed to the highest quality and will continue to look good for years to come.
4ft6 Bed Frame:
C - Length: 209.5 cm
D - Width: 145 cm

Siderail Length: 193 cm

Weight: 91 kg
Mattress Size: 135 x 190 cm

5ft Bed Frame:
C - Length: 220.5 cm
D - Width: 159 cm

Siderail Length: 204 cm

Weight: 109 kg
Mattress Size: 150 x 200 cm

6ft Bed Frame:
C - Length: 220.5 cm
D - Width: 188 cm

Siderail Length: 204 cm

Weight: 120 kg
Mattress Size: 180 x 200 cm

Common dimensions for all sizes:
A - Headboard Height: 122.2 cm
B - Footboard Height: 39 cm
H - Floor Clearance: 5 cm
F - Side Drawer Width: 80 cm
J - Side Drawer Height: 14 cm
E - Side Drawer Depth: 50 cm


G - End Drawer Width: 61 cm
I - End Drawer Height: 18 cm

End Drawer Depth: 50 cm




Distance From Headboard to Drawer 60 cm




Headboard Width: 7 cm

Footboard Width: 4 cm

Siderail Width: 2 cm


All measurements are approximates.
Assembly Manuals
To make things that little bit easier, you can find comprehensive instructions for your chosen product within this section. In case you need any more help or assistance, please don't hesitate to get in touch.
More from this collection