The Berlin Black Crushed Velvet Ottoman Storage Bed features a gothic charm alongside luxurious extravagance for the perfect fashion statement to your bedroom. Offering multiple and varied functionality characteristics, the Berlin Velvet Fabric Storage Bed combines discrete storage with cosy sleeping space to create the most useful and convenient bed frame on the market. Regardless of colour scheme or décor, simply by placing the Berlin Black Crushed Velvet Storage Bed into your home completely transforms your living style to the height of glamour and style.
---
Luxurious Black Crushed Velvet
There is no fabric quite like gorgeous crushed velvet, with a bold statement of luxury and reflective undertones of elegance – the Berlin Velvet Ottoman Storage Bed is certain to attract endless compliments from envious guests. Stunning upholstery combined with a highly contemporary square structure, featuring clean lines and corners, give the Berlin Black Crushed Velvet Ottoman Bed a unique exterior oozing with modern glamour. The perfect centrepiece to any bedroom, the Berlin Ottoman Storage Bed boasts a black finish with velvety tones which will complement any bedroom design or colour scheme. A floor structure gives the Berlin Ottoman Storage Bed a unique touch whilst subtle lined detailing adds character to an all-round beautiful construction.
---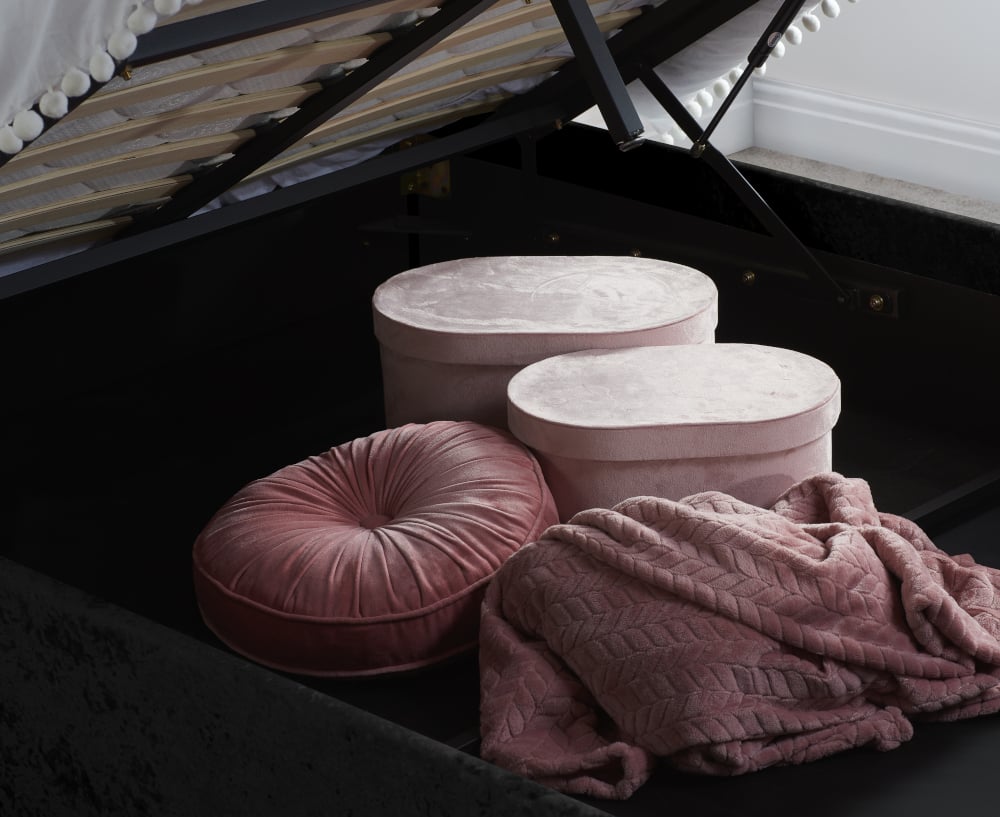 Robust Comfort
Not just a beautiful exterior, a lot of work has gone into the design and manufacturing of the Berlin Velvet Fabric Ottoman Bed to ensure maximum comfort and quality in construction. The sturdy floor structure gives the Berlin Storage Bed the ultimate support, whilst a high headboard and contrasting lack of footboard give a maximised sleeping area to accommodate a wide range of mattresses. The sprung slatted base provides a natural bounce to ensure all sleepers will be comfortable at all times. With base adjusting functionality to remain flexible, all sleeping positions and body types are accommodated. All of these high-quality specifications are elegantly wrapped entirely in resistant crushed velvet fabric which will resist damage over time and maintain its gorgeous aesthetics.
---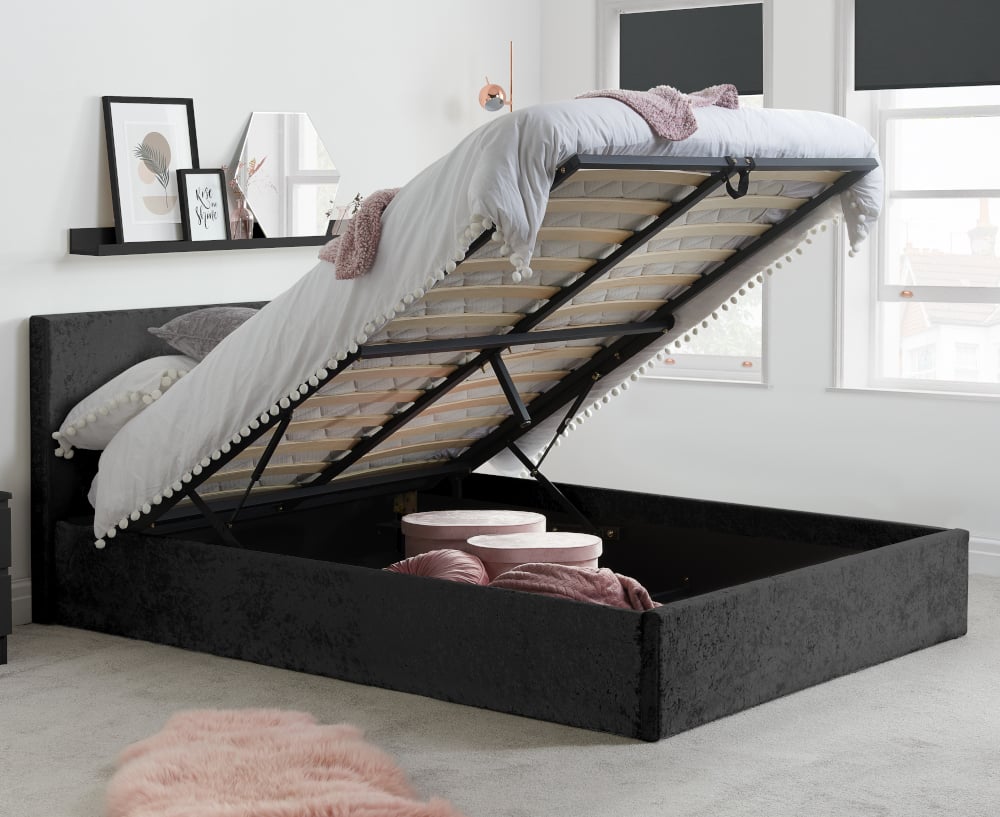 Spacious Ottoman Storage
The Berlin Black Velvet Fabric Ottoman Bed is not your average bed, combining storage with sleeping to create the ultimate space-maximising centrepiece for your bedroom. The large under-bed storage area features gas piston-powered functionality so you can access your dust-protected organised belongings with complete ease. Ottoman storage is the key to a tidy, spacious bedroom and the Berlin Black Crushed Velvet Bed welcomes larger items to make your bedroom tidier and more organised. Every Berlin Fabric Ottoman Storage Bed is delivered flat-packed and prepared for easy self-assembly with helpful instructions included with your purchase and available to access on our website.