The Berlin Steel Crushed Velvet Storage Bed is a stunning example of how spectacular bed design can mix with effective functionality. The steel crushed velvet colour exudes modern chic and class! The Berlin Fabric Ottoman Storage Bed is not only a beautifully luxurious design but also key to an organised and spacious bedroom. The innovative structural design is perfect for maximising space and protecting your belongings. There is simply no fabric quite like beautiful steel coloured crushed velvet, the ultimate statement of glamour and luxury which is guaranteed to brighten up any bedroom regardless of colour scheme and style.
---
Crushed Velvet Glamour
The Berlin Ottoman Storage Bed is entirely upholstered in a stunning steel crushed velvet which simply oozes class and glamour, with reflective qualities to really catch the eye and attract endless compliments from your envious guests. Although simple in structure, the Berlin Crushed Velvet Ottoman Bed is certainly no ordinary bed, featuring subtle lined detailing to the square frame for a little added character. A highly modern and elegant build, the Berlin Fabric Ottoman Storage Bed offers luxury and glamour as well as understated simplicity for the perfect combination of bold and subtle.
---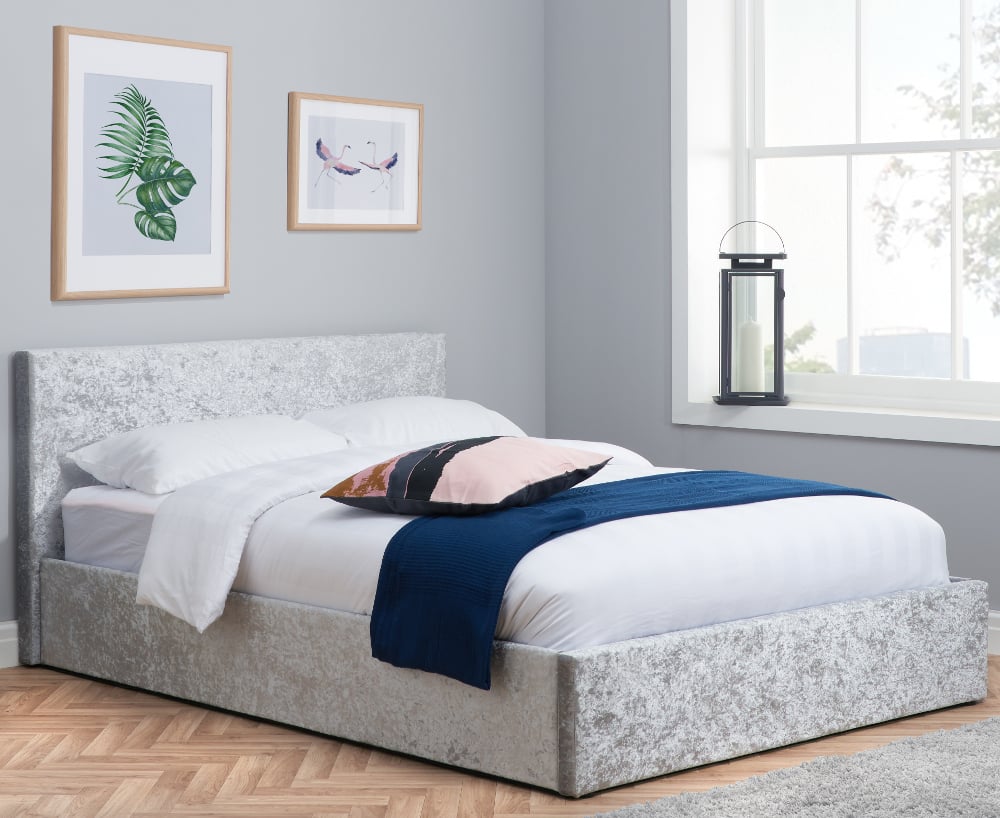 Supportive and Comfy
Not just a beautiful face, the Berlin Steel Fabric Storage Bed features highly durable materials to manufacture a completely reliable and supportive sleeping space. A simple, yet robust square structure sits entirely on the floor for a very strong foundation. The sprung slatted base promotes a natural bounce which comfortably accommodates all sleeping positions, styles and body types. The slatted characteristics encourage air circulation to keep your mattress healthy and your sleeping space as pleasant and cosy as possible. The Berlin Steel Velvet Fabric Ottoman Bed not only gives a beautiful aesthetic to your home, but it also offers a sleeping space of the highest comfort and quality.
---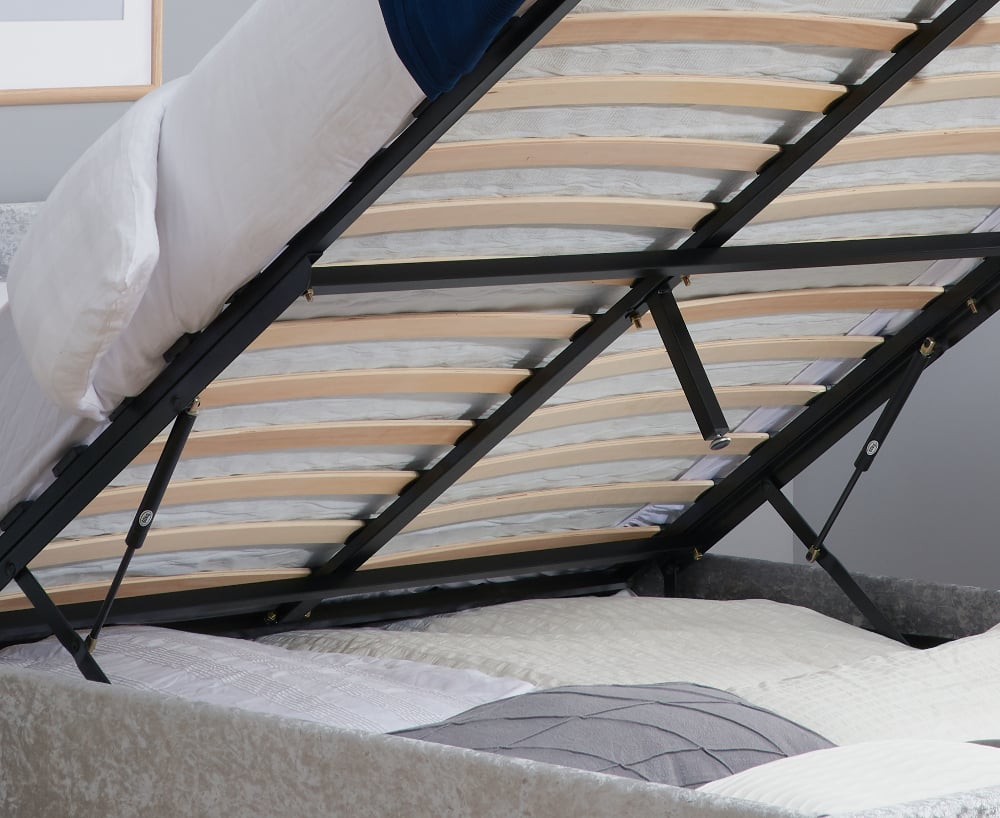 Spacious Storage
Ottoman storage is the key to a fully organised and spacious bedroom, meaning the Berlin Steel Crushed Velvet Bed offers a bold stylish statement to your bedroom whilst discretely organising and storing your belongings in a dust-protected space. The gas piston-powered functionality is integrated into the Berlin Fabric Ottoman Storage's bedframe to ensure easy access to your belongings, a simple flick of the hand will have your bed lifted and your storage space revealed. Every Berlin Fabric Ottoman Bed is delivered in a flat-packed format and accompanied by fully detailed instructions to support easy self-assembly. Why not take a look at the full Berlin Bed range with variations including different colours, materials and storage options?