Kimbo White Mid Sleeper Cabin Bed
RRP From
£899.99
Now From
£419.99
158 Reviews
RRP From
£899.99
Now From
£419.99
Styled in real homes!
Take a look at how our customers have styled this fabulous bed in their homes! Tag @HappyBeds on social media to be featured on our feed.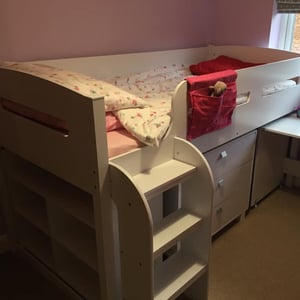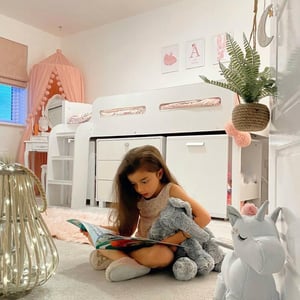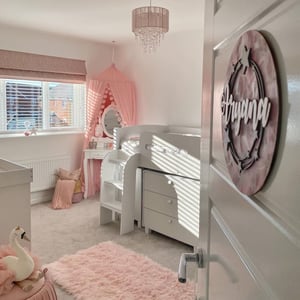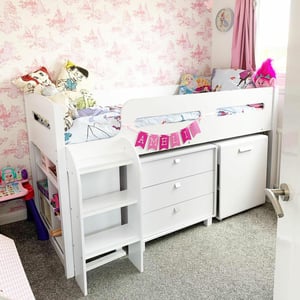 Pull-out Study Station
The Kimbo White Cabin Bed features a pull-out desk that can be used for studying and more
Comes with Everything!
Everything is included in the Kimbo Bed Frame, including drawers, shelves and the desk!
Suitable For Aged 6 and Over
Compliant with UK Safety Regulations - the Kimbo Cabin Bed is suitable for sleepers aged 6 and over
So Much Storage
The Kimbo White Cabin Bed has enough storage for all your child's personal belongings!
Reasons to Buy
Beautifully crisp and clean white finish

Extra-wide step ladder and raised guard rails for security

Pull out desk with added storage

Plenty of shelved storage space

Set of chest-of-drawers included

Solid and sturdy bed frame for safety and comfort

Wonderful combination of straight lines and curved edges

The ladder is fixed onto the left, the desk is fixed onto the right hand side of the bed
Description
An excellent solution to all of your child's bedroom needs, the Kimbo Anthracite Mid Sleeper Cabin Bed offers storage, sleeping and studying spaces to create a multi-purpose bed that your children will love. Clad in a jet black shade known as Anthracite, the Kimbo Anthracite Mid Sleeper Cabin Bed is perfect for both boys and girls, and can comfortably adapt to a wide array of decors.
---
Clutter Free Bedrooms
Since most children's bedrooms can use all the additional storage space they can get the Kimbo White Mid Sleeper Cabin Bed can be seen as a godsend. Kid's rooms rarely utilise the space beneath bed frames, yet the Kimbo White Mid Sleeper Cabin Bed makes the most of its raised sleeping area as it allows ample storage space beneath. Complete with the Kimbo White Mid Sleeper Cabin Bed are several free standing pieces of furniture, include a three drawer chest and a compact bookcase, as well as a slide-out desk that's perfect for the likes of doing their homework.
---
Safe and Secure
The Kimbo White Mid Sleeper Cabin Bed doesn't just act as a brilliant means of keeping the room clean but as a way of securely accommodating a child through a good night's sleep. As well as the aforementioned railings the base of the Kimbo White Mid Sleeper Cabin Bed has been crafted with a solid slatted base for added breathability for the mattress and durability for the frame as a whole.
---
Quality Craftsmanship
Though it's flat packed for self-assembly the Kimbo White Mid Sleeper Cabin Bed is still incredibly sturdy. Easy to construct when carefully following the comprehensive instructions, the Kimbo White Mid Sleeper Cabin Bed can easily be adapted into the home.
---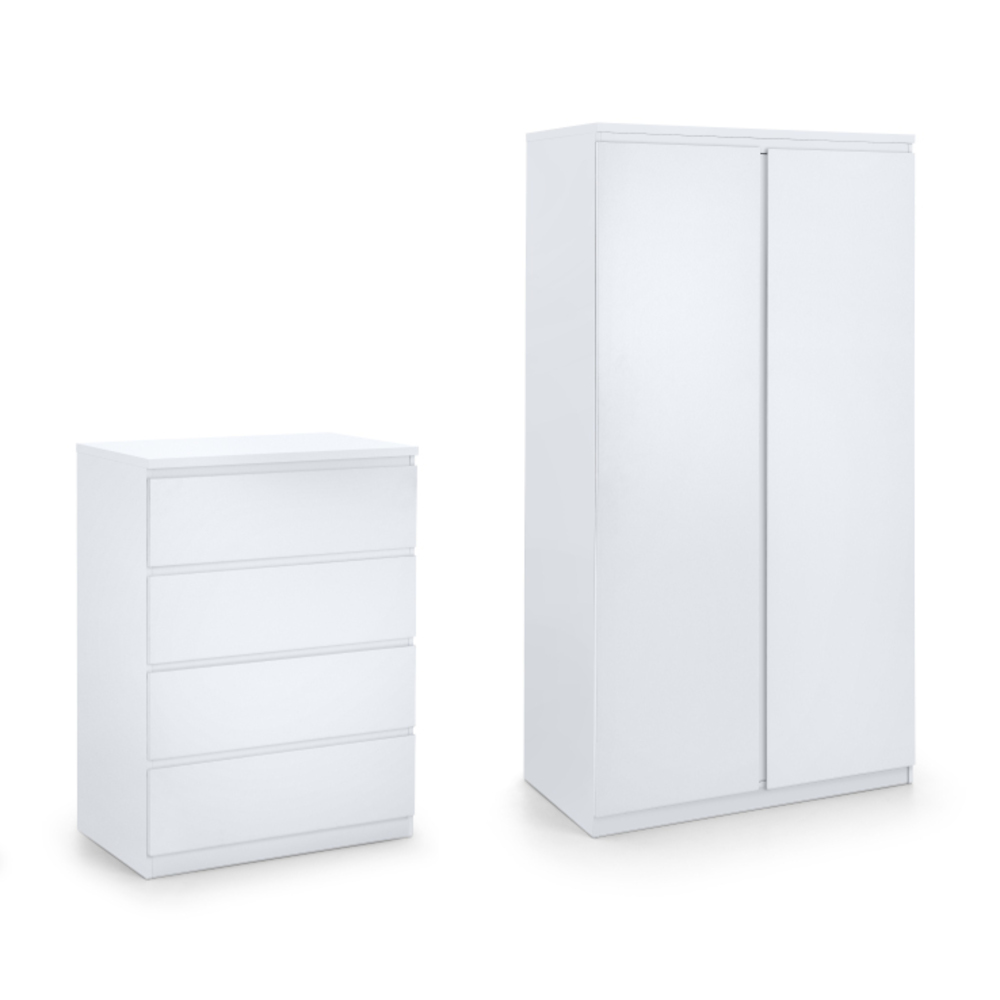 Matching Wooden Furniture Collection
As part of our eclectic kids collection, this particular bed can be perfectly partnered with one or more of the additional pieces of essential bedroom furniture, including the spacious Jupiter 4 Drawer Chest and the accommodating Jupiter 2 Door Wardrobe.

3ft Bed Frame:
A - Height: 115 cm
C - Length: 203 cm
D - Width Including Ladder: 120 cm
B - Width Excluding Ladder: 99 cm
E - Floor to Slats: 73 cm
F - Floor Clearance: 72 cm


G - Desk Height: 70 cm
H - Desk Width: 84 cm
I - Desk Depth: 57 cm


J - Drawer Height: 71 cm
K - Drawer Width: 80 cm
L - Drawer Depth: 40 cm


M - Bookcase Height: 70 cm
N - Bookcase Width: 83 cm
O - Bookcase Depth: 40 cm




Weight: 134 kg
Mattress Size: 90 x 190 cm
Recommended Mattress Height: 18 cm


All measurements are approximates.
Assembly Manuals
To make things that little bit easier, you can find comprehensive instructions for your chosen product within this section. In case you need any more help or assistance, please don't hesitate to get in touch.
More from this collection