Lynx White and Grey 2 Door Sliding Wardrobe with Mirror
Now
£374.99
RRP From
£674.99
Now
£374.99
RRP From
£674.99
Reasons to Buy
Store up to 15kg of accessories within the top shelves of the wardrobe

The base panel can withstand up to 20kg of weight

Mirrored door offers not only style to the wardrobe but reflection of the room!

Available in a variety of colours to allow for seamless interior décor integration

Turn a traditional piece of furniture into a contemporary bedroom necessity

High-quality materials used to construct the wardrobe

Roomy interior allows for a variety of clothes to keep clean and crease-free!
Description
With the addition of this Lynx White and Grey 2 Door Sliding Wardrobe with Mirror, you can not only revitalise your clothing collection, but also refresh the place where you keep them too! If you're in a relationship, you will probably hear the words "let's have a clear out" almost every 6-12 months. This process involves clearing out any clothes that you either haven't worn or no longer fit. For many of us this often means losing some items of clothing you dearly love and clearly do not want to lose! It also leaves your wardrobe looking rather empty.
Wardrobes tend to have a one-room place of living but that's not to say you can't be rebellious and place it wherever you like. The bedroom tends to be a popular choice, allowing you to keep your clothes in the handiest of places, but the choice is ultimately up to you.
Storage and Glamour!
The MDP required to build this wardrobe offers a high-quality finish every time and the inclusion of a mirrored door only enhances the beauty of this piece. Not only can you get ready in style, but you can see your progress and allow the room to shine brighter due to the mirror's ability to reflect natural light. Available in a variety of colours, you can choose the one that's perfect for your room, without the need to splurge on a décor makeover.
On top of keeping hold of your vintage Hawaiian tops, there is the potential to hold much more. The inclusion of a top shelf which can hold up to 15kg allows you to store outfit accessories, with a base panel to keep your shoes together nicely. The product is part of the
Lynx White and Grey Wooden Bedroom Furniture Collection
.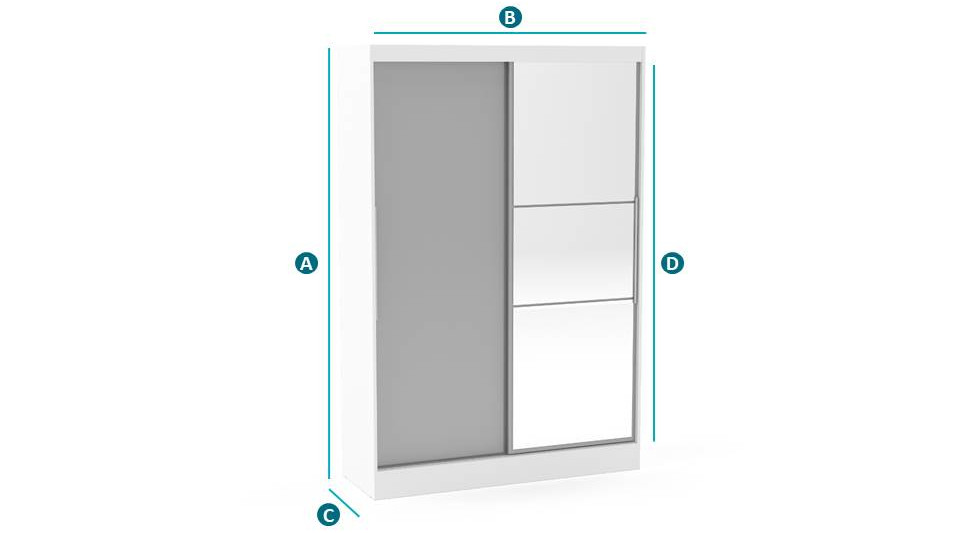 Wardrobe:
A - Height: 196 cm
B - Width: 132 cm
C - Depth: 54 cm
D - Door Height: 177.2 cm



Shelf Height: 33.4 cm

Shelf Width: 63.8 cm

Shelf Depth: 44.2 cm

Hanging Rail Height: 143.3 cm



Weight: 87.5 kg


All measurements are approximates.
Assembly Manuals
To make things that little bit easier, you can find comprehensive instructions for your chosen product within this section. In case you need any more help or assistance, please don't hesitate to get in touch.
More from this collection