Pegasus White Wooden High Sleeper
RRP From
£1,279.99
Now From
£599.99
53 Reviews
RRP From
£1,279.99
Now From
£599.99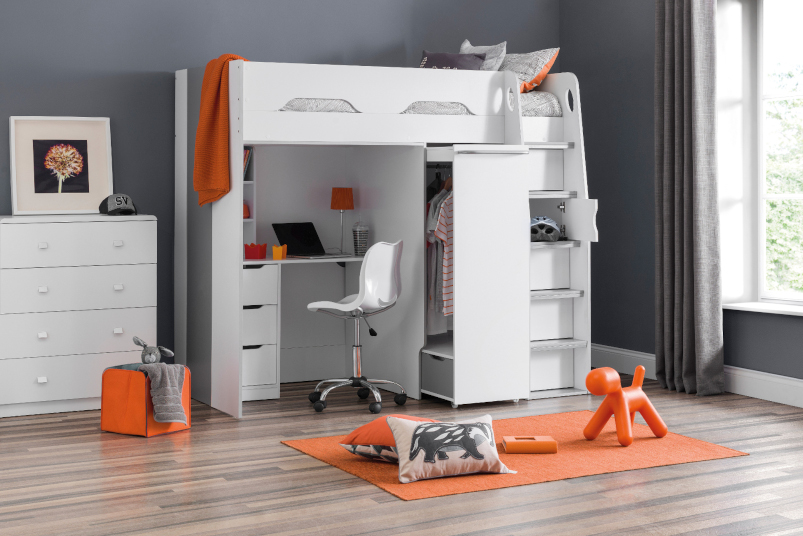 Extensive Storage
The Pegasus High Sleeper Frame has enough storage for all of your bedroom essentials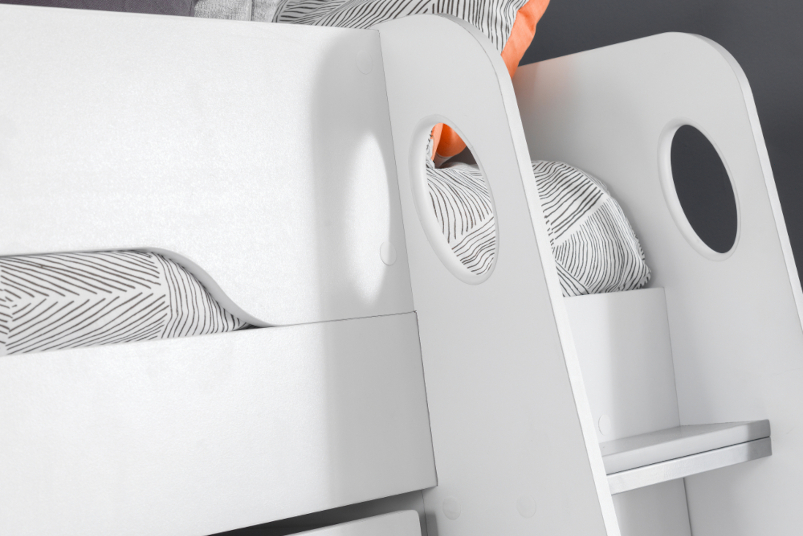 Compliant with UK Safety Regulations
The Pegasus is suitable for children aged 6 years or older, and manufactured from a child-friendly coated particleboard
Added Desk Space
An added under-bed desk promotes productivity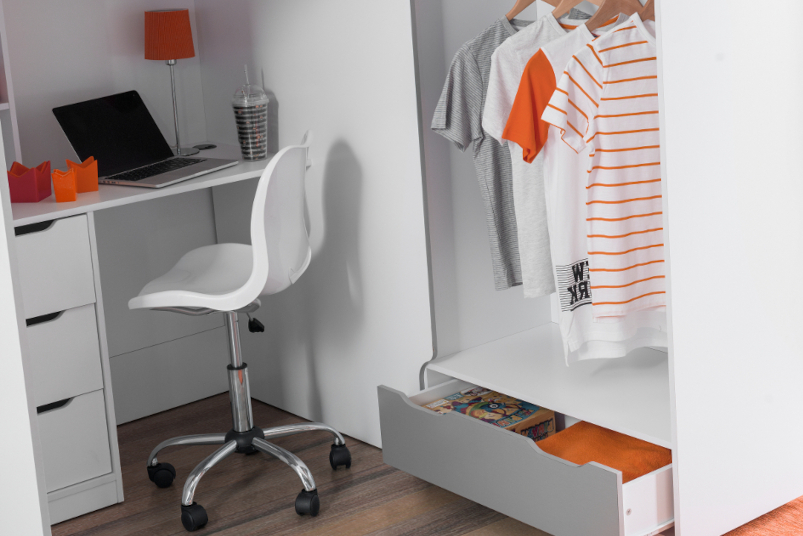 Fixed Frame
Modern and safe, the frame of the Pegasus High Sleeper is fixed and so cannot be reversed, the frame is set in its place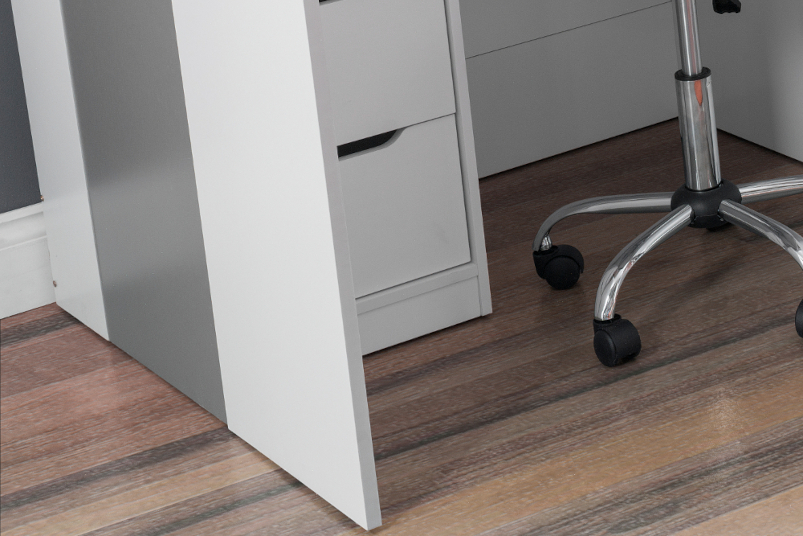 Reasons to Buy
Modern storage kids high sleeper with multiple storage options

Practical pull-out wardrobe with drawer

Spacious desk area ideal for studying or creative projects

Modern design with matt white finish and silver accents

Steps double as storage cupboards

Multiple shelf and drawer spaces

Raised safety sides and sturdy steps

Ideally sized for kid's bedrooms

The ladder is fixed onto the right, the desk is fixed onto the left hand side of the bed

Arrives with easy to follow assembly instructions
Description
Serving as the perfect bed for those seeking a fantastic storage kid's bed, the Pegasus White Wooden High Sleeper is an innovative and unique high sleeper bed. Featuring an underbed desk with plenty of headroom for a teen, drawers, cupboards, shelves, and a pull-out wardrobe, the Pegasus White Wooden High Sleeper also, naturally, acts as an excellent sleeping area as well. The Pegasus White Wooden High Sleeper is an ideal choice for a snug room as it has everything your child will need to stay organised; leaving no excuse for any mess on the floor.
---
Modern, innovative design
The beautiful matt white finish of the Pegasus White Wooden High Sleeper is complemented by accents of silver and grey, truly suited to its name. The design of the bed is one of contemporary minimalism, despite the variety of storage options - giving a timeless look of modern chic to any bedroom. The white and grey finish is both easy to clean and is versatile, allowing the Pegasus White Wooden High Sleeper to blend into a myriad of room designs and styles.
---
Space saving storage options
Five in-built cupboards, four drawers, three shelves, a desk, and a pull-out wardrobe makes the Pegasus White Wooden High Sleeper a bed that offers an entire bedroom's worth of furniture. The Pegasus White Wooden High Sleeper doesn't waste a millimetre of space; this abundance of storage means that your child or teen will be able to keep everything organised. The desk space features cable holes and so is a perfect place for study or creative projects, with the nearby storage ideal for stationery.
---
Safety and comfort
The Pegasus White Wooden High Sleeper may be high up, but it's got all the safety features to go with the exciting height. The way up to the bed is more like stairs than a ladder, with top holds to grab as your child ascends. The bed also features raised sides so you can sleep rest assured your child is sleeping safely. Your child will also be supported whilst they sleep, as the Pegasus features a solid slatted base. This base allows air to circulate around the mattress for temperature regulation, and also helps keep the mattress fresh and dry, prolonging its life.
---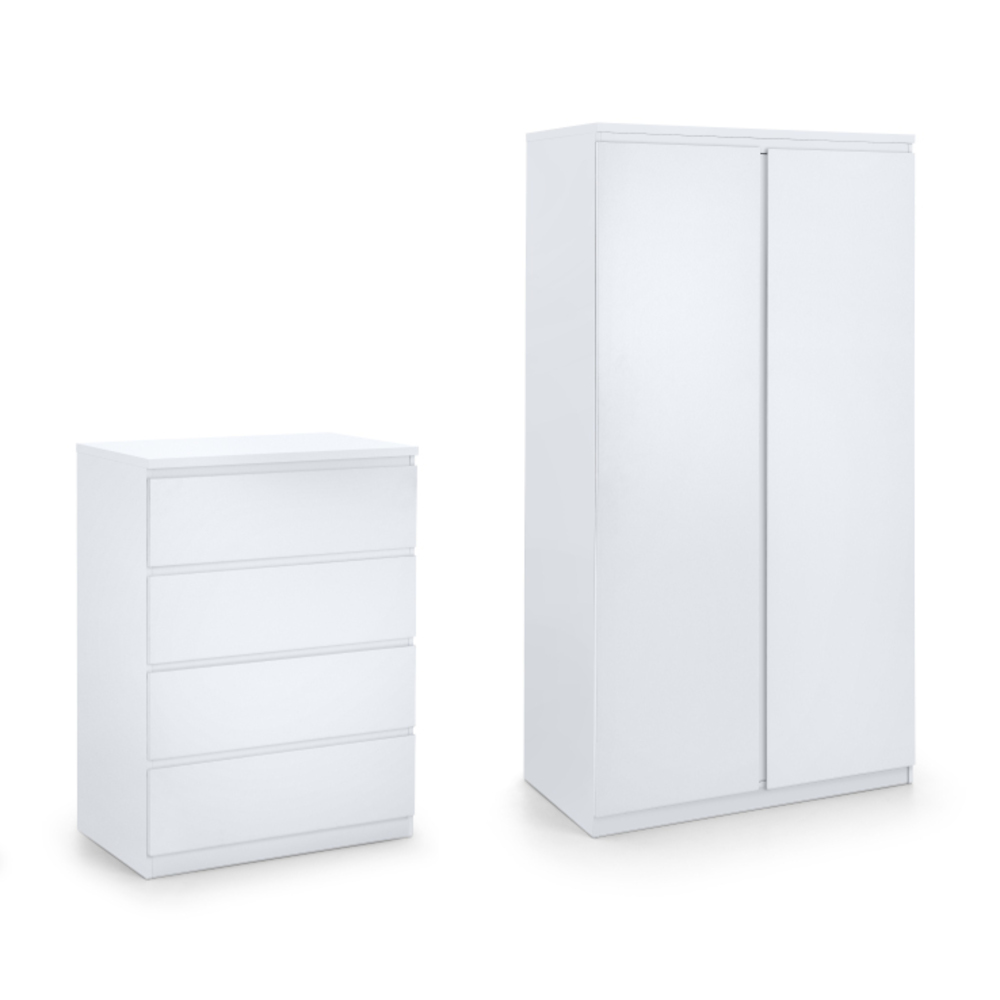 Matching Wooden Furniture Collection
As part of our eclectic kids collection, this particular bed can be perfectly partnered with one or more of the additional pieces of essential bedroom furniture, including the spacious Jupiter 4 Drawer Chest and the accommodating Jupiter 2 Door Wardrobe.

3ft Single Bed Frame:
C - Length: 196.5 cm
D - Width Including Ladder: 119 cm
B - Width Excluding Ladder: 96 cm
A - Height: 178 cm

Weight: 188.2 kg



E - Desk Height: 74 cm
F - Bookcase Width: 38.2 cm
F - Drawer Width: 38.2 cm
G - Distance between Drawers and Wardrobe: 62.9 cm
H - Wardrobe Height: 137.9 cm
I - Wardrobe Width: 49.6 cm

Wardrobe Depth: 67 cm
J - Ladder Width: 37.6 cm
K - Distance between Ladder Steps: 27.4 cm
L - Distance from Floor to Top of Ladder: 153 cm
Mattress Size: 90 x 190 cm
Recommended Mattress Height: 18 cm


All measurements are approximates.
Assembly Manuals
To make things that little bit easier, you can find comprehensive instructions for your chosen product within this section. In case you need any more help or assistance, please don't hesitate to get in touch.
More from this collection