Choosing between types of bed bases is a huge and potentially life-changing decision. We've all looked at those satisfying Instagram feeds and pretty Pinterest boards, dreaming of that perfect bedroom.
If you're currently mulling over how to choose between a divan or a bed frame - a solid bed base or slats - then you may want to take a look at our guide to the advantages and disadvantages of these bed types below.
The bed is the centrepiece of your room, and it'll make or break that ideal decor. Your choice of bed frame should be practical, stylish and, above all else, has to fit your idea of the perfect bedroom.
To help with this decision, we're going to break down the two choices - what is a divan, and how does it differ from a bed frame?
Breaking Down Types of Bed Bases
What Is a Divan?
Typically consisting of a solid bed base instead of slats for holding the mattress, the divan bed features a large, hollow interior that usually provides space for drawers or ottoman storage.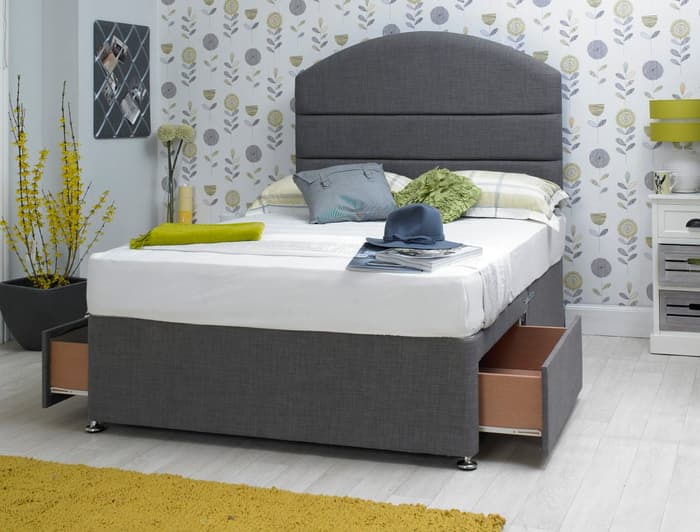 An example of a grey divan bed with a Dudley lined headboard, built using our Build Your Own Bed tool!
What is a Bed Frame?
As the name most likely suggests, a bed frame is exactly that - a frame, usually with some form of a slatted base to support the sleeper. Bed frames are usually a little larger than the mattress and feature a headboard and foot in their design, with the mattress slightly sunken to provide stability.
The Camille is a classic example of a quality bed frame.
Solid Bed Base or Slats? Which is Better?
The Solid Base
Like all great decisions, it's a matter of taste - a solid bed base acts as a flat platform for your mattress, ensuring it remains flat from head to toe. This is particularly useful for denser mattresses, such as memory foam. It provides an equal level of support to every area of the mattress.
Of course, this has a downside, too - it makes a mattress feel substantially firmer. Without the flexibility offered by a slatted bed base, the solid base may directly affect how the mattress feels to a sleeper - particularly if they're a little heavier than average.
The Slatted Bed Base
In the past, when all mattresses were sprung, a slatted bed base was generally a superior option - this provided a certain level of flexibility, giving decent support to the most stressed areas of the bed while still providing comfort and ample room for movement. It also provided plenty of air circulation.
However, this can cause a problem. Memory foam isn't best matched with a slatted base, as a solid foam mattress tends to 'leak' through the gaps in this bed base type's slats. There's also the issue that, if one slat in the frame should break, you'll notice - and it won't be comfortable!
Breaking Down Bed Types
Why to Buy a Divan Bed:
One of our bestsellers, the Woodbury is a superb example of a bed with storage.
1) They have built-in storage
Divan beds are often made more useful by the presence of that big, hollow base. Whether it's a gas-lift ottoman bed or concealed drawers, a divan bed is a type of bed frame that's ideal to declutter your room.
2) They take up less room
Divan beds are compact and tidy, with their design intended to only be as wide as the mattress they support. This helps save on some of the bulk. A divan bed is a great space saver for a smaller room.
If space is an issue, we'd also recommend looking into our measuring guide to get the perfect fit!
3) They're supportive
Due to their platform tops, divan beds provide a solid bed base for your mattress rather than a slatted design, which not only prolongs the life of your mattress but provides a straighter shape for your back. This makes a great way to firm up your older, saggier mattresses, and makes sure your newest purchase keeps you sleeping well for longer!
4) They're easily personalised
Divan beds are all about the style. You can have them lined in different fabrics and materials, you can have a variety of colours, and the headboard can be any shape you like (within reason) - for this reason, we've developed our amazing Build Your Own Bed tool, so you can design your perfect divan bed with ease - and over three million combinations!
Disadvantages of Divan Beds
They aren't many disadvantages to divan beds - but you might wish to consider these:
1) Slightly higher price
As a divan bed tends to be multipurpose and contains more components, it can be more expensive than a standard bed frame. At Happy Beds, we try to keep our divan beds as competitive as possible, however. This gives you a great excuse to shop our range and pick out a top of the line bed for less!
2) A matter of aesthetics
Divan beds are usually quite plainly upholstered or panelled, and may not always suit your perfect bedroom. A bed frame always tends to be a more rustic, traditional option with more scope for decorative detailing.
Why to Buy a Bed Frame:
One of our traditional bed frames - the Emily is a classic, available in two colours.
1) A traditional bed
The bed frame is a traditional and often super stylish type of bed frame for your room, with room for aesthetics in the legs, frame and supports that gives the perfect opportunity to theme up to your sleeping space. These bed types are a great touch to any interior!
2) They're long-lasting
A good quality bed frame is usually an investment, and will typically be a long term purchase, with solid components designed to be exposed and on view.
3) They're affordable
Most bed frames use natural components, reducing their cost, and don't need to be fully upholstered. This makes them very reasonable in terms of pricing in comparison to the often more complex divan bed types.
4) Built-in headboard
Most bed frames will have a headboard and thus are, naturally, a very simple, straightforward type of bed frame. It's just a case of assembling it and getting comfy!
Disadvantages of Bed Frames
While we love our bed frames at Happy Beds, it's no wonder the divan has become so popular. What are the disadvantages of bed frames?
1) Less space effective
Bed frames sadly don't have the luxury of that lovely storage space and are slightly larger than divan bed types. This makes them a little bit harder to fit into a room - after all, they don't have drawers or ottoman bases.
If space is an issue, we'd also recommend looking into our measuring guide to get the perfect fit!
2) Maintaining a bed frame
Bed frames are a little more hands-on than divan bed types. Their slatted bed bases can occasionally come loose or slip out of line - though this is very easy to fix - and the joints will occasionally require tightening with a few twists of your Allen key. However, this is usually after years of usage.
Bed Frame or Divan Bed? Which is Better?
Statistically, you tend to spend a full twenty-five years of your life asleep. I'm sure it doesn't feel like it most of the time, but it's true! As a result, you need to make sure that your bed is perfect. We don't believe in 'fast furniture' - it should be an investment that lasts for years on end. That's the Happy Beds Manufacturer Guarantee!
This is why your personal opinion is so important when it comes to selecting your furniture. We always advise treating this purchase properly. Take your time, weigh up the advantages over the disadvantages of each bed type and judge accordingly.
Are you a divan user? Or a bed frame fan? Do you prefer a solid bed base or slats? Let us know on Facebook, Twitter and Instagram!
If you're convinced you need a divan bed and want it tailor-made, check out our guide to the Build Your Own Bed tool!
Check out more bed guides, lifestyle advice, craft ideas and inspo from the Happy Beds Blog today. We've plenty more to help you get that perfect night's sleep.