How to Measure Your Bed
Summary
We all know how frustrating it is when your lovely bed is delivered to your home yet it can't fit through your front door. It would be even worse if, once the bed is forced through multiple doors and been assembled, you realise that it doesn't fit in your bedroom.
To make sure that this doesn't happen to you, we have created this handy measuring guide.
---
Things to Consider Before You Buy
Before ordering your bed or mattress, it is vital to consider how this item will fit into your home. Assessing your home prior to ordering the item will allow the delivery process to go smoothly. so:
Ensure there are no low ceilings, narrow hallways or stair banisters that may restrict the item during delivery.
Assess any tight corners which the bed or mattress needs to move around
Check the size of the door, and whether the item will fit through the entrance to your home.
Familiarise yourself with how the item will be delivered - either flat packed or pre-assembled.
For storage beds, confirm there is enough space for the drawers to open.
---
How Wide Do Your Doorways Need To Be?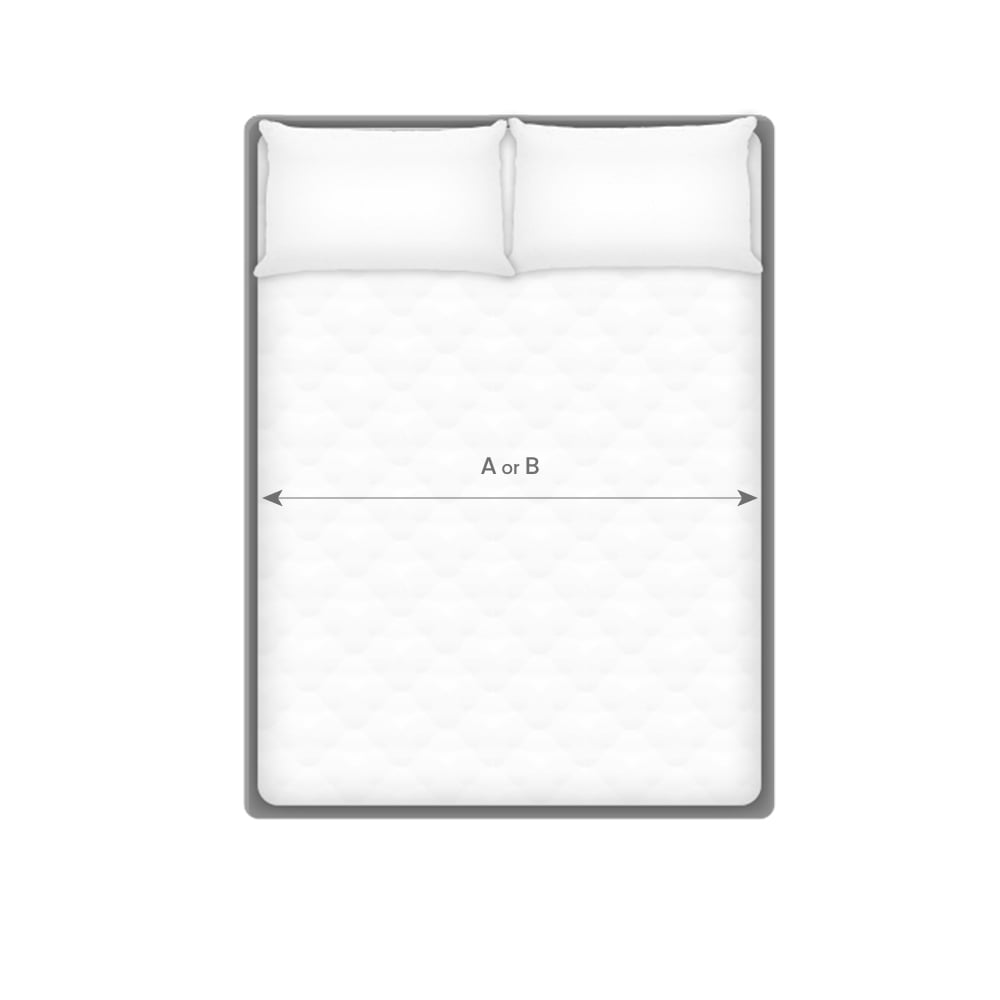 Take note that for hallways where there's no room for turning, the door should be 100mm wider than A or B as indicated
For some furniture, there needs to be additional space to this: there should be an allowance on top of the specified dimensions.
For example, the divan beds with drawers will require 31 cm from either side of the bed if you're going to place it in a room where there isn't enough space to turn.
Our team can't remove windows and doors in order for our furniture to get into your home. If this is the case, you will be responsible for taking it inside.
How Much Space Do You Need Around Divan Drawers?
Our divan beds with storage drawers will require at least 55 cm of space to fully open the drawers.
All drawers are measured 53 cm in depth and 22 cm in height. The width varies depending on your option between Mini (continental), Regular or Large End drawer.
Take note that large items are always delivered flat-packed, so that you won't have problems getting them inside any room.
For most products, our team can help you assemble the delivered flat-packed item. You can also choose to assemble if yourself.
However, our couriers will only deliver beds to the ground floor, so please ensure the bed can fit up any stairs or doorways beforehand.
If you're interested in divans, then consider checking out our varied range of divan beds.
---
How Much Space Do You Need For A Sofa Bed
If you're thinking of buying a sofa bed, make sure there is enough room for it to fully fold out. Most sofa beds require exactly 240 cm of space when folded out. This will vary depending on the type and model of your sofa.
You should know that there are sofa beds that will not be as long as stated above. A good example is the two seater sofa. However, you'll also need to allocate extra space at the edge of the bed if you need walking space around it.
Find your ideal model in our sofa bed range.
Frequently Asked Questions
How can I tell if my bed is flat-packed or pre-assembled?
Answer:
Every bed description on the Happy Beds website will state whether the bed will arrive flat-packed or pre-assembled. If the bed arrives flat-packed, there will be an assembly manual to follow to assemble the bed. If arriving pre-assembled, the bed may be in a much larger box which you should consider when preparing for the arrival of your bed.
What if my bed does not fit through my door?
Answer:
We strongly advise you to ensure that the bed can be accessed into your home before ordering. We state in our delivery policy that our couriers can only deliver your furniture item or bed to the ground floor of your home, therefore it is very important for you to prepare for the arrival of your bed.