How to Measure Bed Size

We all know how frustrating it is when your lovely bed is delivered to your home yet it can't fit through your front door. It would be even worse if, once the bed is forced through multiple doors and been assembled, you realise that it doesn't fit in your bedroom.
To make sure that this doesn't happen to you, we have created this handy measuring guide.
How to tell if furniture will fit in a room
Before ordering your bed or mattress, it is vital to consider how this item will fit into your home. Assessing your home prior to ordering the item will allow the delivery process to go smoothly. so:
Ensure there are no low ceilings, narrow hallways or stair banisters that may restrict the item during delivery.
Assess any tight corners which the bed or mattress needs to move around
Check the size of the door, and whether the item will fit through the entrance to your home.
Familiarise yourself with how the item will be delivered - either flat packed or pre-assembled.
For storage beds, confirm there is enough space for the drawers to open.
---
How to choose a bed
Choosing a bed isn't just deciding what colour and style you want, but also what size will fit into your bedroom. A small bedroom will not fit a king size bed, and an oversized bedroom will make a single bed look tiny!
So how do you know what size bed frame will fit in your bedroom? Our handy bedroom size guide will help you learn everything you need and useful tips for making sure you make the most of your available space.
What is the standard size of a bedroom?
There is no single 'standard size' of bedroom in the UK, though you'll find that most houses will have a bedroom that is a minimum of 70 square feet, or 7ft x 10ft, with a ceiling that is 7ft 6ins in height. This will fit a single bed and is the minimum required to be classed as a 'bedroom'.
You can have a smaller room and still fit a single bed in, but it's not technically classed as a bedroom!
How big does a bedroom have to be?
We would recommend that bedrooms be the minimum size to fit these popular bed sizes:
| Bed Size | Minimum Bedroom Size |
| --- | --- |
| Single Bed (3'0" x 6'3", 90cm x 190cm, 35" x 75") | 7' x 10' (2.13m x 3.01m) |
| Double Bed (4'6" x 6'3", 137cm x 190cm, 54" x 75") | 9' x 9' 6" (2.74m x 2.9m) |
| King Size Bed (5' x 6'6" 150cm x 200cm, 59" x 79") | 9' 6" x 10' (2.9m x 3.05m) |
| Super King Size Bed (6' x 6'6", 180cm x 200cm, 71" x 79") | 9' 6" x 11' 6" (2.9m x 3.51m) |
Please note that there is no specific size that is suitable, but these bedroom sizes will accommodate the size bed listed!
How much space do you need around a bed?
There is no right or wrong answer regarding how much space you need around a bed; it's purely what you feel comfortable with. If you want to put a double bed into a small bedroom to maximise your sleeping space, that's entirely up to you!
We'd suggest you consider your bed measurements when buying a storage bed, though. Many ottoman beds will lift open at the end of the bed frame, but some will open via the left or right side, so you need space to stand next to your bed and lift.
Beds with storage drawers are another type to consider, as you need enough space to pull out the drawer fully. Some of our storage beds only have one drawer, whereas some may have two on the longer side, and some even have a drawer at the end of the bed!
If you want to buy a bed with drawers, measure your bedroom to determine what size will fit, and then do additional research into how big the drawers are and how far they pull out. You will need to add this extra length onto your bed to get a final measurement!
How to measure bed size
Measure from top to bottom of your bed frame to get the length and then from side to side to figure out the width to get your bed measurements. If you want extra information, such as the height of your current bed or to figure out the height of a new bed, then go from the floor to the top of the bed frame. Measuring from the floor to the bottom of the bed frame will give you how much space you have underneath the bed.
If you're considering a bed with storage drawers, find out the size of each drawer when extended to the max and add that length to the width measurement.
What are the bed sizes in the UK?
The most popular bed sizes in the UK include single, double, and king-size beds, but we have plenty on sale here at Happy Beds! These bed measurements include:
Small Single Bed - 2'6" x 6'3", 76cm x 190cm, 30" x 75"
Single Bed - 3'0" x 6'3", 90cm x 190cm, 35" x 75"
Small Double Bed - 4'0" x 6'3", 120cm x 190cm, 48" x 75"
Double Bed - 4'6" x 6'3", 137cm x 190cm, 54" x 75"
King Size Bed - 5' x 6'6" 150cm x 200cm, 59" x 79"
Super King Size Bed - 6' x 6'6", 180cm x 200cm, 71" x 79"
To find out more information about the bed sizes we have available, take a look at our bed size guide to make sure you buy the right bed for your home.
How to tell if furniture will fit upstairs
Most of our beds and bedroom furniture will arrive flat-packed, which makes transporting them easy as you simply need to move it box by box into your desired room. Some of our furniture comes fully assembled, though, so you will need to figure out if you can get fully assembled furniture up the stairs without causing any damage to it!
To determine if you'll be able to get your furniture or bed upstairs, measure the width of your staircase by going from the handrail to the wall. This will let you know the maximum width of something that will fit up the stairs. You will also need to measure the width of your landing and hallway to establish if the furniture will fit through, and also measure how high your landing bannister is in case you need to lift your furniture over the top of it!
Alternatively, if you have a lift in your building, you will need to measure the open-door height and width of the lift alongside the depth of the lift itself!
How wide do your doorways need to be?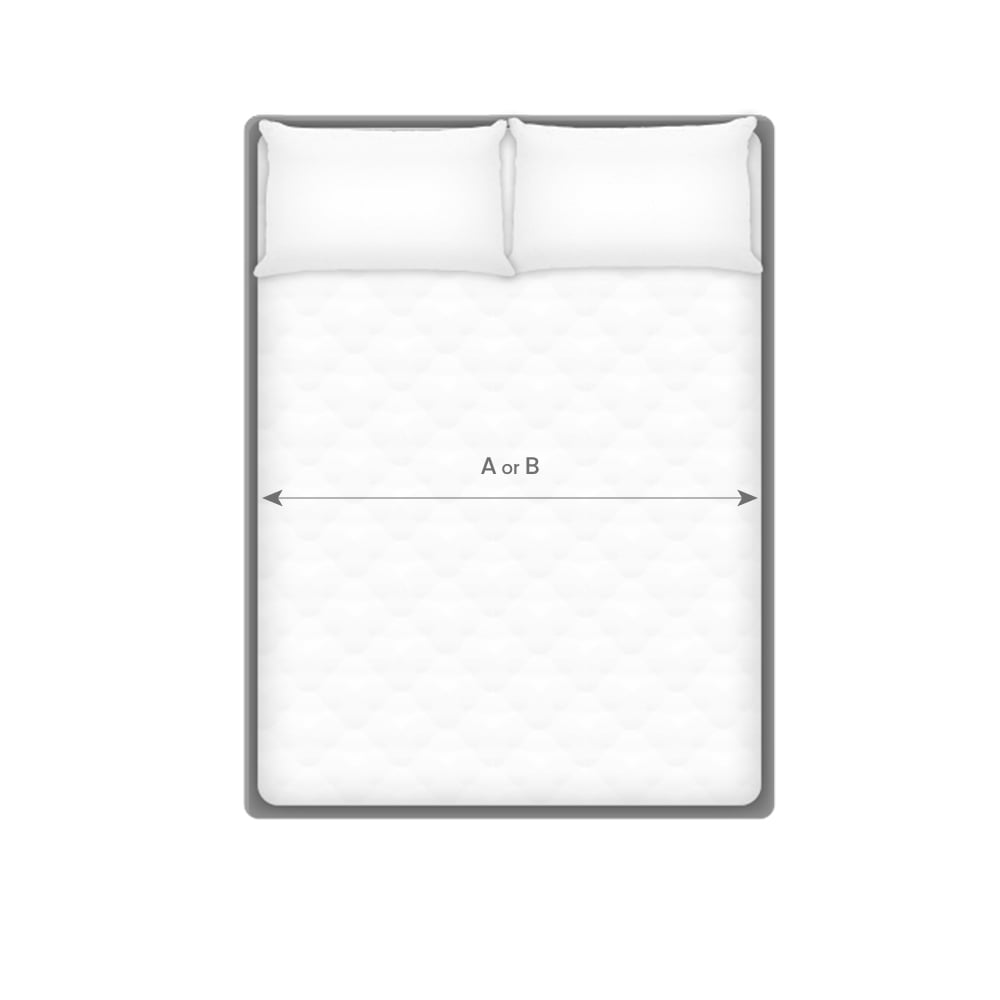 Take note that for hallways where there's no room for turning, the door should be 100mm wider than A or B as indicated
For some furniture, there needs to be additional space to this: there should be an allowance on top of the specified dimensions.
For example, the divan beds with drawers will require 31 cm from either side of the bed if you're going to place it in a room where there isn't enough space to turn.
Our team can't remove windows and doors in order for our furniture to get into your home. If this is the case, you will be responsible for taking it inside.
How to get a bed through a door
If you want to get a fully assembled bed through a door, such as if you were moving bedrooms or didn't want to dismantle your bed if moving house, then you will need to work out whether you can get your bedroom through the door safely without causing any damage. The most important thing to do is measure the length and width of your doorway to work out how much space you're dealing with before measuring your bed.
You will also need to measure the height and width of the headboard and footboard here, as your headboard is likely much taller than the bulk of the bed frame! We would also recommend measuring the diagonal length of your doorway, from the top corner to the bottom corner on the opposite side, as you can get larger objects through the door by moving them at an angle.
If your headboard is taller than the width of your doorway, you might need to dismantle your bed to get it safely through the door!
Frequently Asked Questions
How can I tell if my bed is flat-packed or pre-assembled?
Answer:
Every bed description on the Happy Beds website will state whether the bed will arrive flat-packed or pre-assembled. If the bed arrives flat-packed, there will be an assembly manual to follow to assemble the bed. If arriving pre-assembled, the bed may be in a much larger box which you should consider when preparing for the arrival of your bed.
What if my bed does not fit through my door?
Answer:
We strongly advise you to ensure that the bed can be accessed into your home before ordering. We state in our delivery policy that our couriers can only deliver your furniture item or bed to the ground floor of your home, therefore it is very important for you to prepare for the arrival of your bed.