Mattress Size Guide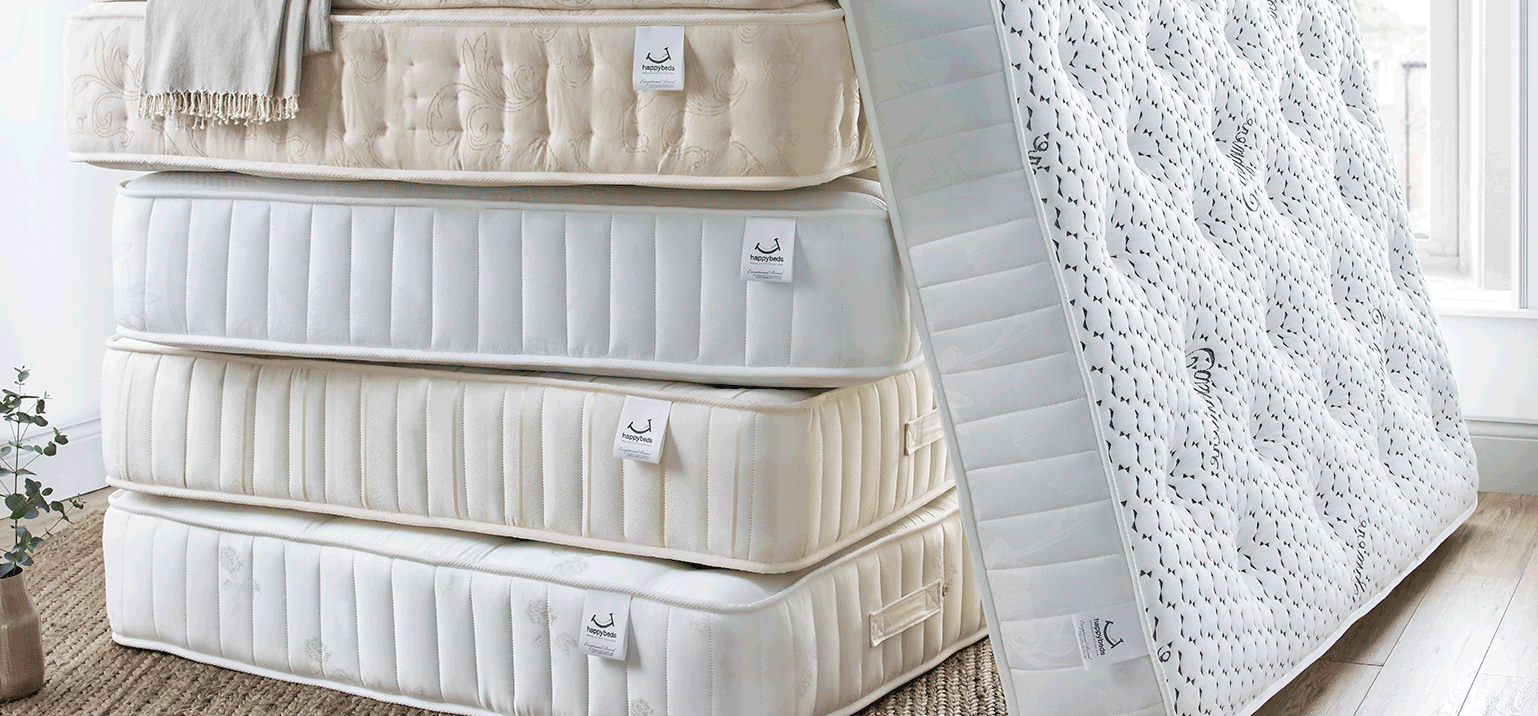 When it comes to mattresses, size matters. This mattress guide details the various sizes available to UK mattress buyers, and helps you understand which size mattress will best suit you and your needs
Mattress Sizes
See below for the measurements of Happy Beds' mattress sizes: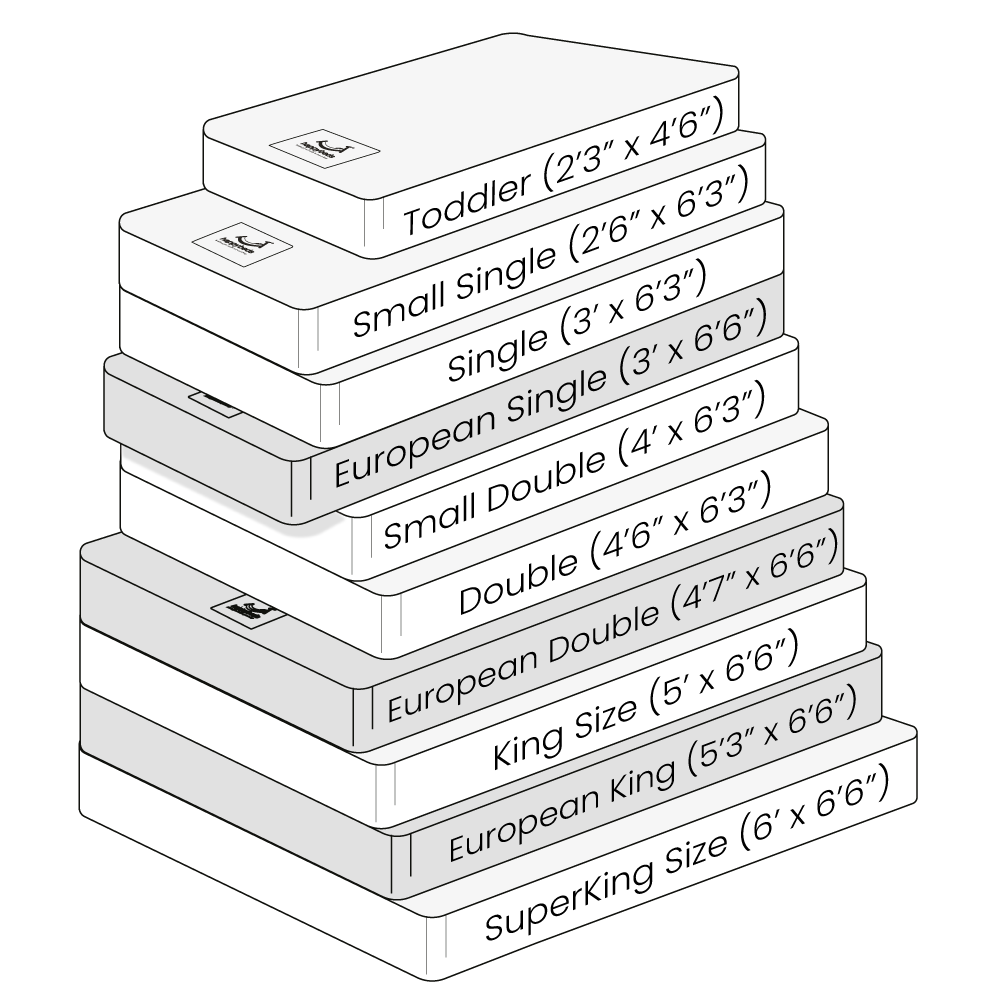 Cot Mattress Size
60cm x 120cm / 2ft x 3ft9
Toddler Bed Mattress Size
70cm x 140cm / 2ft3 x 4ft6
Small Single
72cm x 190cm / 2ft6 x 6ft3
Single Mattress Size
90cm x 190cm / 3ft x 6ft3
European Single Mattress Size
90cm x 200cm / 3ft x 6ft6
Small Double Mattress Size
120cm x 190cm / 4ft x 6ft3
Double Mattress Size
135cm x 190cm / 4ft6 x 6ft3
European Double Mattress Size
140cm x 200cm / 4ft7 x 6ft6
King Size
150cm x 200cm / 5ft x 6ft6
European King Mattress Size
160cm x 200cm / 5ft2 x 6ft6
Super King Mattress Size
180cm x 200cm / 6ft x 6ft6
Please note, all sizes are approximates and all products do have a tolerance of up to 2 inches.
Which Mattress Size Suits Me?
Throughout our lifetime, our bodies sleep on many dozens of different-sized mattresses, from cot-sized sleepers to super king-size designs. This part of our mattress size guide informs you about mattress types, sizes and who they are suited for.
Cot and Toddler Mattresses
The most important aspect of cot mattresses and toddler mattresses is the safety of the little person sleeping on it. However, every child also needs a comfortable night's sleep and ample room to accommodate their growth.
The best cot and toddler mattresses offer plenty of space for your child as they grow, while prioritising safety and comfort.
It's important to note that transitioning your child from a cot to a toddler bed can often be awkward, so for more information about what you can do to make the move easier, take a look at our transitioning guide.
Small Single Mattresses
A small single mattress gives a comfy, snug sleep for smaller people. These mattresses are ideal for children, as they leave enough excess to accommodate further growth.
Small single mattresses are ideal when paired with a bunk bed, too, perfect for families with two or more children. For more information, take a look at the pros and cons of bunk beds.
Suitable for: small single beds and bunk beds.
European Single Mattresses
Small Double Mattresses
As evidenced by the name, a small double mattress is slightly smaller than its counterparts, making it ideal for one person or a couple with a smaller bedroom.
Having a small double mattress, especially when combined with a divan or storage bed, opens up new avenues to save space in your bedroom.
Suitable for: small double beds, divan beds and storage beds.
Double Mattresses
When you're sleeping alongside someone else – as a huge percentage of people do – it's essential to sleep on a mattress that's big enough for the two of you. For that, you need a double mattress at least, although most will opt for a king or super king size.
Suitable for: double beds.
European Double Mattresses
Much like their single mattress counterparts, the major difference between a double mattress and a European double mattress is the size. A European double is slightly longer, making it ideal for taller sleepers.
King Size Mattresses
Alongside double mattresses, king size mattresses are among the most popular beds for adults, particularly couples who are larger than the average or like to 'sprawl' in bed. If you or your partner loves having a lot of space under the covers, then you cannot go wrong with the king size mattress.
Suitable for: king size beds.
European King Size Mattresses
Super King Size Mattresses
When you are an adult, the world is your oyster when it comes to the size of your bed. Most people opt for a double or king size mattress, but others only settle for the best: the super king size mattress.
Here, mattress size truly comes down to taste – and how much space you have in your bedroom. While the double mattress is the norm, a super king size is reserved for those who just love having oceans of space to sleep in.
Suitable for: super king size beds.
Making Sure Your Mattress Size Is Right For You
There are also other steps that you can take to ensure you're buying the right mattress for your needs and lifestyle:
Measure yourself – try to ensure that the mattress is 15cm longer than the tallest person who will sleep on the mattress.


Stretch – if you can place your hands behind your head and your elbows touch the mattress edge or your sleeping partner, your mattress isn't big enough for you.


Scope out your room – it's all well and good having a huge mattress to sleep in, but if it doesn't suit your bedroom or seriously limits your space, it may be worth investing in something slightly smaller.


Check your bed – it should go without saying, but you should check that the mattress you're buying matches the dimensions of your bed frame.


Find your
perfect
Mattress