You've probably heard of Chesterfield furniture before, but do you know what makes this classic style so chic?
The Chesterfield style has been around for quite a while, but not everyone knows its history or even what makes something a 'Chesterfield'. Keep reading to find out more about this iconic style and how it can feature in both modern and classically-styled homes.
What is Chesterfield Furniture?
When it comes to this style of furniture, most people instantly think of the Chesterfield sofa. Intrinsically British, the style has been around for 300 years and could commonly be found in country manors and gentlemen's clubs before a more modern revival, which saw many people choose the Chesterfield style for their homes.
A Chesterfield sofa is instantly recognisable thanks to its large size, with rolled arms that are the same height as the back. They usually have deep button tufting and a nailhead trim, and can be made in both fabric and leather.
Shop the Chester Sofa (other colours and sizes available)
Now, 'Chesterfield' has become a term that many people use to describe any form of furniture which has a number of these key characteristics and influences are aplenty in modern design, showing that true style never goes out of fashion.
Scroll beds with their gorgeous curves and smooth lines are often associated with a classic Chesterfield, as is bedroom furniture with deep quilting and button detailing. We love this style as it helps give your home a touch of elegance, without breaking the bank!
Why Are They Called 'Chesterfield Sofas'?
Rumour has it that in the 1700s Lord Philip Stanhope, Fourth Earl of Chesterfield, was the first person to commission a piece of furniture in this style. After his death, the piece was shown off and quickly became popular among his contemporaries.
Lord Stanhope requested a stylish piece of furniture that was supportive and would help him sit upright without wrinkling his suit and, we have to say, we think the design nails the brief. These days though, we'd say the appeal of the Chesterfield is more about style and comfort than keeping your favourite clothing wrinkle free.
How to Style a Chesterfield Bed
Chesterfield beds can really be the centrepiece of a bedroom. Here are just a few ways our customers have styled their new beds in their homes…
Photo by: The Squiffy Mill
Photo by: Terrace No. 26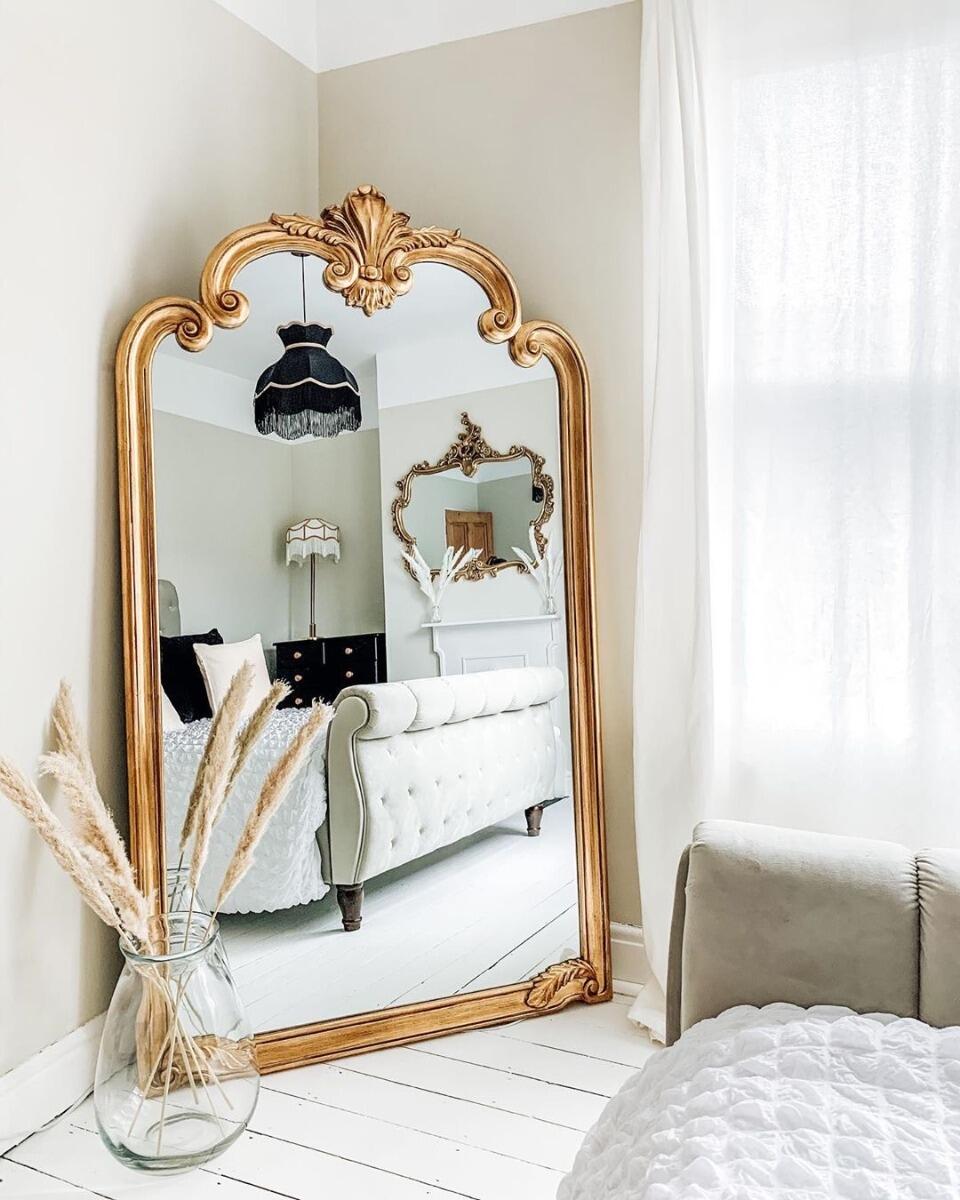 Photo by: Crack The Shutters
Photo by: Rachel's Harley Home
Our 5 Favourite Chesterfield Beds
If you're looking for a modern bed which draws upon the classic design elements of a Chesterfield, here are a few of our favourites:
1. Castello Grey Fabric Ottoman Scroll Sleigh Bed
For something classic, take a look at our Chesterfield sleigh beds and scroll designs.
The Castello is a personal favourite of mine. It has plenty of storage and comes with dark rubberwood feet and a curved design, which is traditional and loyal to the Chesterfield style. It's elegant yet versatile, and could work equally well in a loft-style apartment as a large country home. It'll never go out of style!
2. Colorado Grey Velvet Fabric Sleigh Bed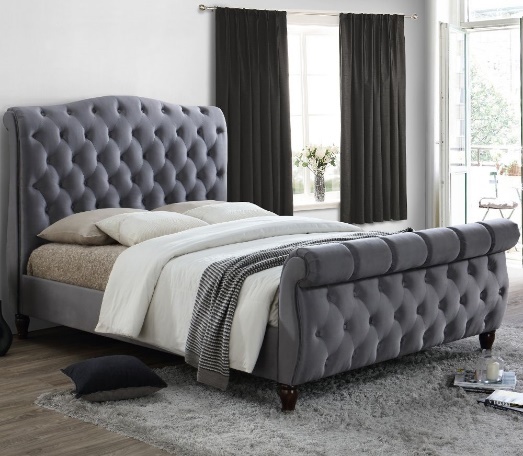 The Colorado is one of our best sellers, and it's not hard to see why. With an elegant, deep buttoned headboard this bed creates a real focus point in a room, and the upholstered grey velvet is oh so soft to the touch.
Grounded with dark rubberwood feet, this modern sleigh style bed puts a great twist on Chesterfield design.
3. Copenhagen Warm Stone Fabric Scroll Sleigh Bed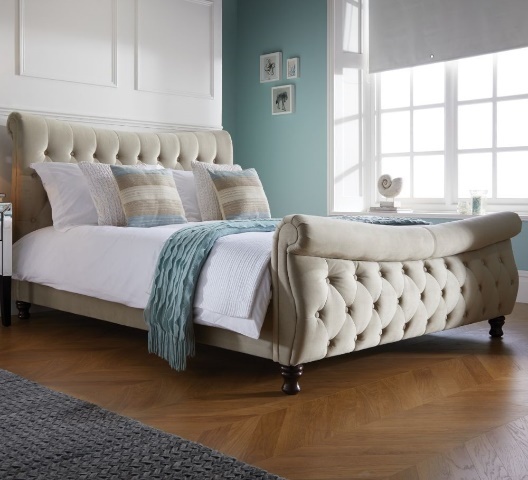 Light and bright, the Copenhagen screams sophistication! This grown-up bed has a fully-upholstered, rolled and curved headboard and footboard which are beautifully cushioned with a deep button finish.
Fitted with a sprung slatted base, this bed provides additional mattress support, and the low height means getting in and out is anything but a chore.
4. Grande Black Crushed Velvet Fabric Bed
The most modern on this list, the Grande combines the classic buttoned elements with a modern, low-slung shape. It's the best of both worlds!
Covered with black crushed velvet and detailed with glitzy diamantes, the Grande is a real showstopper for anyone who likes the finer things in life.
5. Ravello Mink Coloured Chenille Fabric Scroll Sleigh Bed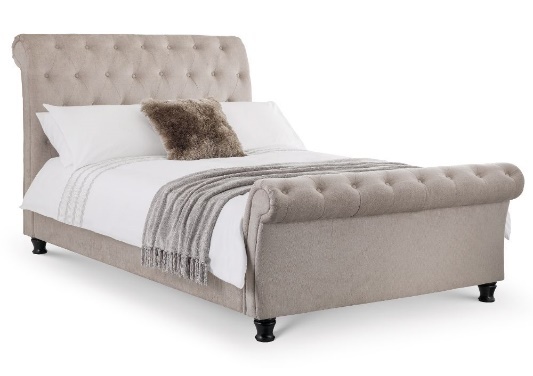 Named after one of the most beautiful towns on Italy's Amalfi Coast, the Ravello is a real looker. The soft yet durable mink chenille upholstery allows this bed to fit with almost any décor scheme, and it is available in both standard and storage options, making it a great all-rounder.
We love styling the Ravello with a deep blue wall and sky hues for a fresh, beachy feel.
Button Up with Happy Beds
Are you loving these quilted Chesterfield beds? Then head over to our Instagram or customer gallery to see more photos of how real customers have styled these beds in their homes.
Find Your
Perfect
Chesterfield Bed