Looking to add a touch of unique elegance to your bedroom? The Brompton Blue Fabric Bed makes for a perfect addition to any bedroom in need of some colour! Featuring a beautifully eye-catching blue fabric that is certain to attract attention and endless compliments, the Brompton Bed is clearly not your average bed. With wooden feet that gorgeously contrast the soft fabric, the Brompton Blue Bed is one that will remain luxurious and timeless throughout its rich and lasting lifespan.
---
Luxurious Modern Blue Fabric
The Brompton Fabric Bed is truly an eye-catching bed, featuring midnight blue upholstery which stands out and creates a highly modern centerpiece for any bedroom. The Brompton Bed allows for a timeless bedroom theme, with a beautiful blue fabric that coordinates with a wide range of colour schemes for a characterful bedroom appearance. Featuring a stunning headboard that is complete with rounded edges and delicate buttoned detailing, the Brompton Midnight Blue Bed makes for a stunning contemporary bed that is impossible not to love.
---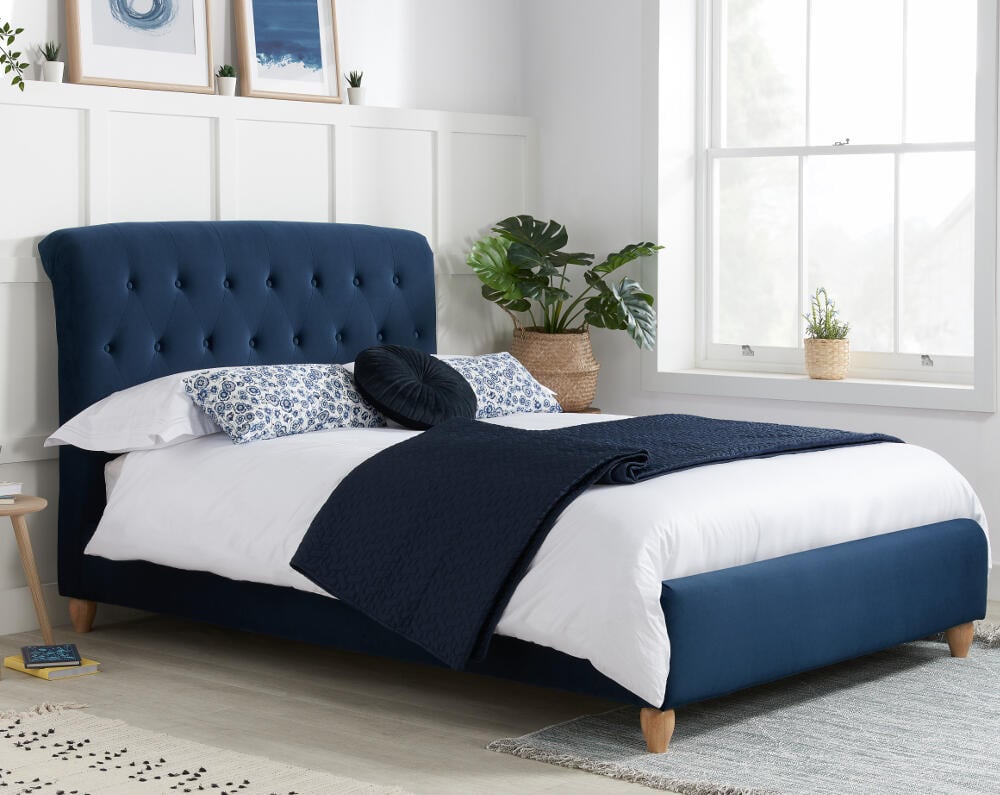 Robust and Comfortable
Not only does the Brompton Midnight Blue Bed look amazing, but it is also designed for exceptional comfort for the perfect night's sleep. The Brompton Bed is crafted from materials of the highest quality, featuring a sprung slatted base for the perfect support that has the ability to isolate movement across the sleeping space to accommodate multiple sleepers. The Brompton Blue Fabric Bed comes with a low foot end, which creates an expanded sleeping space with no restrictions.
---
Contemporary and Timeless
The Brompton Midnight Blue Bed is enough to set a modern tone to an entire bedroom from the minute it is assembled, with the ability to complement or contrast a huge range of colour schemes. The Brompton Blue Fabric Bed is supplied flat-packed for efficient delivery and easy storage. Once you have your new bed in your room of choice, assembly is made easy thanks to our helpful instructions included with your purchase.