For the shorties amongst you, I'm sure jumping up onto a bed or getting a little boost up using a step stool is something you've had to do occasionally. I'm 5ft 4 and sometimes beds are simply too tall. Meanwhile, our recent research into Autism and sleep made me realise how low beds are even more important to others.
So, how high should a bed be from the ground? Is there an ideal height of bed from floor? And, which would win in a competition of high vs low beds? Well, with the help of our Product Manager, James, I have run the numbers to find the bed height to suit you best.
How Tall Are Happy Beds Beds?
Due to the wide variety of sizes and styles we have here at Happy Beds, our beds come in different heights. This often depends on the type you choose. For example, all of our made-to-measure divans are either 6", 10" or 14" tall (15.24cm, 25.40cm or 35.56cm).
80% of our bed frames, on the other hand, have a height of between 32 and 35cm from slats to floor. The lowest being the Berlin, Xiamen, Hemlock and Grande, which are all 25cm tall to the base of the mattress. The tallest are the Mission, Woodbury and Yorkie, which are 45cm, 40cm, and 39cm respectively.
You can find the exact dimensions of each bed on our site. These will be shown similar to the below.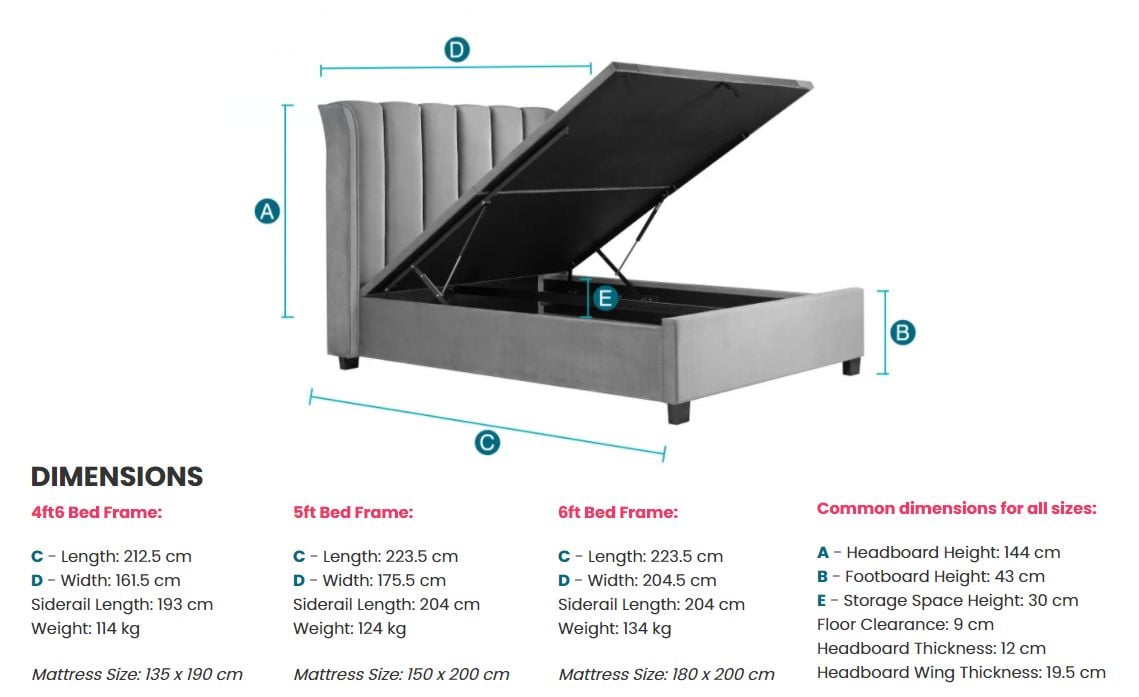 The height of children's beds varies much more than 'adult' beds, simply because there are more design options available: bunk beds, cabin beds, mid sleepers, the list goes on. However, generally, if the bed is aimed at toddlers or young children, it will be lower to the ground for safety reasons.
…And, What About the Mattresses?
Depending on the filling and size you choose, a Happy Beds mattress can be anywhere from 12cm to 33cm deep.
However, please remember, this measurement should not simply be added on top of the bed's in order to get an estimate of total height. Some beds will be designed so that a mattress sits sunken, lower than the outer frame. Always refer to the specific bed's details.
What is the Ideal Bed Height?
For most, bed height isn't really a consideration. However, there is a science to comfort. Generally, the optimum height should reflect your own, i.e. taller people have higher beds and shorter people have lower beds.
What is the Ideal Bed Height for the Elderly?
As we age, we become less nimble and a bed should be at a comfortable height to make getting in and out as easy and stress-free as possible. A very low bed may put strain on joints and muscles, and a high bed may require jumping up which isn't always possible.
Using the above idea of matching a bed with your own height, measure a comfortable sitting level – maybe using a favourite chair. This will make sitting and swinging legs in and out of bed much more comfortable.
The average knee height of an adult is between 16" and 24" off the ground, meaning a bed within this range should be perfect. If in doubt, opt for a bed that is around the top of this range, as a high bed will have less impact on your joints than a low one, and a step could be used.
What is the Ideal Bed Height for a Toddler?
All of our children's beds will have dedicated product info about their dimensions and their age suitability. However, generally, toddlers' beds are low to the ground to avoid any dramatic falls or rolls out of bed as they get used to no longer sleeping in a cot.
Of course, bigger kids, who are used to sleeping in a bed, have many more options at varying heights, including mid-sleepers, cabin beds and bunks which all involve a ladder.
Can You Increase the Height of a Bed?
If your bed is too low, we would recommend replacing it. However, if you cannot afford to do that right now, risers placed under the legs of the frame can offer a temporary fix. Please do be careful using these though, as they will compromise the bed's stability.
Are There Other Height Considerations?
Before purchasing a bed, we would always recommend thinking about where it will be located. For example, if you will be placing it in an attic room or space with an apex ceiling, make sure that there is enough head room and space for the headboard.
Otherwise, you may have to reconfigure the room. We have seen some people placing the bed 10 to 15cm from the wall in order to make their bed fit, because they did not make these considerations before buying. Others have simply spun the bed round so the footend is up against the wall, and headboard is in the middle of the room.
It is also worth thinking about your storage options. Ottoman and divan beds are often higher than regular frames, so they have plenty of storage space. If you're low on available floor space, these higher beds may be a good solution.
Let Us Help You Find Your Dream Bed
Whether you're old or young, tall or short, we're sure to have the perfect height bed for you in our vast range of mattresses and bed bases here at Happy Beds.
For other key dimensions and advice on how to find the right sized bed, please take a look at our Measuring Guide or get in touch with our team via Facebook, Twitter and Instagram.